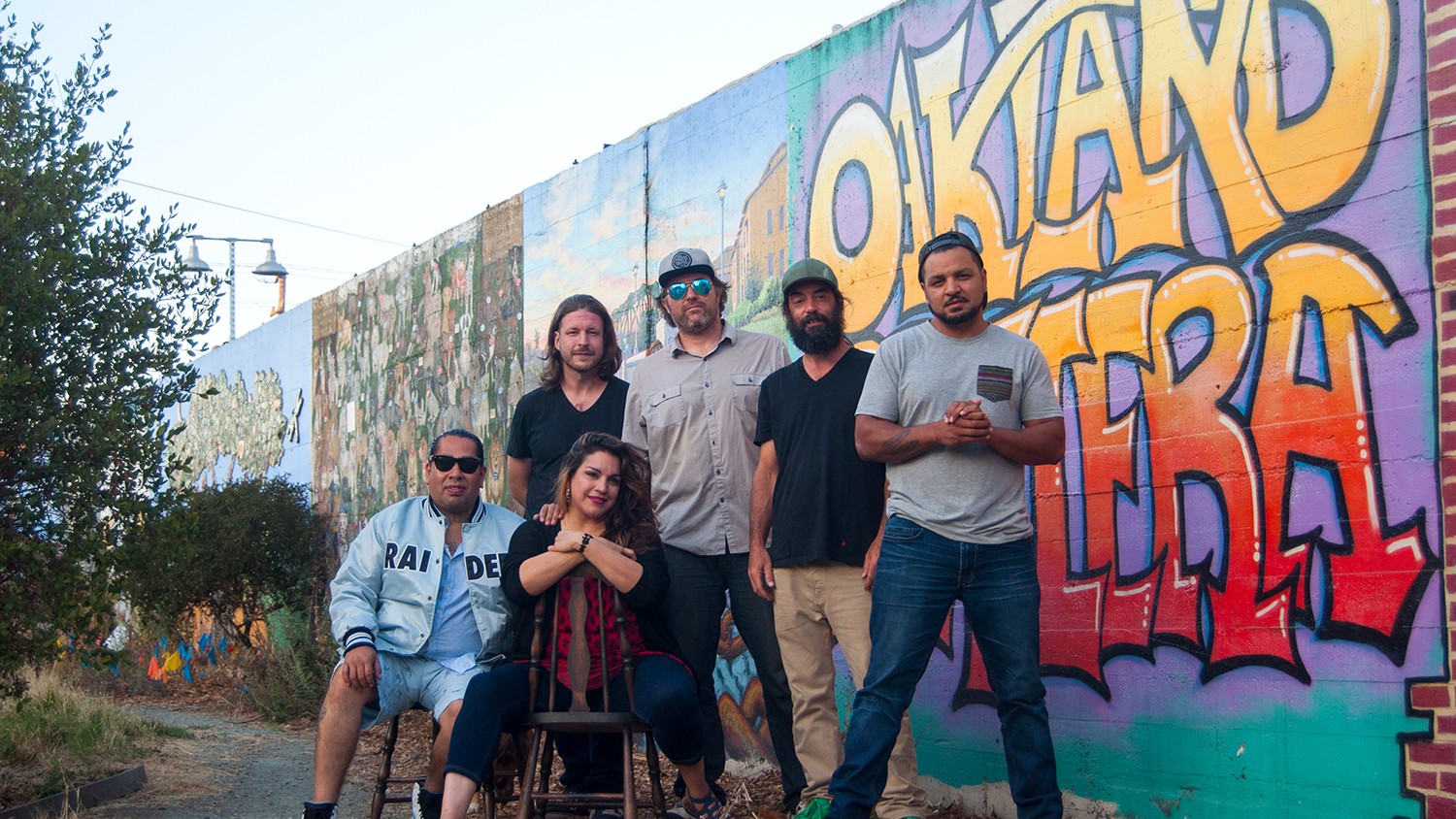 Candelaria
's road to the release of its long-awaited sophomore album hasn't been easy. In fact, it included recruiting an almost all new lineup of musicians.
"The hardest thing about keeping a band together is that people have personal lives," said Dan Yockey, the founder the Oakland cumbia band. One member got married and moved to New Mexico. Another decided to pack up for Los Angeles. "We were in the middle of recording the second album, so I had to find a new singer and a new drummer, get them comfortable, and teach them all the songs."
The process of recruiting new members and securing the funds to record the album turned into an almost 10-year-long process. Finally, on Aug. 24, fans can listen to the result of all of those efforts on Candelaria's Al Norte Del Rio. "It's been a long journey, but I'm really happy that we are finally going to put it out," Yockey said.
Candelaria has been a staple in the local cumbia music scene since the early 2000s. The new record was produced by San Francisco's Greg Landau, who has produced eight Grammy-nominated albums. The title Al Norte Del Rio (to the North of the River) serves as a poignant reminder of the current anti-immigrant political climate. The first single, "Norte Del Rio" (North of the River), perfectly describes this sentiment: pero es un mito que todo es mejor al norte del rio (but it's a myth that everything is better to the north of the river). Even though the song was written years before Donald Trump even became a presidential nominee, its message fits the current political climate all too well with stories about deportations and the separation of kids from their parents when they get to the north of the river.
"We tried not to get too overtly political," Yockey said. "We rather talk about the human stories — instead of talking about the politics of border crossing, tell the story about someone crossing the border and the things they have to go through to do that."
The band members also understand the importance of talking about it in a way that doesn't feel like a sermon. "Although the song is political, we are trying to blend in the lyrics with what a Candelaria show is," said bandmate Wilson Posada.
The band members all come from diverse cultural backgrounds, which influence the music they make and play. Some members are from Mexico and Puerto Rico. Others are Mexican-American from as far as New York and Milwaukee. The entire group is comprised of Liliana Herrera (vocals), Posada (vocals, percussion), Pedro Gomez (drums), Matt Salata (guitar), Ali Luna (percussion), Alan Williams, (trombone), Comanche High Power (sound effects), and Yockey (bass). Out of this new reincarnation of Candelaria, Yockey, Salata, and Luna are the only original members left.
With the exception of Yockey, all are also part of other significant Bay Area musical groups: Pachamama, Afrolicious, Bayonics, Reporte Ilegal, Loco Bloco, and Afrofunk Experience. Every single one of these bands has made a mark on the Bay Area's rich music scene.
Given Candelaria's longevity, it might be tempting to think the band has everything figured out. But the group deals with plenty of hurdles, particularly related to money and venues. Yockey said there aren't enough small-to-mid-sized local music venues — ideally that can fit about 300 people — that book cumbia bands. Instead, Candelaria finds itself at venues like the Legionnaire, which is a bit too small. Yockey is optimistic, though, about the recently opened Elbo Room Jack London and the upcoming 7th West multi-use space in West Oakland.
The band is grateful that Landau, the new album's producer, was willing to work with its tight finances as well as the lineup shake-up. "You can't ever count on an album to sell," Yockey said. "But at this point, I'm happy that we can finally get it out."
Yockey, Herrera, and Posada also spoke to the need for organizers of larger music festivals to acknowledge the endless Bay Area talent and ultimately book more local Latinx bands to play. La Misa Negra has played BottleRock before, but other bands remain unseen. "It's almost like we're looked down upon: 'Oh, these are [just] local bands,'" Yockey said.

It's a collective fight for recognition. "Whenever one band does good, it's good for everybody," Yockey emphasized.

For now, Candelaria is excited to play new music in front of longtime fans — and new fans who might happen to find themselves strolling by the New Parish on Friday night. And its members hope to start booking more gigs at venues and music festivals both locally and abroad.
"It's a labor of love — it really is," Herrera said. "With the music that we are playing, it goes back to honoring the root of the music and the soulfulness of the sounds."
Friday, Aug. 24, 9 p.m., $10-$15, The New Parish, 1743 San Pablo Ave., Oakland, TheNewParish.com

[embed-1]