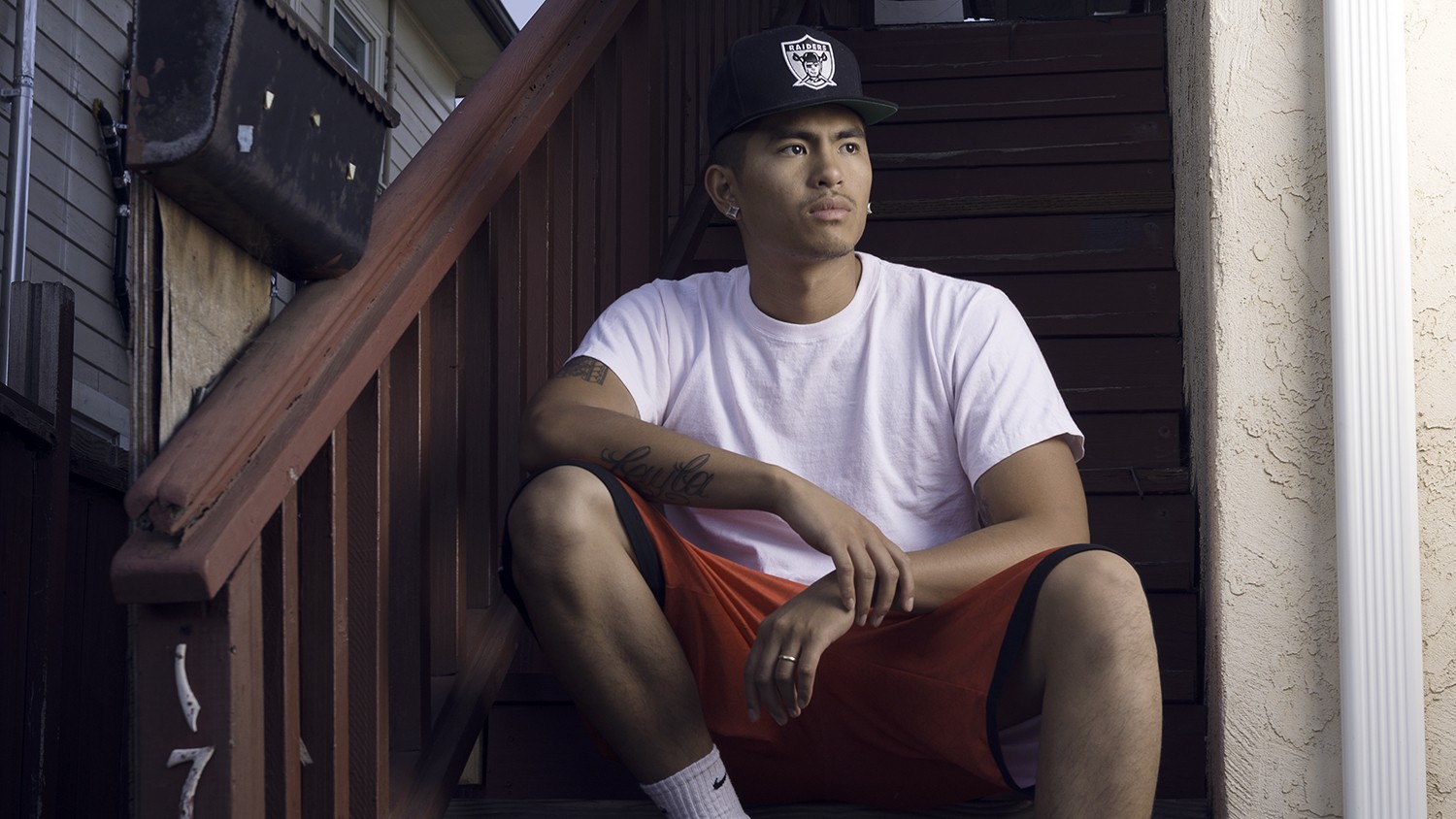 Francis Gesmundo's Instagram feed looks like a mosaic of sneak peek clips with the occasional flash of $100 bills and his shiny grill. In the middle is a video of Gesmundo wearing a solid black hoodie, sitting on a faded seat in a car. He fixes his hood and pulls on the strings around his neck before introducing himself: "Franchise. Free bars," he says without stuttering.
As a Tee Grizzley beat plays steadily, deep thumps in the background, he continues: "I'ma stop giving y'all free bars, man. Y'all keep fucking with me, man." And after shaking his head a couple of times like he's in disbelief, he ends his short prologue: "You gotta pay."
Freestyle rapping isn't new. Eminem did it, and Biggie did, too. And back in the '90s, if you were trying to make it in the music industry, it might have taken awhile to see any sort of public impact. But thanks to social media — between the hashtags and rap challenges — your message or, in this case, bars, can be successfully delivered in one post.
Alameda resident Gesmundo, who goes by Franchise, uses Instagram (@franchisemobby) as a platform to showcase raw freestyle verses. And his message is simple: Freestyle videos shouldn't come for free.
Today, freestyling is commonly understood as just spitting off the top of your head. However, old-school freestyle is simply "free of style," as defined by legendary rapper Big Daddy Kane in Paul Edwards' book, How to Rap: The Art and Science of the Hip-Hop MC. And although the latter is pre-written and slightly rehearsed, the lyricism can still be straight fire — and that's what Gesmundo is after.
Despite premeditated punchlines and slightly narcissistic insults, Gesmundo's delivery is still compelling. He starts off his raps slow and conversational. But after a few lines, he goes off — without ever having to catch his breath — on a 30-second poetic tangent reminiscent of the East Bay's own E-40.
As a rapper, Gesmundo tests his limits with these online freestyle challenges, which are the millennial equivalent of what used to be face-to-face battles. "If I see somebody put out a video or a three-minute freestyle on the radio, I feel like, 'Man, I can do that,'" he said. "I could do it better."
But on a deeper level, the root of his inspiration is his family. "If the goal is to make it and make some money too, then I'm doing it for them," he said.
The 23-year-old was born in the Philippines. In 2002, when he migrated to Richmond, he learned to appreciate hip-hop culture. "I just fell in love with it," he recalled. "When I moved to the States, that was when 50 Cent came out with Get Rich or Die Tryin', which is one of my favorite albums of all time. That was also when Mac Dre, Keak Da Sneak, and shit was poppin' off in the Bay."
Six years later — around the same time that Lil Wayne's Tha Carter III was at the top of the charts — he considered getting into music.
Having a place in the rap game is Gesmundo's ultimate goal, but he's always thought of himself as a writer first. "For me, it's just raw and uncut," he explained. "My forte is really writing, you know, kind of like weird shit."
Gesmundo began writing poems in high school with a passion for incorporating metaphors, analogies, and similes, which are now a significant part of his freestyles. And after certain life changes, including the birth of his daughter in 2015, he matured — and so did his style. "It was something that me and my wife had to grow through. At a young age, you know, having a kid, and starting a family," he said. "That's kind of self-explanatory, but it's a motivation within itself."
Last year, Gesmundo finally took the leap and posted his first freestyle video on his personal account, which he later reposted onto a new profile solely dedicated to his music. And after a handful of freestyles, positive feedback from friends, and an increased following, he released his first song titled "Ghost" in June.
The three-and-a-half-minute track narrates the story of a kid defiantly trying to get his life where he wants it to be. He raps, Motherfuckers know I paid my dues / I'm tryin' to make my moves / Real playa, man, I been that dude / And that's something you can never take from me. And although the accompanying music video could be polished up a bit, the song itself is solid.
Following his debut single, Gesmundo released two freestyles — one to YBN Nahmir's "Bounce Out with That" and the other to Vallejo-based SOB X RBE's "Anti." Both freestyles highlight more of Gesmundo's natural ability to speed up and slow down without sounding like a single word doesn't belong.
Despite his relatively quick start, the aspiring rapper's reach is still limited. "I think it's an obstacle everyday only because it's so hard, you know, to gain some clout and recognition in general," he said. To keep up, he tries to stay active on social media and promotes himself on websites like Thizzler On the Roof. Yet he most appreciates the people who really know him and share his music.
In five years, Gesmundo believes the hard work will have paid off. "I still see myself in the Bay, doing the same grind honestly. The same hustle, balancing work and family," he said. "And of course, making music, all at the same time."

[embed-1]