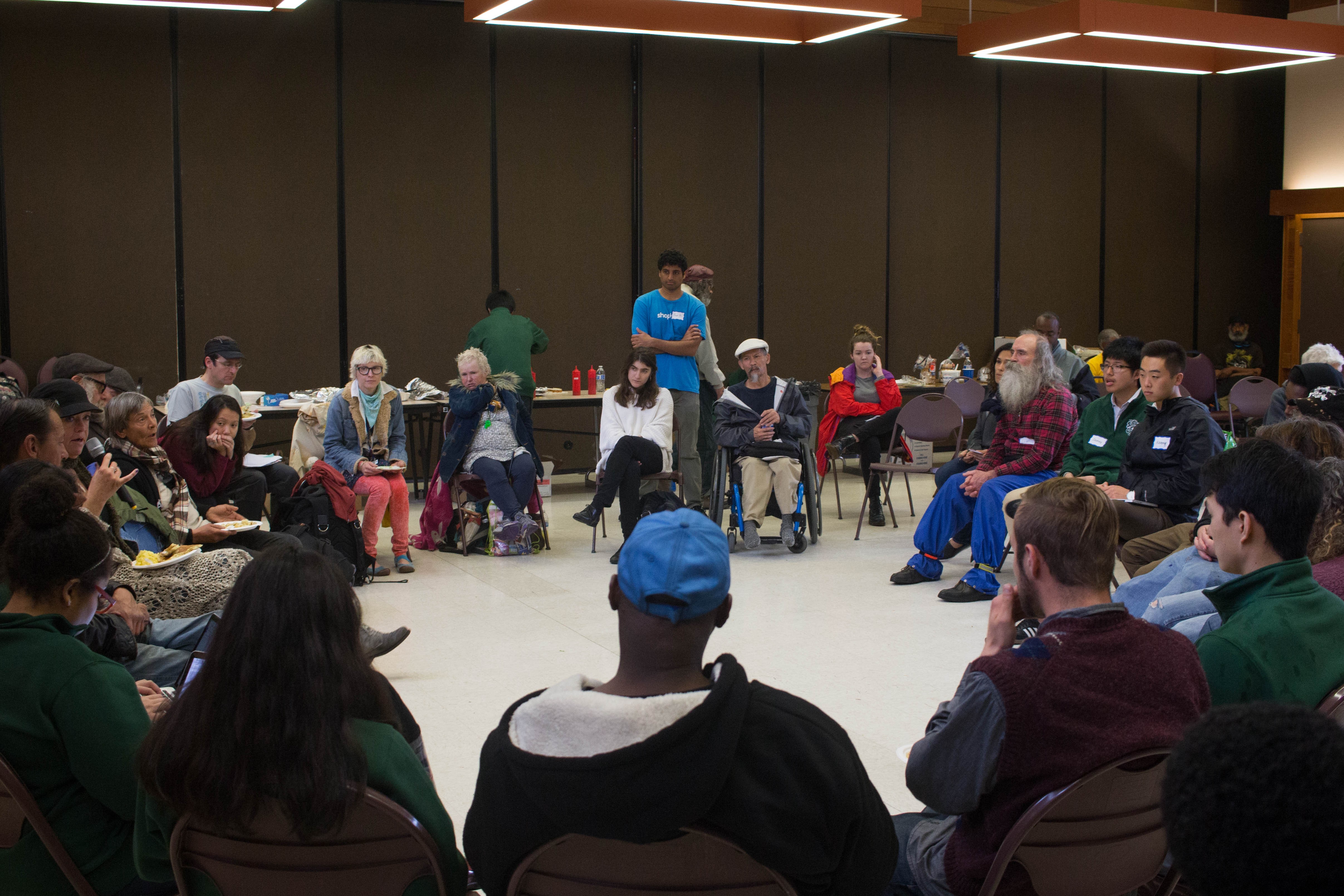 Nearly forty students and community members came together on Saturday at the North Berkeley senior center to address the needs of the homeless population in Berkeley.
The Suitcase Clinic
, the UC Berkeley student-run organization that hosted the event, invited community members living without permanent housing, along with city officials, to a free hot breakfast and to share their thoughts, grievances, and ideas for how the city can help get people off the street and under a roof.
[jump] "As a woman, I'm concerned," said Maria Phillips, who is homeless. "My shelter recently closed, and the displacement is bad enough. Where am I going to shower? Necessities like these and cleanliness are a real health concern."
Many others also had complaints with the city's lack of public restrooms or places to shower and sleep. A man who identified himself as Robert said, "If you see me pissing nearby, it's because I have nowhere else to go. Put bathrooms on the street!"
Others, like Shawn O'Conner, talked about how the city should be helping provide jobs to those on the streets, emphasizing that not doing so would be a waste of resources. "They talk about how we are lazy and don't want to work. No. We have training, we have jobs skills. Give us a job. Give us an opportunity," he said.
Pointing to the City of Berkeley's new Housing Crisis Resolution Center, which funnels all homeless agency funding into one place for further allocation, James Huynh, a student at UC Berkeley and one of the lead organizers for the event, along with Kenny Hahn, said, "All these agencies are figuring out how to work within [the Housing Crisis Resolution Center]. In my own personal opinion, I feel like a lot of times the voices of actual homeless people are lost in this whole vying for money and funding from the city."
The event took place almost three months after the City of Berkeley cleared "
Liberty City
," a tent city put up by homeless people in front of Berkeley's old City Hall in protest of new, stricter laws targeting the homeless. The laws, which were approved by the Berkeley City Council last year, included a ban from sleeping in planter beds and occupying more than a 2-square-foot space on the sidewalk, as well as a tightening of the existing ban on public urination and defecation.
Huynh said all members of Berkeley City Council were invited to attend the event, though none were present at the meeting. Members of the city's homeless commission, however, were there.
"Of all the city meetings I go to about homelessness, there are never any homeless people there. But when we connect ourselves, we can make a difference," said Paul Kealoha-Blake, who serves on the Berkeley homeless commission.
"There are other commissioners here, that's our voice into the council. We need to be talking, we need to be coming up with the answers, and we need to be coming up with the solutions. We need to connect." Kealoha-Blake added.
As the event was coming to a close, Huynh recounted, "Someone just walked out of the door and said to me, 'thank you for giving me a voice,' but I didn't give him a voice. We only gave him food. All the content here was generated by them, and for them to thank us always puts me back into perspective of what we are going against. It's a system thing that permeates in people not having a chance to speak or be heard in their daily lives, which has real effects when trying to fight these systemic issues."