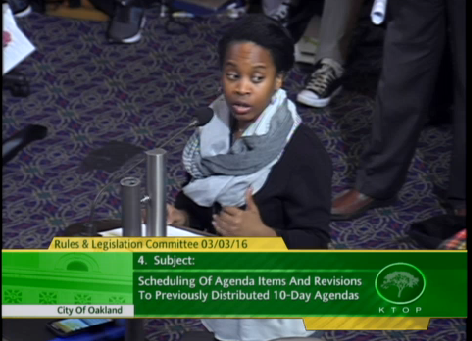 Last week, Oakland residents made an impassioned plea to the city council's Rules and Legislation Committee to immediately declare a housing state of emergency in order to take drastic action to freeze rent increases and stop no-fault evictions. This week, the council's Finance Committee will hear detailed reports on how JP Morgan Chase's banking practices are affecting Oakland and the city's budget situation.
Housing state of emergency:
Last Thursday, activists brought to the Rules and Legislation Committee
a request
that the city council declare a "housing state of emergency," and that the city enact a moratorium on rent increases and no-cause evictions. The committee scheduled a hearing for the April 5 meeting of the city council on the proposal.
"Right now, rents have risen over 40 percent in twelve months," said Carol Fife, one of the members of the public who brought the proposal forward. "We don't want to be San Francisco. We don't want to be only 3 percent of the population." Fife was referring to the rapid exodus of Black residents from San Francisco due to out-of-control housing prices.
[jump]
Banking:
Since JP Morgan Chase won the City of Oakland's lucrative depository banking contract in 2013, it has come to light that the bank
 has made few mortgage loans to Black and Latino home buyers
in the city — and Chase also closed it's only bank branch in deep East Oakland. In fact, according to
a recently published report by the Greenlining Institute and Urban Strategies Council
, mortgage lending to Black and Latino homebuyers in Oakland has practically ended. In 2013, the twelve largest bank in California only made a total of four mortgage loans to Black homebuyers in Oakland.
Representatives of JP Morgan Chase
promised
the Oakland City Council when they were awarded the city contract that they would increase their investments in Oakland, and that they would release detailed data on their business activities. The bank's first report to the Finance and Management Committee on January 12 was viewed as inadequate. Tomorrow, JP Morgan Chase representatives and city staffers are returning to the Finance and Management Committee with
an expanded report
on the bank's efforts to extend sustainable financial services to Oakland residents and businesses.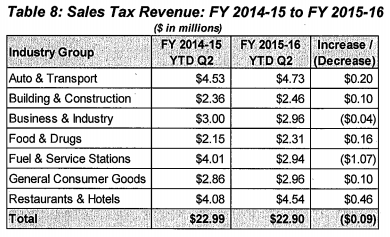 City money:
Another report
that will be presented at Tuesday's Finance and Management Committee meeting will show that Oakland's tax revenues are mostly up, but sales taxes are sluggish, and projected to remain weak because of low jet fuel and gasoline prices, and also because of Walmart's decision to close its Hegenberger Road store.
But the new sales tax figures appear to show that those who predicted economic calamity due to the city minimum wage increase last year were wrong. According to the city's sales tax data, restaurants and hotels, retail stores, and grocery and drug stores are all increasing sales and generating more tax revenue for Oakland. All of these sectors employ low- and minimum-wage workers.
Another bit of news buried in the city's quarterly revenue and expenditures report is that Oakland recently conducted a landlord audit that identified 4,300 rental property owners who had not previously registered with the city and were not paying residential rental business taxes. According to city officials, this audit has already nabbed Oakland an extra $4.6 million in tax revenue.
Finally, city tax revenues are also up because of a decision to tax Airbnb landlords. Hotel tax receipts jumped this year 11 percent above the budgeted amount to $18.82 million. City staffers say the increase is thanks to a tax agreement that Oakland signed with Airbnb. The city, however,
will not release the text of this agreement
, nor will they disclose the exact dollar amount being collected from Airbnb.