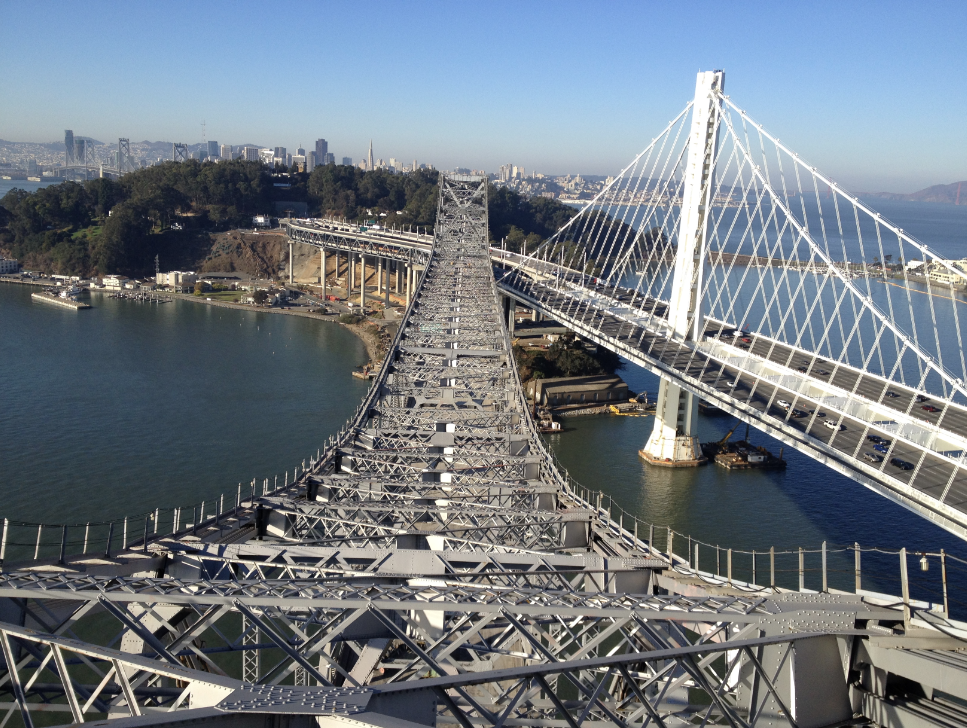 For years, local arts organizations have been advocating for a program that would allow
artists to reuse the steel of the old Bay Bridge
, which officials have been demolishing piece-by-piece since the new bridge opened one year ago. Yesterday, a committee of regional transportation officials overseeing the demolition efforts finally approved a plan to make these public art reuse goals a reality — though the amount of steel that will become available is significantly lower than initial proposals.
Members of the so-called Toll Bridge Program Oversight Committee — which includes representatives from the California Department of Transportation (Caltrans), the Bay Area Toll Authority, and the California Transportation Commission — unanimously voted in support of a plan to dedicate up to $2.2 million toward salvaging bridge steel, according to the
Chronicle.
Some of that funding would go toward removing toxic lead paint from reusable steel parts of the old bridge, which would then be safe for distribution to artists who propose public art projects. Officials estimated that around 300 tons of steel could be repurposed through this effort. 
[jump] An earlier proposal the committee reviewed (outlined on
pages 18-24 in this agenda report
) involved allocating $4.3 million to a creative reuse program that would involve 600 tons of steel. 
"It took awhile to get to this point, and it's not quite where we wanted it to be, but we're still very excited," Karen Cusolito, founder of American Steel Studios, told me this morning. "There are a lot of different visions and ideas about where this steel could live in the public domain for people to enjoy." 
Cusolito, along with a group of other local artists and architects, has been
spearheading efforts
to establish an artists' reuse program, launching the website
baybridgesteel.org
 last year, along with an online
petition
dedicated to the cause. American Steel, a massive art space in West Oakland, is located on Mandela Parkway, not far from the bridge. And in her own work, Cusolito is a large-scale industrial artist who regularly works with steel. 
While officials decided to decrease the funding and steel amounts, the organizational structure of the reuse program remained intact in the final plan the committee approved. That committee has set up a partnership with the Oakland Museum of California, which will establish its own committee to review artists' proposals and make final selections, awarding the salvaged steel materials to different individuals or groups. According to the bridge oversight committee's 
latest report
 on the reuse program, applicants would have to propose projects for public spaces in California and would have to "demonstrate that material will be used in projects that will retain the visual characteristics/language of the original bridge and celebrate its history, creating a public connection with the historic structure and valuable amenities for public use or enjoyment."
Awards may happen in two rounds, with some steel going to artists next year and a second round becoming available in 2016, possibly extending into 201, according to the committee's tentative proposed timeline. 
Cusolito — who is personally interested in doing some kind of public art installation, ideally in Oakland — said that the Bay Bridge steel campaign has collected drawings and ideas from dozens of artists. "There is a lot of great stuff floating around," she said. Depending on what parts ultimately become available, she said there is interest in possibly repurposing certain steel structures as light posts in public parks and shorelines throughout the Bay Area. "I think that would be a really stunning and simple use," she said.
Cusolito said she has also seen proposals for gazebos in public parks, park benches made from the bridge parts, a giant sculptural robot, and more. "There are so many great ideas."