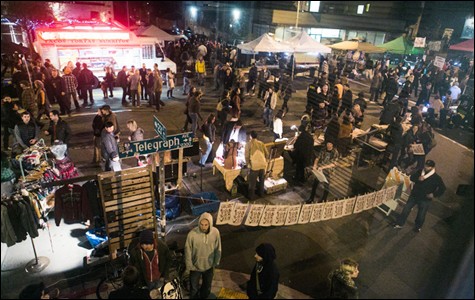 Looks like First Fridays isn't just attracting the attention of the tens of thousands of people in the Bay Area that attend each month. The popular street festival is one of many reasons that the American Planning Association today named Uptown Oakland one of the best neighborhoods in America. 
As part of its "
Great Places in America
" program, the association has selected the
ten best neighborhoods
in the country that "add value to communities and foster economic growth and jobs." Uptown — which helped Oakland earn a spot on
another high-profile ranking
 — is the only California neighborhood to make the cut on the association's list, making Oakland one of only two West Coast cities to be featured in the top ten. 
[jump] The association
defines Uptown
as the area bounded by Grand Avenue, 14th Street, Telegraph Avenue, and the I-980 freeway: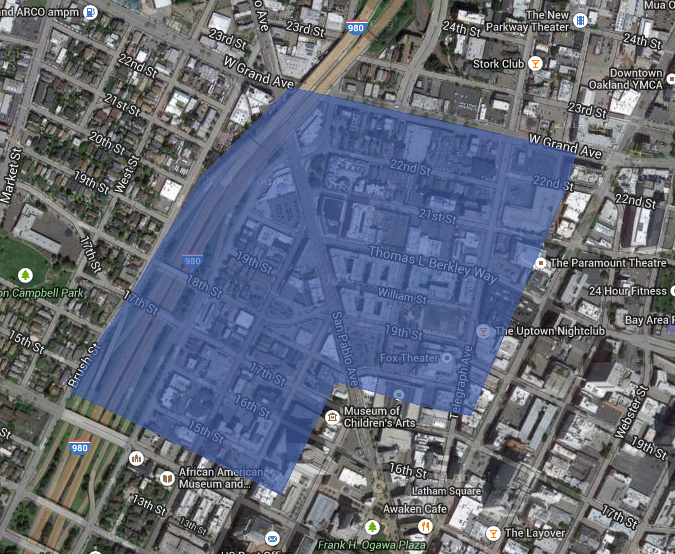 That area, of course, is home to the Fox Theater and the Paramount Theater, along with the monthly Oakland Art Murmur and First Friday street festival. City officials, who are celebrating the ranking at a media event this afternoon, noted in a press release that Uptown has gone through a significant revitalization over the last fifteen years. That includes a $253 million mixed-use development project that brought new retail spaces and six hundred apartments to the neighborhood on a fourteen-acre parking lot. The association noted that the city brought affordable housing units to the area through that residential development (under then-mayor Jerry Brown) and also facilitated a cleanup of a brownfield site in the area as part of the redevelopment.
The association further noted that in 2005, the city bought land at Telegraph Ave. and 19th Street, which is now home to the
Uptown Art Park
: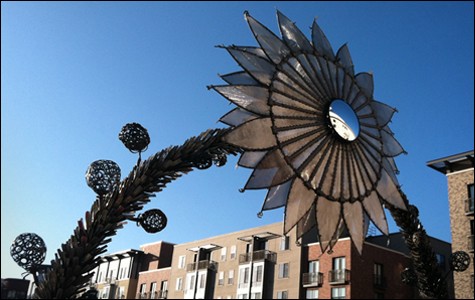 The planning association's ten list
also
includes neighborhoods in: Seattle, Washington; Richmond, Virginia; Albany, New York; St. Louis, Missouri; Jackson, Mississippi; Dorchester, Massachusetts; Savannah, Georgia; Washington D.C.; and Denver, Colorado.