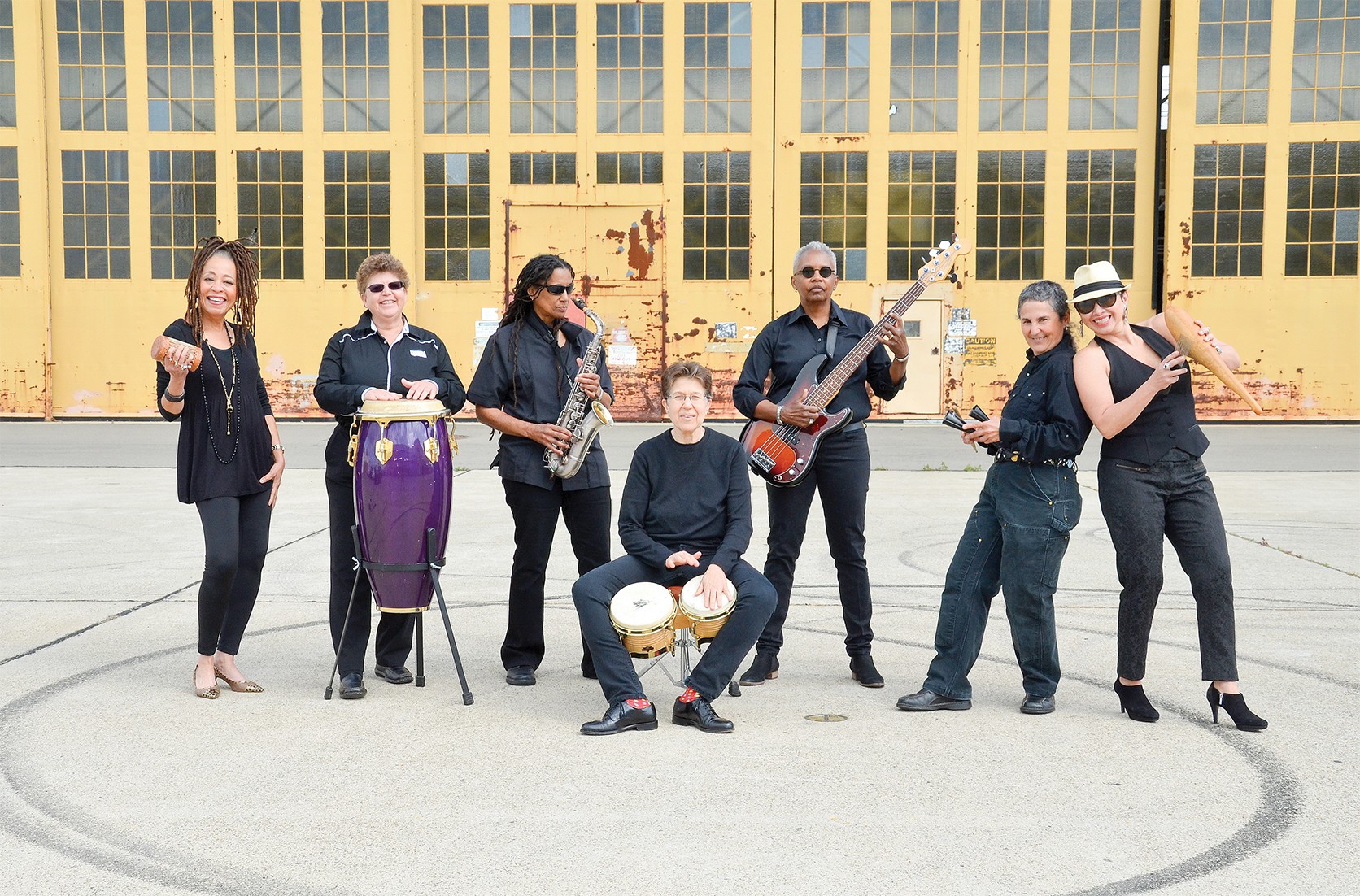 Since 2007, the women in Azúcar Con Aché have been a vital part of the Bay Area's Latin music scene. The energy they bring to the band's original compositions and their inventive rearrangements of Latin and jazz standards has delighted listeners and kept the energy on the dance floor in high gear. Unhappily, their appearance at the Freight and Salvage this Sunday may be their last.
Like many working musicians today, the women in Azucar all have day jobs or play in several bands to support themselves. Sue Kaye, the band's percussionist and one of the group's founding members, told the Express that all of the musicians bring a calendar to every rehearsal to plot on next date everyone is available to reconvene and rehearse. That task has become increasingly difficult.
While they're not ruling out future performances, the Freight gig may be the last time they share the stage as a cohesive unit. "I'm sure we'll play again in different combinations," Kay said. "Meanwhile, we're hoping all our fans come out to see us and say goodbye." The band is expecting several special guests will sit in, including Michelle Goerlitz, Downbeat's 2007 Rising Star in percussion, on timbales.
The Bay Area's Latin music scene may get less press than New York and Miami, but the region has been home to many artists that went on to national and international success, including Santana, Cal Tjader, Malo, Azteca, Pete Escovedo, and Sheila E. The area's bands have been noted for being inclusive, with lineups featuring a diversity of genders and ethnicities. It was that diversity that attracted Maria Cora, Azúcar Con Aché's lead singer.
"I knew the Bay Area had a big Latin community, with a lot of women musicians and women-led ensembles, which I found delightful," Cora said. She grew up in Puerto Rico and Latin music was the soundtrack of her life. She came to the US to attend college and began singing in a friend's rock band, just for fun, but Latin music was always in her heart and soul. "When I heard there was an all-woman salsa band in the Bay Area, I moved out here determined to be their lead singer, and it came to pass," she said, chuckling.
Azúcar Con Aché grew out of the ashes of Azucar y Crema, a band started by pianist and composer Remy Rodriquez and percussionist Sue Kaye in the mid-Eighties. "We started Azucar y Crema to be a platform for Remy's tunes and give women musicians a chance to be more visible," Kaye explained. Despite their success on the local and national stage, they went their separate ways a decade after they got together. When Rodriquez returned to the Bay Area after leaving a job in Washington, DC, she contacted Kaye and original flute player Robin Nzingah Smith and started another all-woman project. The band chose the name Azúcar Con Aché to refer back to their earlier incarnation and convey the sense of the urgency they generate on stage. "Celia Cruz used to shout — 'Azúcar Con Aché!' — when her band was cooking. It translates as 'sweetness with a powerful blessing." said Kaye. [pullquote-2] When they began playing again, Azucar had an audience of longtime fans from their early days, including folks from the queer and lesbian communities, as well as lovers of Latin music. "We have all kinds of fans," Cora said. "We tend to have more women in the crowd, but other than that, we draw every age and ethnicity. People from Cuba, Peru, Mexico, and Puerto Rico bring their kids and grandkids to introduce them to the music they grew up with," Kaye explained.
On stage, the band creates a propulsive energy that gets people moving from the first note. Five of the players — Cora, Kaye, Rodriquez, Smith and cuatro player Maria Cetto — line up at the front of the stage, blurring the distinction between the band and the dancing crowd.
"I'm a soñera," Cora said. "In the salsa tradition, it's up to the lead singer to sing the verses, then make up things to reference the lyrics as you go along. A good soñera draws from the people in the room, whatever's taking place on stage and comments on it with a bit of humor."
[pullquote-3]Though smaller than a full salsa band, the ensemble creates a full sound. Their blend of covers and originals will satisfy hardcore salseras and salseros and encourage them to dance. And beyond dance well, the women are also aware they can inspire. "We want to be an inspiration for young women to play drums and sax and be fierce on the keyboard. If they only ever see men, they'll get the idea that music is a men's field," Cora explained.
Although they're parting ways as a working collective, the women in the group have formed ties that will continue to inform the music they play. "Azucar let us take more risks and built our confidence in composing and playing," Cora concluded. "That evolution will continue to take us into new musical zones, so I can't foresee us never playing together again. We have agreed to loosen the ribbon that ties us together, but we'll stay in each other's musical lives."
Azúcar Con Aché with Michelle Goerlitz on timbales, Sunday, September 10 at Freight and Salvage, 2020 Addison Street, Berkeley. $20 – $24. (510) 644 – 2020, TheFreight.org.

Please note that the date of this show has been changed from August 27 to September 10.