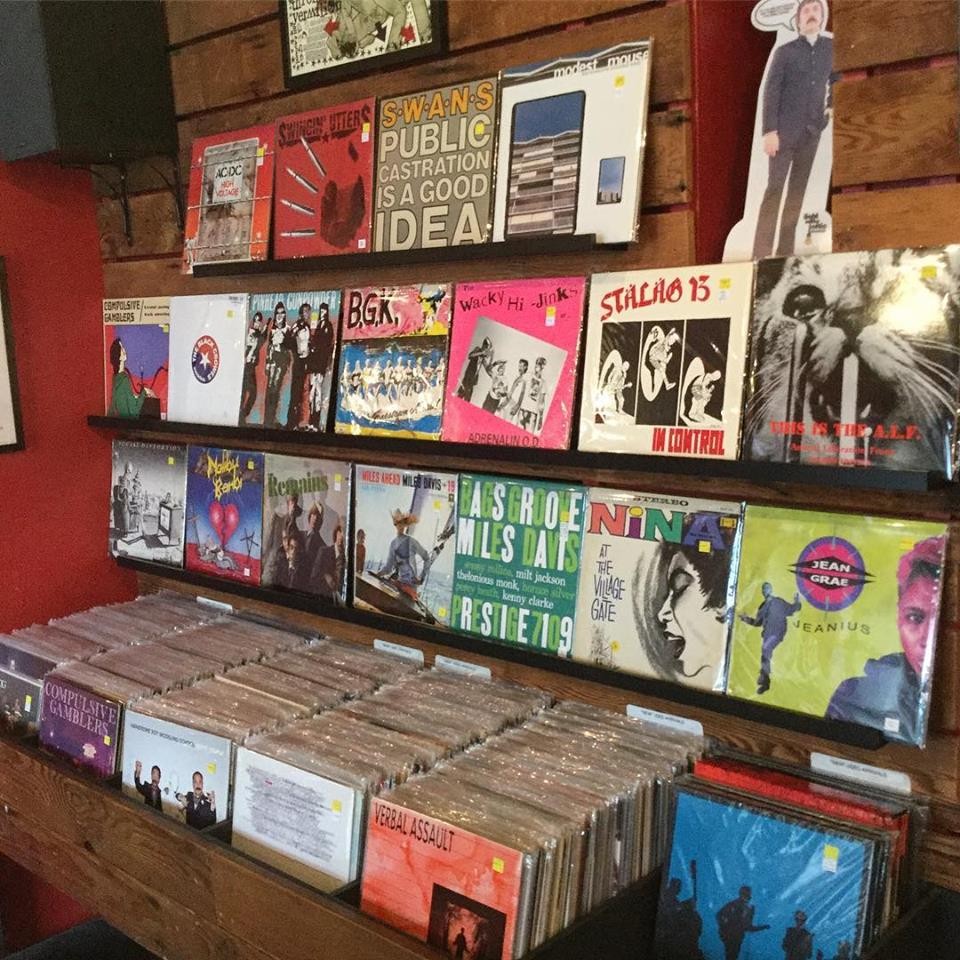 Record Store Day, the love child of independent record store owners and employees across the globe, was born 10 years ago. This year, there are participating stores in every continent except Antarctica. Fortunately, we live in the East Bay, not Antarctica. This Saturday, April 21, kiss your Spotify account goodbye and go patronize the music you love the good old-fashioned way. Brick-and-mortar music stores across Oakland, Berkeley, and the greater East Bay will have treasure troves of limited-quantity releases and in-store performances worth fighting the crowds for. Here's our guide to the most promising places to polish up your record collection.
1-2-3-4 Go! Records
1-2-3-4 Go is getting any early start at 8 a.m. on Saturday. If you're dedicated, the first person in line gets five minutes in the shop alone, and the first 100 people in line get entered in a raffle for a $100 gift certificate. Rose-tinted guitar pop band Supercrush from Seattle will play at 3 p.m., and if you're feeling peckish, Tacos Oscar and Aburaya Japanese Fried Chicken will serve up food outside.
420 40th St., No. 5; Oakland; 510-985-0325; 1234GoRecords.com
Amoeba Music Berkeley
Hit up Amoeba's immense Berkeley location for literally hundreds of limited releases. Also, the shop will stay open until 10 p.m., with sales on DVDs, turntables, posters, and mugs. But best of all: Merrill Garbus of Tune-Yards is playing a DJ set. Catch her at noon, then Yuno at 2 p.m., Jonah Nice at 3 p.m., DJ Inti at 4 p.m., and Platurn at 5 p.m.
2455 Telegraph Ave., Berkeley, 510-549-1125, AmoebaMusic.com
Econo Jam Records
Expect crates full of used gems, from jazz to punk to soul. Econo Jam will also have tons of Record Store Day releases, along with their own special, limited release of Tara King th.'s Stellar Fantasies LP. Live DJs will include DJ EarthQuake, DJ Fail, Doc Toro, DJ E-TomO Jam, and DJ Gucci Name. Free coffee and donuts will be available for early birds when they open at 8 a.m.
2519 Telegraph Ave., Oakland, 510-465-2559, Facebook.com/EconoJamRecords
Strictly Vinyl Records
Co-hosting with The 45 Sessions, Strictly Vinyl will have DJs spinning throughout the day, special deals, and, of course, sweet records for sale. Come early when they open at 10 a.m.
1060 Solano Ave., Albany, 510-679-5040, Facebook.com/StrictlyVinylRecords
The Fireside Lounge
It's not a record store, but Fireside Lounge is hosting a "Swap&Sale" event from 2:30 to 6:30 p.m. featuring DJ Tanoa "Samoa Boy" and guests. Get your swap and your drink on with $20 all-you-can-drink greyhounds, mimosas, and Bloody Marys. If you don't have
any records to trade, Record Gallery is open next door with all the Record Store Day deals your heart desires.
1453 Webster St., Alameda, 510-864-1244, TheFiresideLounge.com