It's the weekend! Eat! Drink! Be merry! Party like there's no Monday! Here are five expertly-selected ideas to start you off:
Octopus Literary Salon
"San Francisco has Viracocha," said Rebecca Grove, referencing the quaint Mission District retail shop, which peddles all manner of antique furniture and bric-a-brac on its top floor, but also houses a cozy underground stage where musicians, poets, comics, actors, and dancers can flex their creative muscles to a small, but captive, audience. And Grove hopes the Octopus Literary Salon — currently wrapping up a fundraising campaign on Indiegogo and slated to open by early next year — will be a similarly multifaceted space in Uptown: a fully-functioning cafe, restaurant, bookstore, and performance venue. In the meantime, Grove — who quit her day job and is now working on opening the space full-time — is continuing to host the small salons that inspired the space to begin with. Join her this Friday, July 12, at the historic Borax Smith Red House for a night of musical performances, comedy, and a "1 Minute Storytelling" rapid-fire open mic, the theme of which is "An Evening of Songs and Storytelling About the Sea." Friday, July 12. 7 p.m.-midnight, $20. OaklandOctopus.org — Azeen Ghorayshi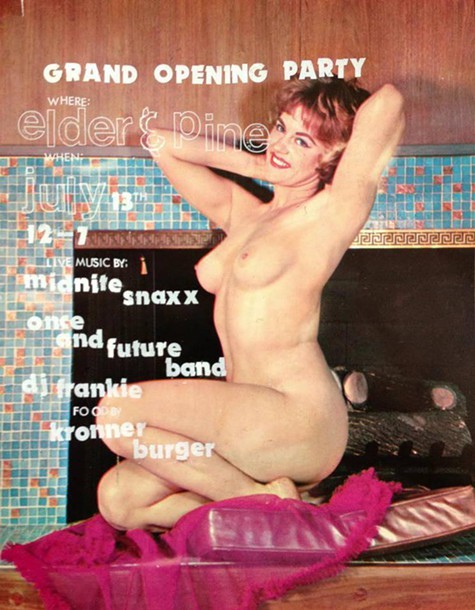 Elder and Pine Opening Party
Much-loved retro vintage spot Pretty Penny's new boyfriend store,
Elder & Pine
, may have been open for around two months now, but that doesn't mean it's too late to throw a "We're here!" party. The shop is perfect for vintage pocketknife enthusiasts, those who prefer to cleanse their bodies with a hint of bergamot, lovers of quality wool, and anyone who owns a pair of duck boots. If that sounds like you, or if that sounds like someone you'd like to take home at night, stop by this Saturday for their big opening bash, featuring music by Midnite Snaxx, Once and Future Band, and DJ Frankie, and food provided by Kronner Burger. Saturday, July 13. noon-7 p.m., free.
ElderandPine.com
—
Azeen Ghorayshi