Stories you shouldn't miss: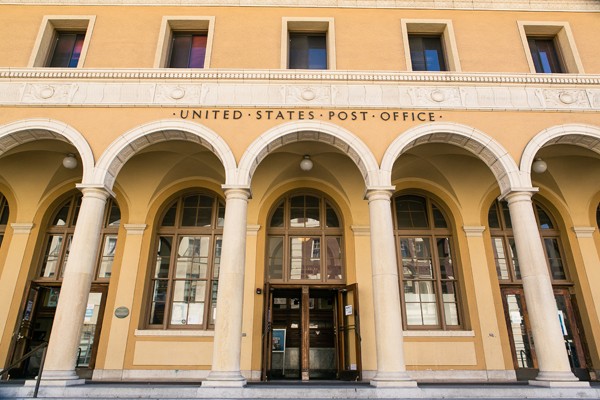 1. The US Postal Service has taken the historic downtown Berkeley post office
off the real estate market
, the
Trib
$ reports. The USPS is attributing its move to litigation filed against the proposed sale of the building, including a lawsuit by the City of Berkeley. However, an attorney for the city said the USPS's decision to not sell the post office may be only temporary — and appears to be just an attempt by the agency to get the two lawsuits dismissed.
2. Ex-CHP Officer Sean Harrington of Martinez, who was fired for secretly copying and sharing nude photos from the phones of female DUI suspects, pleaded no contest to felony charges but
will avoid jail time
, the
CoCo Times
$ reports. Contra Costa County Judge Terri Mockler said she decided to not send Harrington to prison because he had no prior criminal record.
[jump] 3. The US Drug Enforcement Administration
has been quietly operating a massive surveillance program
, in which it captures license plate reader data of hundreds of millions of drivers on US highways, the
Mercury News
$ reports, citing new information released by the ACLU. The DEA says the program, which was launched in 2008 and is raising concerns about privacy, is designed to snag criminals smuggling drugs and money to and from Mexico.
4. Repairs on the new Bay Bridge
will take at least until June to complete
, the
Chron
reports. The span's contractor, American Bridge/Fluor, must make repairs to up to 600 metal rods that had been sitting in rainwater for two years because they were not properly installed.
5. The US Fish and Wildlife Service said it cannot approve plans by the state of California to increase the size of Shasta Dam and Lake Shasta, because of the project's
impact on endangered salmon
, the
Mercury News
$ reports. The federal agency's decision means that the $1.1 billion Shasta project, which voters agreed to finance in the November election as part of Proposition 1, may never be done.
6. Monarch butterflies, which have been dwindling in numbers in recent years,
are enjoying a modest rebound
this year, the
Chron
reports. But the number of butterflies is still well below what it was in the 1990s.
7. And thieves who smashed a stolen SUV into the Wells Fargo museum in San Francisco made off with gold nuggets valued at about $12,500,
but left behind far more valuable historic artifacts
, the
Chron
reports.