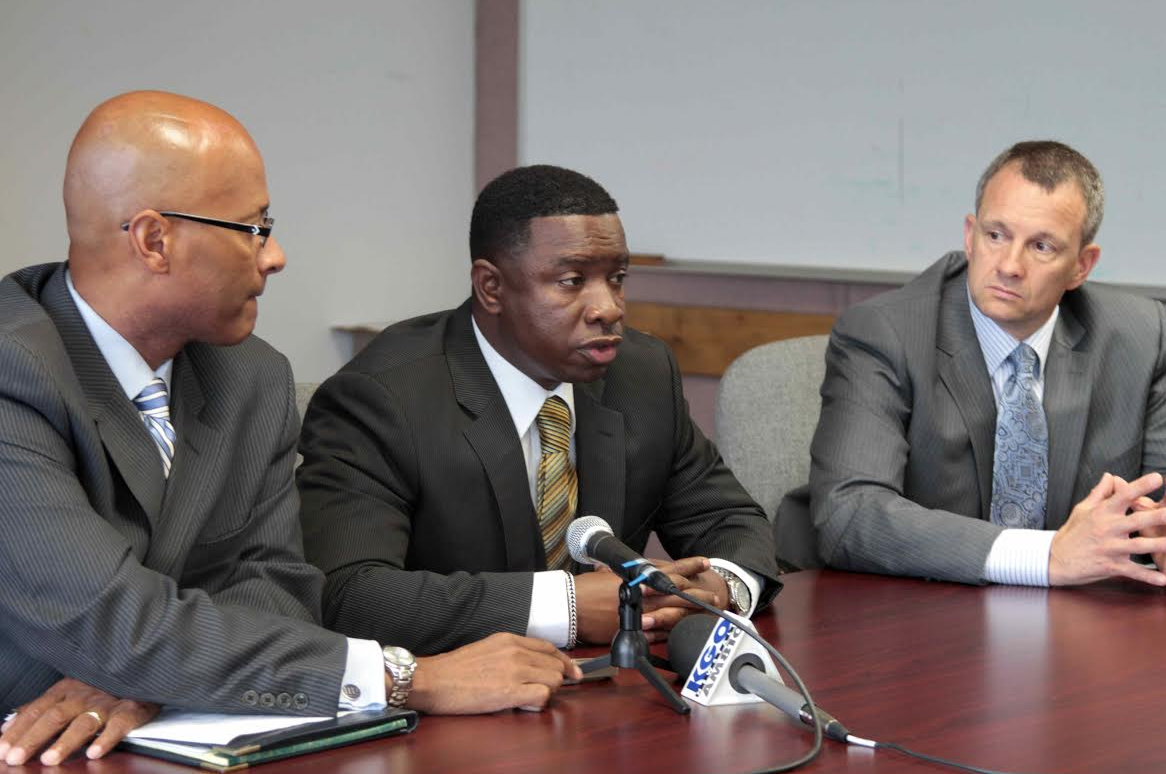 Late Thursday evening, Oakland officials requested the Alameda County District Attorney open a criminal investigation into an Oakland Police Department officer for misconduct. This misconduct is unrelated to the sprawling sex trafficking scandal. Mayor Libby Schaaf and City Administrator Sabrina Landreth wrote in a press release that on Saturday, June 11, they became aware of "alleged criminal misconduct" by an OPD employee.
"We are still not at liberty to discuss details of any ongoing investigation without risking compromise of the investigation and potentially jeopardizing our efforts to hold wrongdoers accountable. However, given the current climate we felt it necessary to make this announcement," the mayor said in her statement.
Multiple sources close to OPD told the
Express
that the target of the investigation is Sergeant James Michael Gantt, a veteran homicide investigator.
Gantt, a New York City-native who joined the department in 1988, is married, but allegedly had an affair with a local woman for several years. According to sources, Gantt allowed his girlfriend to access sensitive OPD investigative files so that she could write up his homicide reports and do his administrative paperwork.
Police sources say Gantt's girlfriend became angry when she discovered he was married. She reportedly posted to social media a photograph of evidence from a case that Gantt had left at her house. She also contacted OPD and informed the department about the investigative materials Gantt gave her access to.
These sources say the evidence Gantt placed with his girlfriend was part of the criminal file assembled against Mario Floyd, one of the two men charged with the 2013 murder of Judy Salamon, a 66-year-old Maxwell Park resident who was shot in broad daylight on July 24, 2013. According to court documents, Gantt was the lead investigator in Salamon's murder. Salamon was shot after she used her cell phone to record Floyd and Stephon Lee earlier that day. Salamon believed that Floyd and Lee were involved in a burglary or robbery that occurred earlier in the area. Her murder caused widespread outrage in Maxwell Park and led to the hiring of private security guards for the area. According to court documents, Lee is the probable shooter.
The trials of Floyd and Lee are ongoing. Floyd has a court appearance on Monday, June 20. Lee has a court appearance in July.
Gantt has been on leave for at least a year because of an unrelated incident, according to sources.
The allegations that Gantt mishandled evidence in an OPD homicide investigation comes on top of other recent scandals that have rocked the Oakland police.
OPD Chief Sean Whent was fired on June 9 because he allegedly covered-up a sprawling sexual misconduct investigation involving the trafficking of a teenage sex worker. The sex-crime scandal has already led to the resignation of two cops, the suspension of three more officers, and a former OPD captain who is now an Alameda County District Attorney's inspector has been placed on leave.