Stories you shouldn't miss:
1. The massive Rim Fire is threatening two large groves of old-growth giant sequoia redwoods in Yosemite National Park, the Chron reports. Normally, giant sequoias, which live for thousands of years, are highly fire resistant, but the historic Merced and Tuolumne groves are vulnerable because the Rim Fire is burning super hot, with flames that have reached two hundred feet in height. The enormous and intensely hot fire, which grew to 180,000 acres overnight, is being fed by decades of forest undergrowth and fire suppression.
[jump]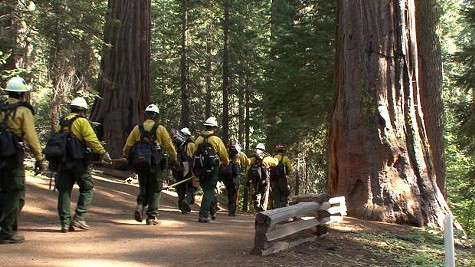 inciweb.org
Fire crews start protecting Tuolumne Grove in Yosemite.
2. The US Forest Service has not been able to thin the overgrown Stanislaus Forest, where the Rim Fire is burning, because of years of federal budget cuts, the LA Times$ reports. A lack of funds also has blocked the USFS from conducting small controlled burns in the Stanislaus Forest in order to clear away the thick underbrush that is now fueling the ultra-hot fire and making it much worse than it should be.
3. California, meanwhile, has already burned through about a quarter of its annual firefighting budget — and the worst part of the fire season hasn't even started yet, the SacBee$ reports. The state had spent $44 million in the first seven weeks of the fiscal year; the total annual budget is just $172 million.
4. Federal Judge Thelton Henderson ordered that Oakland Police Compliance Director Thomas Frazier should be paid $337,000 a year from Oakland's general fund, the Trib reports. Henderson appointed Frazier to ensure that OPD finally enacts court-mandated reforms. The judge ruled that the city must pay Frazier $67,000 worth of benefits — as part of the $337,000 — a provision that the city had objected to.
5. And traffic jams in the East Bay are expected to be bad later this week after the Bay Bridge closes Wednesday night so that crews can open the new span by next Tuesday, the Mercury News reports.