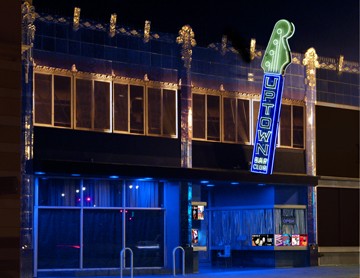 Larry Trujillo, manager and co-owner of the
Uptown Nightclub
 (1928 Telegraph Ave.), has confirmed that the venue will close next week. A fixture of the burgeoning nightlife district in Oakland's Uptown neighborhood on Telegraph Ave., Trujillo's confirmation of the club's shuttering comes as sudden and surprising news. Trujillo said that the surf guitar icon Dick Dale's performance on Wednesday, Nov. 5 will mark the Uptown's final gig.
"Our lease is up and we've chosen not to renew," Trujillo stated.
The Uptown was opened as a self-styled rock club in 2005 by Bob Fratti and Kevin Burns. The venue's booking appeared erratic and the operation unraveled. In 2007, Larry Trujillo, who'd previously run the Blank Club in San Jose, partnered with Ray Yeh and Robbin Green-Yeh to buy the business. The new ownership quickly turned things around, benefiting from and contributing to the neighborhood's upward economic mobility. In 2008, the
Express
awarded the Uptown "Best Rock Club" in our Best of the East Bay issue.
Trujillo characterized the Uptown as a leading figure in the area's nightlife upswing. "We opened before The Fox [Theater]," he said. "We've had everyone from Green Day to Ice Cube." The venue hosts popular, free shows during First Friday festivities, along with popular recurring events such as the Hubba Hubba Revue. Earlier this year, the
American Planning Association named the Uptown district one of the best neighborhoods in America.
All of which makes the sudden closure so unexpected. Trujillo characterized the closure as a practical choice, agreed upon by him and his business partners (neither of whom could be reached for this article).
"It's a tough business generally," he said. "This was simply a business decision."