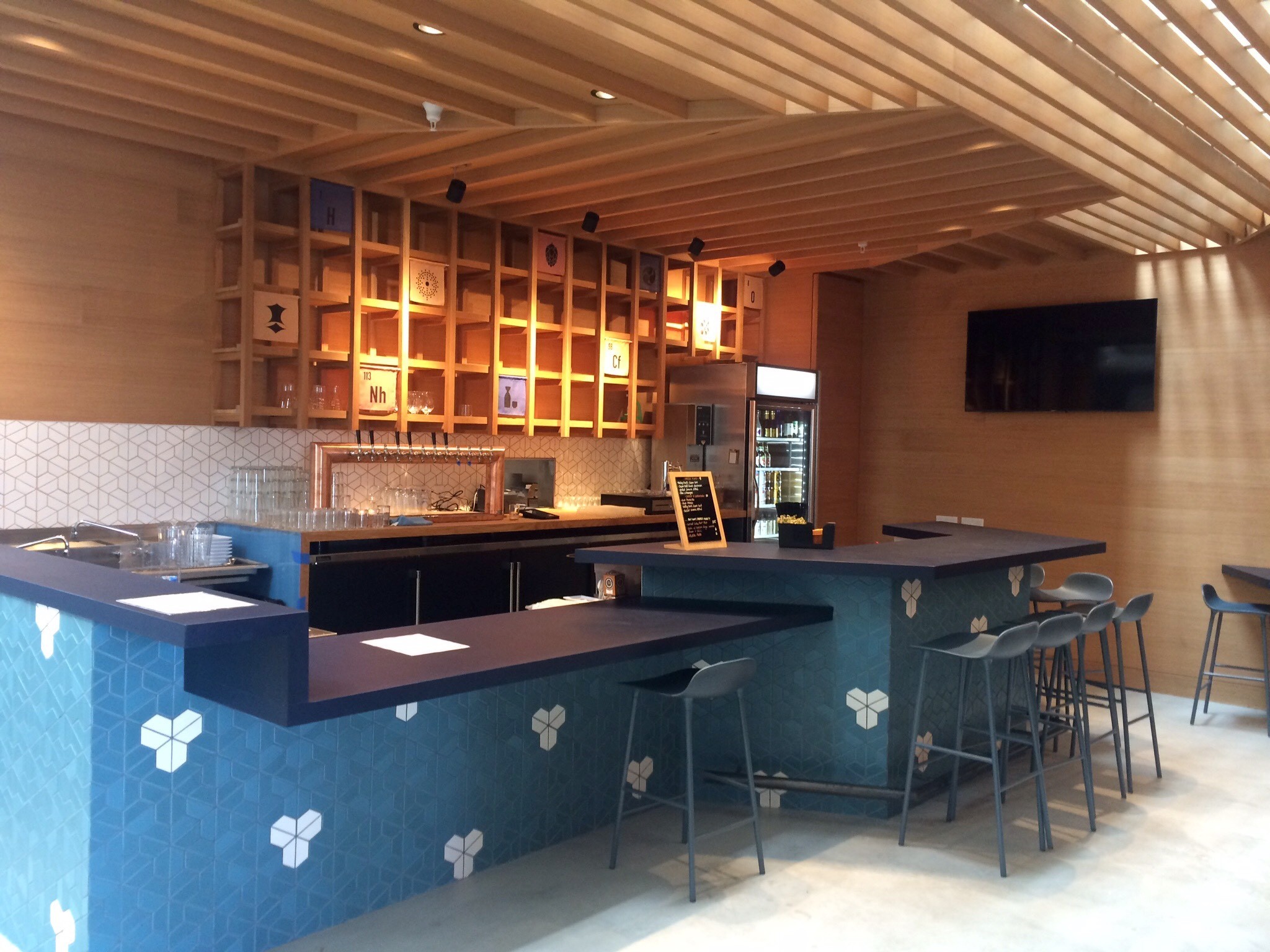 The Public Market in Emeryville keeps edging closer to completion.
The road work should be done by the end of October, and Portland-based grocery store New Seasons Market is set for a November opening. And next year will see the completion of the parking garage and retail buildings. That's all according to Mark Stefan, co-founder and president of City Center Realty Partners, which owns and manages the market.
For now, stalls are still slowly filling up the food hall. The latest additions are the Periodic Table, which softly opened earlier this week, and Fish Face Poke Bar, which just opened today.
The Periodic Table is owned by the same team behind Shiba Ramen, which also maintains a stall in the market, and will be the first bar in the East Bay dedicated to sake. Yes, there are sushi restaurants with bars that carry the Japanese rice wine, but the Periodic Table holds immense promise as a destination for regular exploration of various sake styles. Sake tasting flights are the main draw, though the bar pours beer as well. Plus, unlike the other stalls, the Periodic Table isn't just a walk-up kiosk; there's actual seating inside the bar area, so folks can relish in the hip, modern space, which is punctuated by Japanese geometric patterns in laser-cut wood screens.
Meanwhile, Fish Face Poke Bar provides a welcome respite from the proliferation of mediocre poke bowls overloaded with fake crab salad. The mini-chain stems from Sacramento, where owner Bill Ngo also runs one of the city's most heralded restaurants, Kru Contemporary Japanese Cuisine.
Expect raw fish that's a cut above in quality, bathed in onions, sesame seeds, seaweed, and a sauce of your choosing. You have to pay for additional toppings, but that's actually a good thing; the simplicity results in cleaner flavors, with the ocean really coming through. It steers the bowls closer to — albeit, not exactly like — what you'd find in Hawaii.