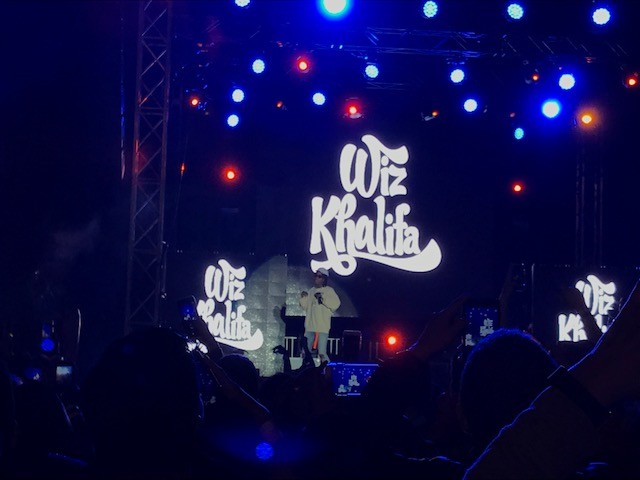 The first edition of any music festival is bound to have glitches and mishaps. And so, while attendees appeared aggravated by long entrance lines at yesterday's Ship Show festival on Alameda's naval base, all was forgotten once inside — sort of.
Folks took to social media to vent frustrations about the lines, and the fact that they were told Keak da Sneak, a Bay Area Legend, would not be performing, only he did take the stage in the early afternoon.
As YG made it onto the stage, hundreds of people were still outside, trying to make their way on to the USS Hornet tarmac. Almost an hour went by between Jeremih and YG's set, though, and while this could've been the perfect opportunity for people to take advantage of the vendors, there was a shortage of food and drinks.
[embed-1]
The most confusing moment of the night came during YG's set. The crowd was at its liveliest as the Compton rapper performed "Bitches Ain't Shit," from 2011's Just
Re'd Up
; plus "Left, Right," "I Just Wanna Party," and "BPT" from 2014's
My Krazy Life
. But the one song the crowd was most eager to hear, "Fuck Donald Trump," didn't happen: YG's set was abruptly cut short, no explanation given, just sound and lights out. YG and his camp were not happy, and left the stage visibly upset.
Wiz Khalifa headlined the first of this two-day festival, and, as is typical with his shows, smoke clouds filled the USS Hornet. Many questioned if smoking weed would be tolerated, considering the location, but security did not care. Even as Wiz performed, he addressed the crowd, "Who's got the best weed in here tonight?" (His set also was cut short, to less than 45 minutes, concluding at exactly 10pm.)
If you have tickets for day two, allow yourself plenty of time to get to there, as you will have to go through the three different check-in areas. Make sure to wear comfortable shoes; you walk up a set of narrow stairs. And, most importantly, dress warm: The temperature dropped to the low 50s, and the breeze made it extra chilly. Layers are your best friend.
Day two has an even better line-up: Wyclef, Lupe Fiasco, DMX, and Wu-Tang Clan.