The British Journal of Pharmacology has published a paper that concludes that the ingredients in marijuana likely work to prevent the onset of Alzheimer's disease, Parkinson's disease, Huntington's disease, and age-related dementia.
Smoking, vaping, or eating the pot molecules THC and CBD directly effects nerve cell function, resulting in reduced chronic brain inflammation, reduced oxidative stress, and reduced cellular dysfunction — all the while promoting stability of the human body's internal environment (homeostasis) and healthy brain cells (neurotrophic support).
[jump]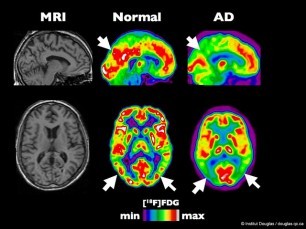 Chronic brain inflammation, oxidative stress, and intra-cellular dysfunction all play a primary role in the development of Alzheimer's disease, Parkinson's disease, Huntington's disease, and age-related dementia, the paper, published in March, summarizes.
More than five million Americans have Alzheimer's. One in three seniors will die with Alzheimer's or another dementia, and Alzheimer's is the sixth leading cause of death in the nation, costing the country about $203 billion in 2013.
Pot likely prevents Alzheimer's and other neurodegenerative diseases at the individual cell level. Molecules in pot like THC and CBD (called cannabinoids) plug into a primal, chemical signaling system in cells called "the endocannabinoid system." Cannabinoids dampen inflammation, protect cells from oxidative damage, and promote cell health on a number of levels, the paper shows.
Manipulating the endocannabinoid system will likely be a key to preventing or curing a bunch of neurodegenerative disorders, the paper concludes.
The paper adds to a growing chorus of research pointing toward neuroprotective qualities in pot — which the federal government says has no medical use. (Yet, the U.S. government also patented CBD for neuroprotection.)
Smoking pot in ones 20s or 30s could reduce brain inflammation so much that one never gets Alzheimer's said professor of neuroscience, immunology and medical genetics at Ohio State University, Gary Wenk, in January.
" .. if you do anything, such as smoke a bunch of marijuana in your 20s and 30s, you may wipe out all of the inflammation in your brain and then things start over again. And you simply die of old age before inflammation becomes an issue for you," Wenk stated.
(For what it's worth, Jamaicans have one of the lowest Alzheimer's/Dementia death rates in the world. Prohibition-rich Finland and the United States are among the highest.)
(via The Joint Blog)