The Oakland City Council threw its support behind efforts to end the three year-long federal medical marijuana crackdown in California. Councilmember Libby Schaaf announced last week that the council had voted unanimously for her resolution to support the policy direction of the 
Rohrabacher Amendment
 to end federal raids on state-legal businesses.
[jump]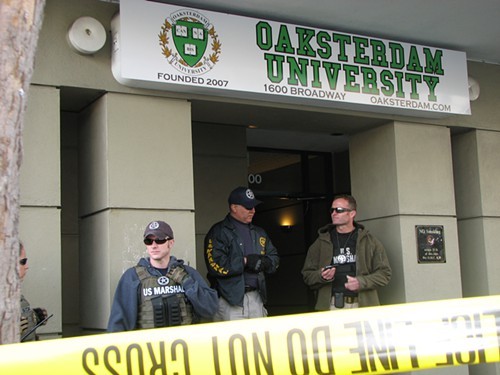 The Rohrabacher Amendment defunds the federal war on legal medical marijuana in states like California. US Attorney Melinda Haag has 
dismantled cultivation regulations
 in Northern California — leading to unbridled illegal growing and environmental damage.
Haag has also closed about a dozen permitted, secure dispensaries in San Francisco, and is going after 
Harborside Health Center
 and 
Berkeley Patients Group
 in the East Bay.
"This amendment would put a stop to Federal medical marijuana raids in Oakland," stated Schaaf. "As Oakland leaders, we support Congressman Rohrabacher's work and believe that Congress' vote shows that our federal leaders are ready to rethink how they treat medical marijuana use and patients in this country. Oakland's medical cannabis dispensaries and medical cannabis patients are part of our local economy and community and they deserve protection."
Dale Sky Jones, executive chancellor of Oaksterdam University, stated: "As members of the Oakland community and an institution that has been the 
target
 of a federal medical marijuana raid, we are happy to see Oakland leaders support the policy intentions of the Rohrabacher Amendment. This is one step in the right direction, but there is still work to be done to ensure Oaksterdam University can continue to operate and thrive in the community we love."
The Rohrabacher Amendment is stalled in the Senate and is opposed by 
California Senator Dianne Feinstein
. Feinstein has stated that:
While I support the compassionate use of medical marijuana when prescribed by a physician for certain serious illnesses, I also have concerns about youth marijuana use and rogue dispensaries. I am especially concerned about the proliferation of violence and devastating environmental impacts associated with marijuana grown on public lands and agricultural land in California, specifically in the Central Valley. For this reason I support federal efforts to investigate and prosecute the illegal dispensaries and cultivation sites – efforts that this amendment could prevent.

The Rohrabacher Amendment prevents no such thing.