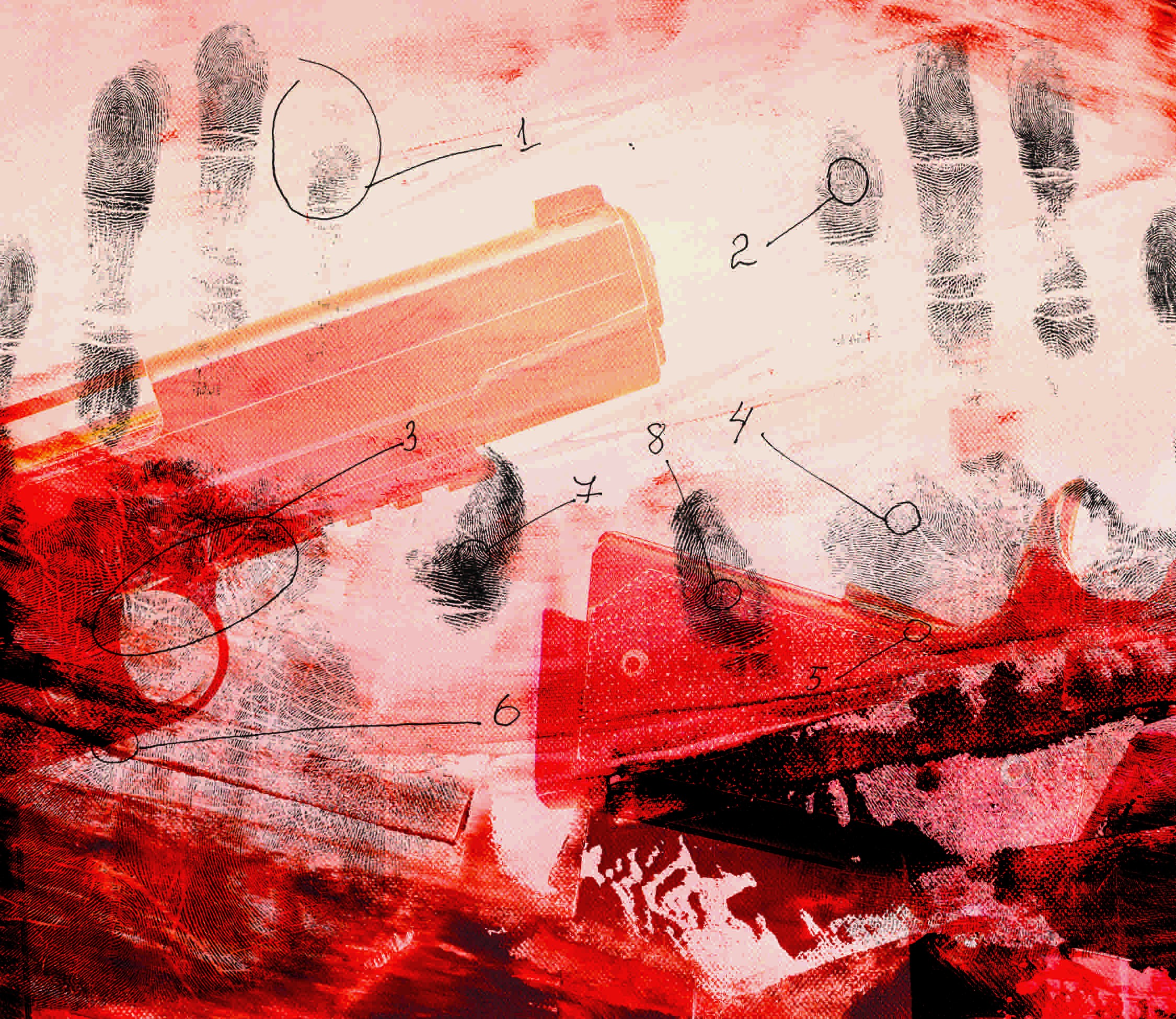 Even as the early afternoon heat began to build, reflecting off the concrete sidewalks and streets of a busy East Oakland intersection, Theresa Killian did not take off her jacket. The oversized camouflage military fatigues she wore had her last name patched onto the chest. But it was clear by the fit that the clothes were not made for her. They belonged to her son.
Kris Killian, a former-Marine and Hayward High School graduate who returned home to Oakland when his father got cancer, was shot and killed the day after Christmas last year. He was 23-years-old. Five months after his murder, the killer hasn't been caught.
"I never thought I would see my baby's face on the news because he was killed," said Killian. "Kris was a good boy. He hugged a lot and his hugs were warm and sincere. When he had you he closed his eyes."
Last Saturday Killian and about 30 activists with the group Soldiers Against Violence Everywhere (SAVE) — many of them Oaklanders who have been personally affected by the city's chronic street violence — protested for a solution to the killing, and in remembrance of their lost loved ones.
It was Killian's first time joining SAVE at its regular street vigils. She's determined to share her story, hoping that more will be done to stop the violence that has plagued Oakland for decades, and took her only son.
In 2014, Oakland residents voted to renew a parcel tax that has raised millions of dollars a year for a city-wide, coordinated violence reduction effort.
However, the numbers of homicides have not dipped far from the five-year average of 93 murders a year. And domestic violence and assaults remain an epidemic problem in the city. Oakland is still considered the most violent municipality in California, and it has one of the highest homicide rates in the nation.
Councilmembers Larry Reid and Lynette Gibson McElhaney say that something newer and bolder needs to be done on top of the existing Measure Z violence reduction parcel tax, and the mosaic of police and social services programs it funds.
The two councilmembers have proposed an entirely new department that would make violence prevention its sole aim. Their proposal calls for a new Chief of Violence Prevention, who would work closely with the Police Chief and the Mayor's Director of Public Safety to develop a strategy to stop the killing and increase the effectiveness of programs like those run through Oakland Unite.
The new department would re-house Oakland Unite, a set of social programs currently under the Department of Human Services, and create parity between the community-based initiatives that prevent violence and the law enforcement teams that target violent offenders. Oakland Unite includes life coaching programs designed to provide young people with alternatives to violence; self-sufficiency workshops to give young Oaklanders job skills and help them find employment; and a crisis response team that intervenes in the cycles of violence — to stop victims from retaliating and becoming perpetrators.
Reid, McElhaney, and their allies argue that Oakland Unite and its $8.7 million budget would be better equipped to succeed with elevated visibility and more accountability as its own department, rather than just a small piece of human services.
"We need to empower a leader to drive reforms," said Alex Marqusee, legislative analyst in McElhaney's office who drafted the proposal. "We think this is a simple proposal, that by providing dedicated leadership, there will always be someone in the city whose only job it is to prevent homicides, to prevent the sexual exploitation of children, and to prevent domestic violence."
"That should be the top priority of the administration and it should be what we invest leadership in," said Marqusee.
But critics question how a new department and new director would approach the issues differently. The actual strategies the new department would deploy have been vaguely described, if at all. The development of strategy is left mostly to whoever is chosen to lead the department, if it gets established.
It's also unclear how the steeply ambitious goals promised in the proposal — an 80 percent reduction in the number of homicides and an 80 percent police homicide case clearance rate, including cold cases, in the next three years — would actually be achieved.
A staff report published by the city administrator's office last week advised against creating the new department, citing the need for more evidence that the existing programs aren't working, or that some new strategy could better serve the city.
The administrator also found that creating a new department would incur large increased expenses. The analysis found the proposal could cost $945,411, a much higher dollar-amount than what Reid and McElhaney assumed. If accurate, additional funding would not be limited to the salary of the new director and some associated staff, as initially projected.
Councilmember Reid, speaking after a presentation at the Public Safety Committee meeting last week, questioned the conclusions of the staff report and said the administration was playing games by overstating the cost.
"I know this is something that the mayor does not support," he said. "So if the mayor does not support it, the administration doesn't support it. Being here for as long as I have been here you understand the games that get played."
After detailing the hurt he has seen during the six terms he has represented District 7 — once called the "killing fields" — Reid pushed the administration to change its stance.
Still, the harshest criticism came from other councilmembers. Councilmembers Abel Guillen and Noel Gallo have called for more details on what exactly might be done differently through the new department. Councilmemebr Desley Brooks went so far as to call the proposal "disingenuous," and a "disservice to the community."
"It has troubled me that to simply state the problem and restate the problem — we act as if we come up with a solution," said Brooks at the council's public safety committee meeting last week. "It is playing on people's emotions that by the mere statement that we are going to do something, that it is going to get done."
Although the proposal is unlikely to move forward as the council takes it up this week, Reid, McElhaney, and their allies in the community remain hopeful that the new department will eventually be established.
The proposal has received support from a several influential organizations including Youth Uprising, Make Oakland Better Now, and even The Public Safety and Services Oversight Commission created to ensure Measure Z priorities are met and implemented.
SAVE Oakland is also on the supporters list.
"I would not say it is a solution," SAVE President Paula Hawthorn said from the East Oakland sidewalk where she stood close to Killian on Saturday. "I would never say solution — but it is a good first step."
Hawthorn thinks the department can come first, and the strategy will follow. "The social programs really do work to prevent violence and this is a step in acknowledging that." But, she anticipates progress will be slow and difficult.
"So we'll do a study and come back again. And come back again the next year and the next year," she said, adding, "This may take a while but the problem isn't going anywhere — so neither are we."