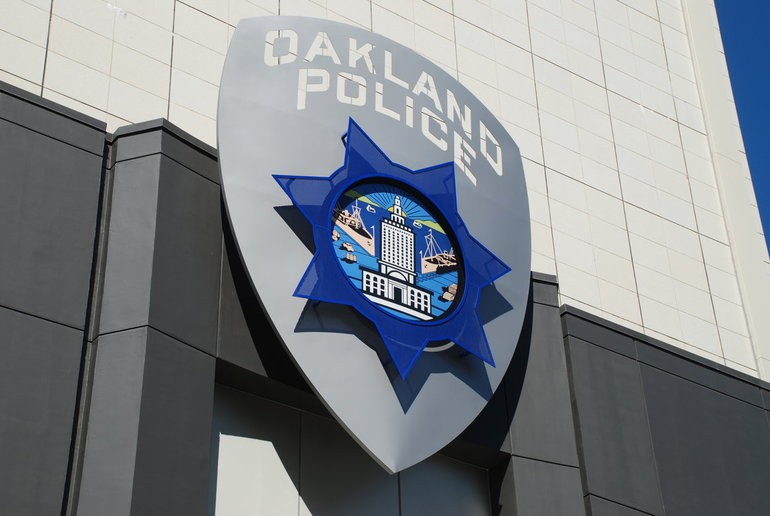 Former Oakland police Officer Cullen Faeth has filed a lawsuit against the city of Oakland alleging that the police department violated his rights when it decided to fire him for attempting to break into a random family's home, while drunk, and physically attacking them.
Faeth is now demanding to get his job back, plus hundreds of thousands of dollars in back pay since he was fired. He's also demanding that the city "purge" its internal affairs file documenting the bizarre incident that led to his firing.
The incident, which occurred on Dec, 7, 2015 at 9:15 p.m. followed an evening of heavy drinking by Faeth and other off-duty police officers at Monaghan's bar, a favorite hangout for Oakland cops in the city's Montclair district. Faeth left the bar heavily intoxicated and somehow ended up at the nearby home of Olga and Nemesio Cortez in the Oakland hills. According to criminal and civil court records, Faeth began banging on the door and yelling and demanding entry.
"Open the fucking door," he allegedly yelled, according to court records. When Nemesio Cortez stepped outside and attempted to tell Faeth to leave, Faeth kicked him in the stomach. He then grabbed Olga Cortez and tackled her to the pavement, according to civil and criminal court records.
Neighbors came over and helped the Cortezes hold Faeth down after calling police. On-duty Oakland cops responded to the scene and arrested Faeth.
In April 2016, the Alameda County District Attorney's Office charged Faeth with misdemeanor battery, trespassing, public intoxication, and disturbing the peace. Faeth eventually took a deal, pleading no contest to public intoxication and disturbing the peace, and the DA dismissed the battery and trespassing charges. He was sentenced to one day in jail and is on probation until March 2021.
The Cortez family also filed a federal civil rights lawsuit against Faeth and the city. The city settled the case last month for $35,000.
Faeth's lawsuit against the city, filed on March 2 in Alameda County Superior Court, alleges that the Oakland police and city attorney's office "cherry picked" evidence and concealed and withheld other "exculpatory" material that was relevant to the key charges he faced. As a result, Faeth claims he was denied his rights to appeal his firing.
Faeth's attorney, Alison Berry Wilkinson, claims in the lawsuit that the officer only discovered these violations after the conclusion of his appeal hearing. He became aware of the materials when they were turned over to him by the Alameda County District Attorney's Office during his criminal prosecution.
Wilkinson didn't immediately return a phone call and email about the case. But she wrote in the lawsuit that the police department relied on "hearsay" when it had an internal affairs investigator present evidence and witness statements about Faeth's violations of department policies and criminal laws when he attacked the Cortez family in 2015.
Police investigators recommended that Faeth be fired on March 7, 2016. Faeth appealed the ruling, but the city denied his appeal and  terminated him on May 2.
Faeth claims in his lawsuit that the city should have required Olga and Nemesio Cortez to provide testimony themselves during his appeal so that he could cross exam them. He also claims that the city did not provide him with evidence of his misconduct, including 911 recordings and surveillance footage of the incident, until the day before his disciplinary appeal hearing.
Faeth is asking that Oakland pay him all of his lost wages and benefits since he was fired in 2016 to the present date. According to public records, Faeth's salary was $88,104. His total compensation, with benefits, was $144,721.
The Oakland City Attorney's Office didn't immediately respond to a request for comment.