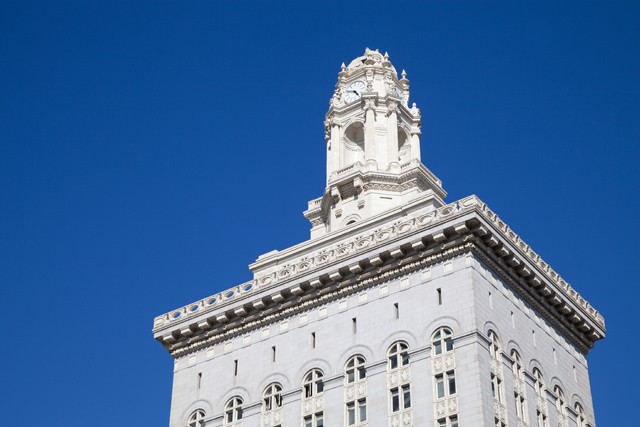 Oakland City Administrator Sabrina Landreth has referred bribery allegations involving cannabis lobbyist Dorian Gray to the Alameda County District Attorney's Office for investigation, city officials confirmed today. Oakland Council President Larry Reid said Gray tried to give him $10,000 in cash, and Assistant City Administrator Greg Minor said Gray offered him a free trip to Spain.
In interviews, Gray denied the allegation by Reid that he attempted to give the councilmember an envelope stuffed with $10,000 in cash, but Gray acknowledged offering Minor the Spain trip, although he said it was meant only as an informational tour.
Reid, who told the
Express
about the alleged cash bribe in an interview, said he rejected the money and referred Gray to Minor, who handles marijuana business permits for the city. "He offered me ten grand twice," said Reid. "I told him, 'Man I don't work that way.' He actually had an envelope."
Gray refuted the allegation. "I did meet with Larry. I know Desley [Brooks]. I know Lynette [Gibson McElhaney]. But all this offering Larry money – absolutely not."
But Gray acknowledged that he followed Reid's direction and later met with Minor in his City Hall office. There, Gray offered Minor a free trip to Spain if he would help his clients obtain a marijuana business permit. Minor says he declined the offer. Gray acknowledged offering to fly Minor to Spain, but said it wasn't intended as a bribe. Rather, Gray said it was to educate city staff about how cannabis clubs operate in Barcelona.
City spokesperson Karen Boyd said that the allegations of attempted bribery have been referred to the Alameda County District Attorney to investigate.
Additionally, Gray also said that he was contacted by an investigator with the Oakland Public Ethics Commission who requested an interview with him about the matter. "I have not done anything criminal," said Gray.
City records show that Gray isn't registered with the city as a lobbyist. But Gray said that the client he was working for when he met with Reid and Minor was Aidan Sciandra, a Richmond resident who was attempting to acquire a cannabis dispensary permit.
Sciandra was one of 46 applicants who sought one of the four general dispensary permits being offered by the city, according to public records. But Sciandra's application was ranked 40 out of 46 and wasn't selected to proceed to the next round, according to a letter obtained by the
Express
. The four available general dispensary permits were awarded earlier this week to other companies.
Last June, Sciandra incorporated a nonprofit called The Plug Oakland Cooperative, Inc., according to state records. A website for The Plug Oakland claims that the group is already operating a cannabis home delivery service in the East Bay and that its business model is based on a popular marijuana social club in Barcelona, Spain, also called "The Plug."
Minor said that Gray mentioned The Plug when he met with him a month ago.
The
Express
was unable to reach Sciandra for comment. One of the three telephone numbers listed on The Plug Oakland's website is disconnected, and repeated calls to the other two numbers went unanswered. No one replied to an email sent through the website.
Gray said the allegations that he attempted to pay city councilmembers or fly city staff to Spain on behalf of The Plug is all a miscommunication. "There's a mistake somewhere that I want to correct. I didn't do anything unethical," he said.
Gray declined to say how long he's been working with Sciandra, but he did disclose that they met through a "friend."
He said Sciandra's marijuana dispensary would, in fact, help fund homeless services in the city.
"These are some beautiful young guys that are very compassionate about the city," he said. "What we wanted to do is try to make a difference with the homeless situation."