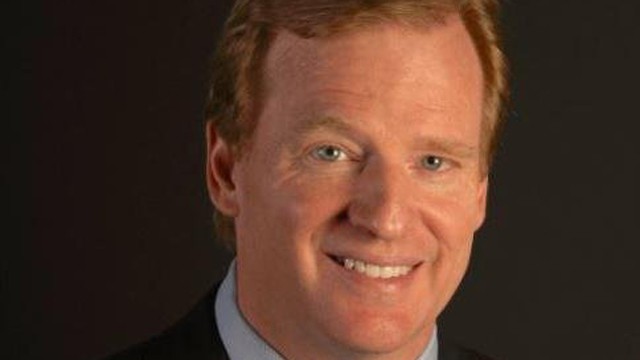 In what will go down as one of the most shameful and embarrassing episodes in NFL history, the league's owners buckled under the pressure of President Trump's casual bigotry and creeping fascism on Wednesday, as they banned kneeling or sitting during the national anthem.
The new policy will allow players and other team employees to stay in the locker room during the anthem if they prefer. But those on the field must "stand and show respect for the anthem and the flag" or the league will levy fines against the offending teams, the NFL said in statement. The new policy also includes a chilling, vaguely worded warning that Commissioner Roger Goodell can impose any "appropriate discipline" on violators of the rule. No other details about discipline parameters were provided.
It's all as clear as mud. And this anthem policy has ignited outrage, as it represents an assault on basic American freedoms many of us once took for granted.
"Stand and show respect" is an odd choice of words because kneeling players like Colin Kaepernick and Eric Reid have always said their protests had nothing to do with the flag or the anthem, and everything to do with drawing attention to the disturbing rate of police killings of unarmed African-Americans. In fact, Kaepernick started kneeling two years ago on the advice of former Green Beret and U.S. Army veteran Nate Boyer, who convinced the ex-49ers quarterback it was more respectful than sitting during the anthem.
It's also disappointing that the NFL's language mirrors Trump's inflammatory statements on the matter, which he has used to divide voters and distract from his administration's many problems. The president's comments last September infamously referred to protesting players in general as "a sonofabitch" who should be kicked off the field.
Just eight months later, the owners appear to be giving in to Trump — an act of cowardice they likely will regret.
"You have to stand — proudly — for the national anthem or you shouldn't be playing, you shouldn't be there," Trump said Thursday on
Fox & Friends
. "Maybe you shouldn't be in the country."
Raise your hand if you're old enough to remember when we Americans routinely mocked dictator-led nations like North Korea and Libya for such forced acts of patriotism.
Let's be blunt: This new NFL policy is foolish. It's twisted and heavy-handed. More than anything, it's downright un-American, because acts of freedom can't be forced. Otherwise, they stop being free and start being politically repressive in all the corrosive ways that tyranny breeds.
And if the NFL's goal was to make the anthem controversy go away, this policy is an immediate failure. Social media quickly exploded with anger and ridicule of the draconian rule, which will do little but lead to even more media focus on the pre-game anthem. A critical
New York Times
editorial on Thursday was titled, "The NFL Kneels to Trump," and the
New York Daily News
' front page headline was, "NFL Dishonors the Flag."
In the coming weeks and months, anytime the owners believe the public has moved past the controversy, there'll be nothing to stop Trump from reigniting the controversy on a whim for his political gain. For example, it took less than a day for the president to complain about the new rule.
"I don't think people should be staying in the locker rooms," Trump said Thursday, criticizing a key part of the policy.
In normal times, we would shake our heads and laugh at the NFL's geriatric billionaires for being hopelessly out of touch and then return to our individual pursuits of happiness. But these times, unfortunately, are far from normal.
This president's administration is one of the most openly racist, dishonest, and corrupt in this great nation's history. Even worse, Trump constantly tries to de-legitimize the press, stokes irrational fear, and panders to racial resentment to persuade hard-working Americans to vote against their interests. That's why Trump made such a big stink over NFL players protests last fall in the first place.
During his 20 months in office, Trump has been openly hostile to Muslims, racial minorities, and gays, and some of his policies have fused xenophobia and cruel, hyper-aggressive law enforcement tactics, such as ICE's deportation of brave military veterans and separation of children from their undocumented parents.
During several of his bellicose "law-and-order" speeches, Trump has encouraged police to physically abuse suspects in custody. As the president has cultivated this Nixon-esque terrain, alarming incidences of police killings have continued. On the same day as the NFL's policy announcement, Milwaukee police released a videotape from January that showed a belligerent officer escalating a simple parking citation into a violent and unnecessary altercation that ended with officers tackling and using a Taser gun on NBA player Sterling Brown.
Watch the video.
It's ugly stuff. And it's exactly the kind of abuse of power that Kaepernick and other NFL players protested last year by taking a knee.
NFL owners say they're sympathetic to those same issues, noting they formed a fund last year with players to affirm their commitment to social justice. But any positive PR they hoped to create was dashed this week by the new rule.
If Commissioner Roger Goodell or NFL owners actually cared about social justice, they wouldn't enact a policy that curtails free speech and punishes teams and players for a quiet, dignified protest. Instead of capitulating to Trump, they could have disputed the president and muted the obvious role his bullying played in creating this new policy.
Instead, the NFL caved.
Perhaps I shouldn't be surprised. After all, several NFL owners donated at least a $1 million to Trump's inauguration fund, and Patriots head coach Bill Belichick supported him on the campaign trail. For years, the league has engaged in a cynical bit of phony patriotism, making the Department of Defense pay money for military ceremonies and other "patriotism-for-sale" moments in NFL stadiums.
In short, NFL owners always side with power and money, with the goal of acquiring more of both, pushing the ideals that "The Star-Spangled Banner" is supposed to represent to the back burner every time.
Meanwhile, some NFL owners are trying to have it both ways. Both 49ers owner Jed York and Raiders owner Mark Davis reportedly abstained from the policy vote. York spoke with reporters after the owners meeting but declined to give specific reasons for his abstention, saying only he wants to "work with my team to make sure everything we do is about promoting the right types of social justice reform and getting to a better America."
If that sounds like empty rhetoric, that's only because it is.
Davis' abstention also is difficult to figure out. Before a 2016 Raiders-Texans game in Mexico, Davis honored Olympian Tommie Smith for his famous black-gloved protest during the 1968 Olympic Games in Mexico City. But that apparently wasn't enough to garner a definitive no vote from Davis on Wednesday. I guess the athletes who protested 50 years ago are somehow better than those protesting over the same issue today? I can't explain Davis' inconsistency here.
Also, the New York Jets owners supported the anthem rule but announced they would gladly pay fines caused by a protesting player. Sorry, this seems disingenuous because the policy takes the burden off of owners by allowing Goodell to impose any "appropriate discipline" on a player, meaning the Jets could give the appearance of supporting a player by paying his fine but then allow Goodell to play bad cop and punish him with a suspension.
As for Goodell, I don't think he could be any more of a disappointment.
His father, Charles Goodell, was a Republican Senator and a man of principle who opposed the Vietnam War and waged political battle against President Richard Nixon and Vice President Spiro Agnew. Goodell lost that fight and his seat in the Senate, but he kept his integrity and good name intact long after Nixon and Agnew resigned in disgrace a few years later.
Roger Goodell can't make similar boasts when he retires. The cold reality is he's the feckless leader of a sport whose $14 billion in annual revenue was produced mostly by its majority-Black labor pool, yet team owners have shown a strange, almost pathological need to control the players, sometimes even in petty ways. In the late 1990s, for example, the league banned so-called "durags" — a head garment worn almost exclusively by African-American players. Despite the fact that nobody could give a good reason for the ban and it appeared to target only Black players, only one team owner voted against it: Al Davis of the Oakland Raiders.
Al and his irascible, iconoclastic ways have been gone for more than six years. So is the original community-based spirit of professional football.
Some worry that the Trump era, likewise, is threatening the American dream and the country's traditional ideals of tolerance, intellectual freedom, economic opportunity, racial diversity, social equality, and justice.
If you're unsure why there's so much outrage over this new NFL anthem policy, it's because many believe it's one more sign that our most powerful and wealthy leaders are eroding our core freedoms.
If you're not bothered by that, you're certainly allowed to stay in this country. But you sure as hell don't understand what made it great in the first place. In other words, you'd fit in perfectly with today's NFL.
Chris De Benedetti writes a regular sports column for the
Express.