Luke's on vacation, I'm hungover busy making a newspaper, and apparently nothing newsworthy whatsoever happens the week of Christmas (except Jesus' birth?!?), so this iteration of our food-news roundup will be short and sweet. Here we go:
1. Tablehopper reports that the hotter-than-hotly anticipated Ramen shop will, barring catastrophe, be opening tomorrow, December 27; she's also got some pictures of the space and as-yet-unseen insights into the restaurant's last-minute fine-tuning efforts.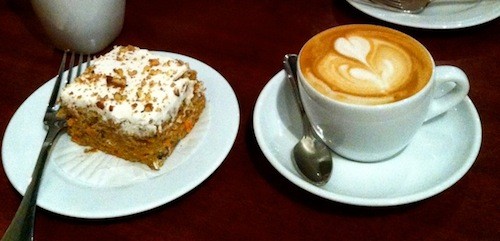 Vegansaurus
Carrot cake and cappuccino at Timeless Coffee
2. Vegansaurus brings us news of Timeless Coffee, a new Piedmont Avenue Cafe that is, you guessed it, 100-percent vegan. Blogstress Courtney Flynn went nuts for the shop's Sightglass pour-over and cruelty-free peppermint brownies; see for yourself at 4252 Piedmont Ave.