Welcome to the Mid-Week Menu, our roundup of East Bay food news.

1) Marzano (4214 Park Blvd.), the Italian standby in Oakland's Glenview neighborhood, has been sold, Inside Scoop reports. Owners Justin Hafen and John Hurley, who also own Garibaldi's in San Francisco, have decided to close Marzano this summer in order to focus on the residential design business that they own in Napa, where the couple recently moved. The yet-unnamed new owners of the restaurant will reopen it as The Growler's Arms, which will reportedly be a gastropub in a similar vein as New York's Spotted Pig.

[jump]
2) Inside Scoop has more details about Longbranch Saloon (2512 San Pablo Ave.), the new restaurant and bar opening in the former Sea Salt space in West Berkeley. It turns out that the chef and co-owner is David Stevenson, who is also the chef at Paisan (2514 San Pablo Ave.) right next door. Details about the Longbranch Saloon's menu concept are pretty sketchy at this point — Stevenson only noted that it'll be the kind of place where you can get either a $9 burger or a $30 steak — but live music and late-night hours (until midnight) are currently part of the plan. Look for a July 1 opening.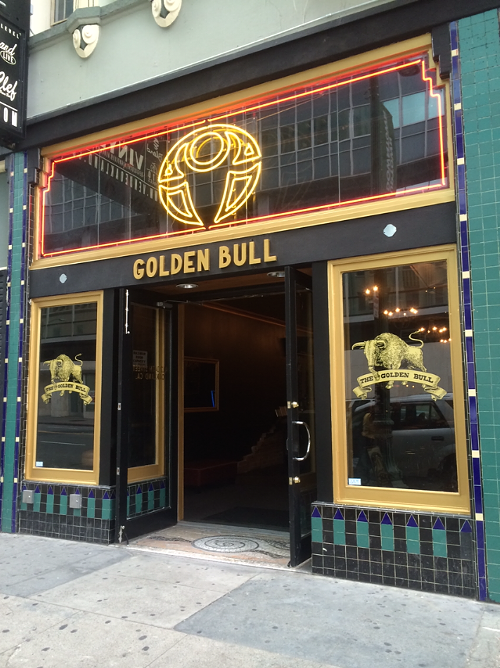 3)
The Golden Bull
(412 14th St.), the downtown Oakland bar whose reopening we noted
earlier
, is holding an official
grand opening party
this Friday, May 2, from 4 p.m. to 2 a.m. Happy hour prices will be in effect all night — $3 well drinks, $4 shots, and so forth.
4) Uptown Oakland might soon get its first "full-service," seven-day-a-week gay bar,
The Chronicle
reports. Next Wednesday, May 7, the city's planning commission will vote on whether to grant a permit to the proprietors of
The Port Bar
. If approved, the bar would open this summer in an empty building at 2021 Broadway, next door to the Paramount Theatre.
5) A watchful
Chowhound
poster has noted the opening of Wine & Waffles (1505 Park St.) in Alameda, in the space next door to Ole's Waffle House. The location isn't incidental: According to a preview in
Alameda Magazine
, co-owner Vickie Monize's family has owned Ole's for over forty years, and the wine bar will serve waffle dishes from Ole's (and other bar-snacky items) that can be paired with the wine bar's collection of
hard-to-find "niche" wines
— a novel combination if ever there was one.
6) A couple of coffee-related items: A new coffee roaster called Supersonic Coffee is coming to 2322 Fifth Avenue in Berkeley,
Sprudge
reports. The project is headed by John Laird (formerly of Verve), who has put together a team of coffee-world all stars; a Supersonic cafe in Oakland is in the works for later this.
Coffee Conscious
(1312 Gilman St.) softly opened about a month ago in West Berkeley. Pepples Donuts proprietor Josh Levine purchased and revamped the longtime bulk coffee-and-tea shop, adding drip coffee and espresso service, plus Pepples' full line of doughnuts and other vegan pastries.
7)
J Weekly
reports that the Montclair neighborhood's kosher-vegetarian restaurant
Amba Restaurant
(6464 Moraga Ave., Oakland) has started to sell kosher-supervised meat dishes like beef kabobs and chicken shwarma — this despite the fact that the owner and his family are ethical vegans. According to owner Jonathan Wornick, the decision was business-motivated, and motivated by a desire to serve kosher meat eaters, who don't have any other restaurant options in the East Bay.
8) Allen Hemberger, a Pixar visual effects artist who lives in Oakland, has launched a
crowdfunding campaign
in order to create a book that documents his five-year journey of cooking through
The Alinea Cookbook
(and
blogging
about the experience along the way),
Eater
reports. "Over the course of the project," Hemberger writes in his
Kickstarter
pitch, "I've built precisely-controllable heating chambers for warming chocolate, learned how to import super-fresh fish from the Tsukiji fish market in Japan and washed more dishes than I could possibly keep count of." Hemberger has already hit his funding target, but if you think you might like a copy of the book — the photos look awfully pretty — check out the campaign
here
.
9) Call it the Great Fast-Food Burger Hoax of 2014: In-N-Out doesn't have any immediate plans to come to Berkeley,
California Golden Blogs
reports. So, the official-looking In-N-Out banner outside a boarded-up storefront at 2333 Telegraph Avenue — a photo of which went mildly viral on Twitter the other day? Probably the work of a particularly heartless prankster. (Hat tip:
Berkeleyside Nosh
.)
10) ICYMI, the San Francisco-based Senegalese restaurant
Bissap Baobab
is opening a new location in downtown Oakland, and I give a rundown of
five desserts
to check out now that strawberry season is in full swing.
Got tips or suggestions? Email me at Luke (dot) Tsai (at) EastBayExpress (dot) com. Otherwise, keep in touch by following me on Twitter @theluketsai, or simply by posting a comment. I'll read 'em all.