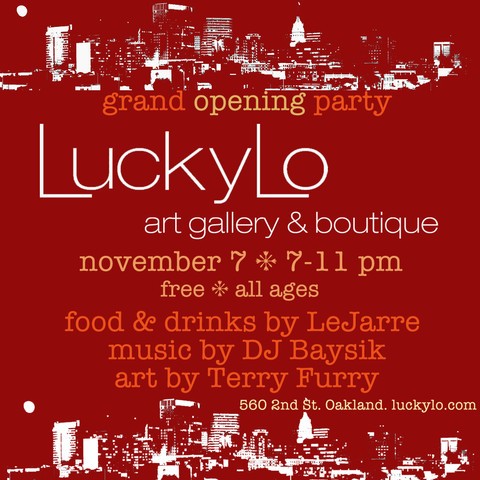 On October 8, Loakal fans were disappointed to hear that the Jack London Square boutique and gallery would be closing. However, that disappointment didn't last long. Loakal Co-founder Loretta Nguyen recently announced that she would be reopening the space at 560 2nd Street under a different name:
LuckyLo
. Nguyen said in an interview that her and fellow founder Eddie Colla decided to move on professionally, and she wanted to start with something "brand new and fresh."
[jump] The opening night party coincides with First Friday festivities on November 7th, featuring music from DJ Baysik. The current solo show,
Vulnerable Gods,
from local artist 
Terry Furry
, will continue through November 21st. The party will also feature desserts and food from
LeJarre
, the foodie duo of Austin Cheung and Betty Noeume. They run an online shop of pastries, desserts, and quiches, and have started to offer their sweets at locations like 
SomaR Bar
and Cheung's parents' restaurant,
Marica
.
Nguyen points out that the titular characteristics of Loakal (which was also co-founded by the
Express
) won't be forgotten – her two-person team at LuckyLo is Oakland-based, and she says that LuckyLo will continue to "highlight independent designers that are mostly local." But Nguyen also plans to inject more of her personal style and tastes into the space. Though she values the work of local creatives, she says she will also highlight designers out of the area as well, because it's "important to see trends in other areas and open our eyes to new designs and new ways of seeing things," she said. She will also take over curating the gallery space, which will reflect more of her background in interior design.
The new location name, LuckyLo, is a friendly elaboration on her personal nickname, Lo. Also, it will allow for future expansion into Alameda or Berkeley. A second, and even a third spot wouldn't be out of the question, she says, as for the past seven years she has managed multiple businesses successfully. Though she's a quick worker, she's also looking forward to running a life as well as a business. What Nguyen emphasizes the most in her intentions for Friday's opening celebrations is that she wishes to celebrate new beginnings while also showing appreciation for the loyal friends and family that have helped for the past two years. 
Visit the LuckyLo website
here
, and RSVP to the opening on Facebook
here
.