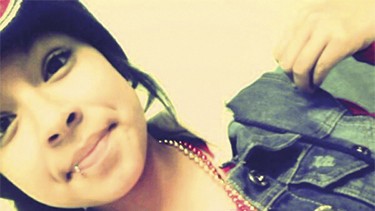 As the stolen BMW scraped against the side of an unmarked police van in a desperate attempt to escape, two plain-clothes police officers opened fire with their AR-15 rifles. They missed the driver — who was wanted for a string of violent armed robberies — and instead struck Elena Mondragon.
Five bullets and bullet fragments ripped through Mondragon's body. The pregnant 16-year-old girl was pronounced dead less than three hours later at a nearby hospital.
The fatal shooting of Mondragon by two Fremont cops occurred in Hayward on March 14 of last year, but in the following 11 months, authorities from multiple law enforcement agencies repeatedly declined to release information about the killing. "We never heard anything from anybody," Mondragon's uncle Miguel Minjares said in a recent interview. He complained about the secrecy of multiple law enforcement agencies and questioned why his family wasn't provided with information for almost a year.
Last week, the Alameda County District Attorney's Office finally completed its review of the police shooting, providing new details and concluding that Fremont Detective Joel Hernandez and Sgt. Jeremy Miskella were justified in fatally shooting Mondragon, because they were trying to stop 19-year-old Rico Tiger, the driver of the car, from killing their partner and slipping through the net they had cast to apprehend him.
In addition, prosecutors have decided to charge Tiger with murder, blaming him for Mondragon's death. He's also facing other felony charges; he was arrested in San Francisco the day after Mondragon died. In a letter to the Express, Fremont City Attorney Bronwen Lacey alleged that Tiger was a member of "a crew that is associated with a violent gang located in Oakland with ties to the city of Hayward called ENT and/or Money Team."
Court records and the DA's report describe the shooting as a chaotic scene in which the Fremont police officers' strategy to corner and trap Tiger didn't go according to plan. Instead, they scrambled to avoid being run over while other cops fired into the vehicle Tiger was driving.
The shooting had its origins in a series of armed robberies allegedly perpetrated by Tiger and several other accomplices over the prior year, according to court records.
Last February, Tiger, his friend 19-year-old Khyrie Copes, and others allegedly executed a spree of armed robberies across Santa Clara County and in Fremont and Union City. Police investigators described them as "violent, armed with firearms, and [having] employed police-like capture tactics."
One victim told police she parked in her home driveway one afternoon when a vehicle suddenly boxed her in. Two men exited. One leveled a pistol on her while the other said, "just give me your purse."
Another victim arrived at his house when three men ran up, one of them pointing a black handgun. A second man punched him in the face. They frisked his pockets and disappeared in a silver SUV.
The stick-up crew's undoing was a tracking system embedded in a stolen BMW sedan. On March 11 last year, Tiger, Copes, and another accomplice fled the scene of a Union City armed robbery in a stolen white BMW SUV. Police chased them into San Francisco where the three men bailed out of the vehicle and disappeared. The cops recovered a cellphone that had Tiger's information on it. Another phone allegedly belonging to Copes was found nearby. Police later figured out that the SUV had been stolen from the Manheim Auto Auction in Hayward.
Police learned that the thieves had been nabbing Manheim's vehicles as they were being staged for loading onto transport trucks. In addition to the silver SUV, there was a charcoal colored BMW 550X sedan stolen around the same time. Fremont Sgt. Eric Tang surmised that the sedan was taken by the same crew. After contacting BMW, Tang learned the vehicle came equipped with GPS tracking.
The dealership activated the GPS and began feeding coordinates to the Fremont detectives. On March 14, at around 3 p.m. the Southern Alameda County Major Crimes Task Force, which was leading the case, was sent information that the BMW was in Hayward. They assembled a team that included Fremont detectives Ghailan Chahouati and Joel Hernandez, along with officer James Taylor. The three rode in an unmarked Dodge minivan. Calling this the "heavy van," the trio would move in to arrest Tiger and Copes. Fremont police Sgt. Jeremy Miskella drove a small unmarked Honda Pilot SUV and also would assist in the arrest. Three other officers would carry out surveillance nearby in parked cars and on foot. With the exception of Taylor, who was handling a canine, all the arrest team officers were equipped with AR-15 rifles.
On March 14, 2017, they found the BMW tucked into the last parking spot on a dead-end street inside the City View Apartments near California State University East Bay in Hayward. Mondragon, Tiger, Copes, and Mondragon's cousin, Airieanna Cabrera, were swimming in the complex's pool. It was a warm March afternoon. They stayed poolside for about an hour while an undercover officer observed them. Mondragon, who was from Antioch, was a friend of Tiger's.
The arrest team's plan was to wait until Tiger, Copes, and the two girls returned from the pool and got into the BMW. From there, the police would conduct a maneuver much like that used by Tiger and Copes to rob people. They hoped to block the BMW in its parking spot with their own vehicles, and arrest the suspects at gunpoint.
But it didn't work out that way. Instead, Tiger, Copes, Cabrera, and Mondragon got into the BMW and immediately began to drive out of the parking lot. Chahouati, who was steering the police van, pulled up bumper to bumper with the BMW. Miskella placed the Honda so that its front was even with the back of the van while blocking the other lane in the narrow exit to the parking lot. From there, the officers exited, drew their weapons, lit up police lights in their vehicles, and ordered the BMW's occupants to put their hands in the air.
According to the DA's report, Tiger didn't comply. He backed up the BMW and then accelerated forward toward police.
Chahouati told investigators he had taken cover behind the driver's side door of the van, but the BMW was aiming at him, apparently in a desperate maneuver to fit between the van and the rear ends of two parked cars in the lot. There wasn't enough space to squeeze through without striking the van and parked cars, however.
"Detective Chahouati believed that [Tiger] was about to drive into him with the BMW and kill him," the DA inspectors wrote in their report. Chahouati "dove into the open door of the Dodge to escape," as the BMW crashed through the van door and parked cars.
According to police accounts, the BMW made it past and veered toward Sgt. Miskella who was standing behind the van. Detective Hernandez told the DA's office he thought Chahouati had already been run down and that Miskella was next. He fired twice into the BMW with his rifle. Miskella fired five rounds from his rifle also at the car as it zipped past. Mondragon was the only occupant of the BMW struck by gunfire.
The Fremont Police Department's use of force policy states that firing shots at a moving vehicle is "rarely effective," and that officers should move out of the path of cars instead of shooting. It prohibits officers from firing at moving vehicles except "when the officer reasonably believes there are no other reasonable means available to avert the threat of the vehicle."
Tiger managed to steer the BMW out of the parking lot and east-bound onto Carlos Bee Boulevard, but he then crashed into a truck. Copes and Tiger both fled on foot, abandoning Mondragon who was already dying from multiple gunshot wounds. Cabrera stayed with her cousin.
Although Miskella was wearing a body camera, he told investigators that he didn't activate it because "things progressed so quickly," according to the DA's report. Two other officers, Union City Police Detective Sergio Quintero and Fremont Detective Jamil Roberts, were hiding nearby and witnessed portions of the shooting. They were also wearing body cameras, but neither turned his on either.
Tiger escaped and fled to San Francisco, while Copes was arrested nearby that day. He told Hayward police investigators that Tiger and Cabrera were boyfriend and girlfriend, and they had decided to go swimming with Mondragon. He said it was apparent that the men who tried stopping them in the parking lot were police. When Tiger accelerated through the police barricade, he heard gunshots, shattering glass, and he heard Mondragon exclaim "I can't do this" as she was shot multiple times.
Tiger told Fremont police detectives in an interview days later that he didn't see any sign that the men who tried to stop them were police. He said he fled because they were in plain clothes and carrying guns. After the shooting, he claimed he "blacked out," and couldn't remember much more. But according to police records, he confessed to committing multiple armed robberies over the prior year.
He also admitted to killing Cristel Antunez-Ayala in a vehicle crash a few weeks earlier, according to the DA's report. Antunez-Ayala was driving on Bancroft Avenue in East Oakland on Feb. 26, 2017, when a stolen Audi sped through the intersection at 90th Avenue and broadsided her car at 90 miles per hour. Tiger, who was behind the wheel of the Audi, was allegedly fleeing from Oakland police officers who suspected the vehicle was the getaway car used in the Santa Clara robberies. Also in the vehicle were Copes and Cabrera.
As they would later do after Mondragon's death, Tiger and Copes fled the scene of the grisly accident on foot. Cabrera was detained by OPD, questioned, and released. Last week, prosecutors charged Tiger with vehicular manslaughter for Antunez-Ayala's death.
As to the Fremont police who shot into the BMW and killed Mondragon, the Alameda County DA's office found that the police officers acted lawfully and in self-defense. "Ms. Mondragon's death was unintended and tragic," the DA's inspectors wrote.
Instead, prosecutors put responsibility for Mondragon's death on Tiger. The DA charged him on Feb. 21 with murder for her death and with attempted murder of officers Chahouati and Miskella.
Minjares said his sister, Mondragon's mother, and her extended family were shaken by her sudden death and the official silence that followed. After reviewing court records, police reports, and the DA's review of the case, he questioned why police allowed Tiger to get into a car before they moved to arrest him. "You let him pick his weapon. You let him have a car," Minjares said. "Why didn't they arrest him while they were at the pool?"
Minjares said they plan to hold a vigil in Hayward next month, on the one-year anniversary of Mondragon's death.