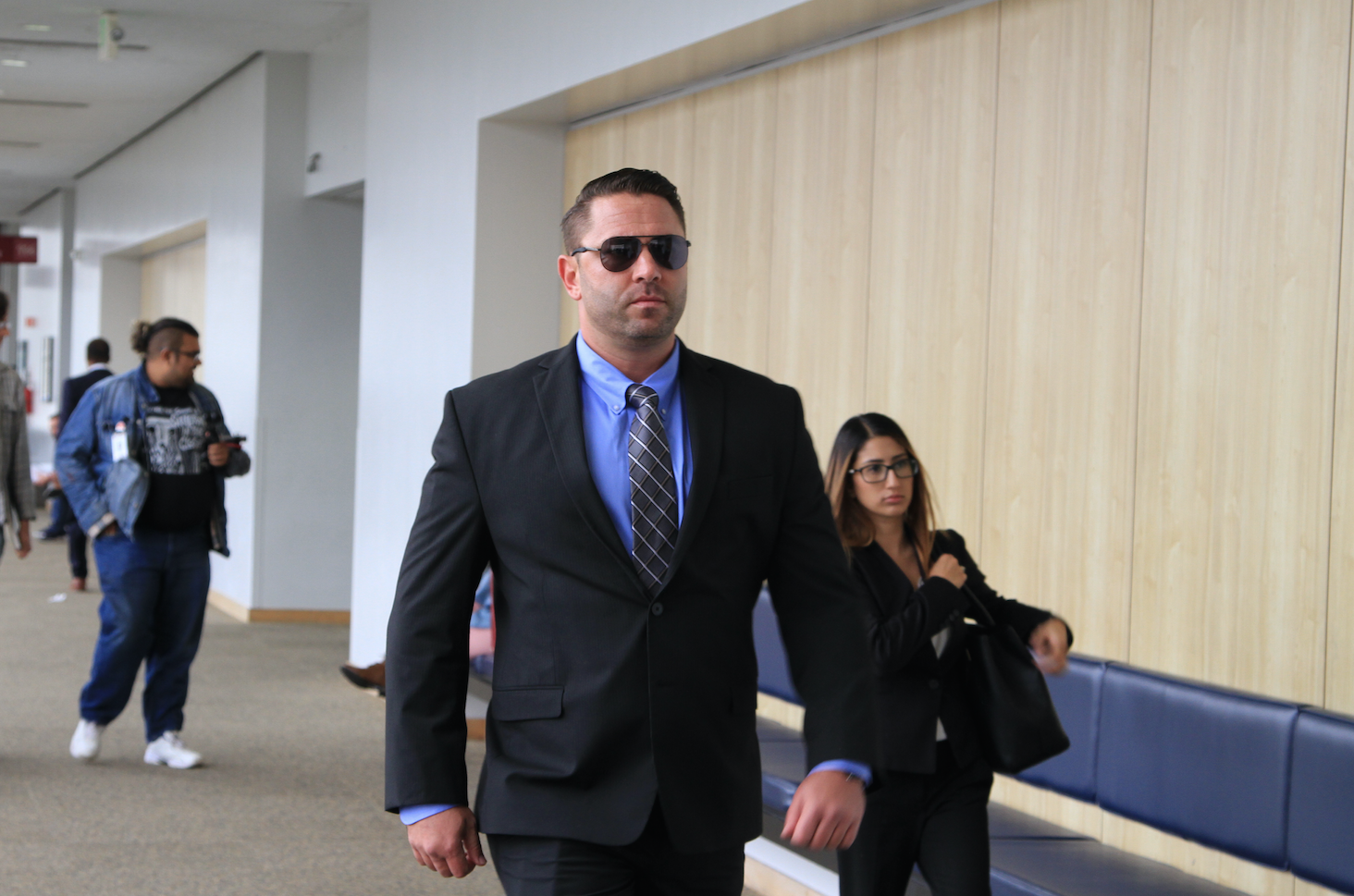 Kyle Chapman, who is accused of engaging in violent brawls in Berkeley during pro-Trump and "alt right" rallies earlier this year, was cuffed and taken to jail from an Alameda County courtroom this morning after a judge set his bail at $135,000.
Chapman, a Daly City resident, is charged by the district attorney with possession of an illegal weapon in the form of a stick. Berkeley police officers wrote in charging documents that he was seen beating people with the stick and dousing people with pepper spray on March 4.
At a morning court hearing in Oakland, Judge Mark McCannon told Chapman that he can't possess any weapons until his case is resolved. "You are to have no weapons of any kind — sticks, knives, pepper spray," the judge said.
McCannon also imposed a stay away order on Chapman, preventing him from being within 300 yards of Berkeley's Martin Luther King Jr. Civic Center, where Chapman repeatedly clashed with counter-protesters in spring. As another condition of his bail, Chapman must submit to a search of his person and vehicle by any law enforcement officer at any time.
"The allegations do cause me some concern," said McCannon during the arraignment.
About ten sheriff's deputies were present for the hearing to prevent any disruptions by protesters or supporters of Chapman. Security measures at Wiley M. Manuel courthouse were heightened on Friday because of prior
disruptions
by right wing activists at the arraignment of Eric Clanton, a Cal State University lecturer accused of assault.
Just before his case was called, Chapman rebuffed two reporters from Reveal who attempted to ask questions. "You guys are the one's writing the hit pieces about me," he said.
Chapman then went on to blame "commies" and "international domestic terrorists" for recent violence at right-wing rallies in California and other parts of the country.
Regarding Berkeley, he said the police failed to keep right-wing and leftist protesters separated during the first two rallies and that this resulted in violent clashes. For what he called "Berkeley 3.0," the third political rally in April, Chapman said the police "finally did their job," and this resulted in "not one incidence of violence."
He also denounced recent events in Charlottesville. "They weren't uniting the right," he said about the rally that ended in one person dying after a white supremacist drove a car into dozens of counter-protesters. He derided attendees of Charlottesville as "racist alt-right fuckin' Nazis."
Chapman's next court appearance will be in Department 7 of the Rene C. Davidson Courthouse on Sept. 5.