Game over, man.
The frontrunners for California legalization in 2014 will not fund the effort this year, and have punted it to 2016.
The Drug Policy Alliance told the Los Angeles Times in a story published today that there's not enough time, or voter support to run a legalization initiative in California this year. The deadline to file an estimated 800,000 raw signatures is April 18th.
[jump]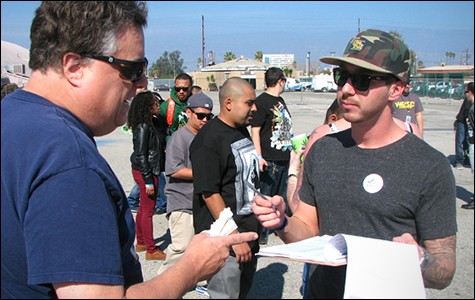 A California resident and Cannabis Cup attendee declines to sign a 2014 pot legalization petition Feb. 8, citing a need for more information
About $10 million is needed to run a legal weed campaign in the massive Golden State and the DPA has access to that kind of funding, but will not be plunking it down this year.
The death of Progressive insurance founder and reform advocate Peter Lewis seems to have played a role in DPA's decision.
Lewis was "leaning strongly toward moving forward," Lewis' laywer Graham Boyn told the Times. "But, unfortunately, that was less than a week before he passed away. We continued the exploration process, but it was a difficult context without him there."
DPA's opponents are going to cheer the decision, especially the leaders of the three other legalization measures out there. But as of last week, none had shown that it can get enough funding to gather signatures and run a campaign.
The whole situation reminds me of something the Electronic Frontier Foundation's John Gilmore said to pot activists at a conference at Fort Mason in January 2013: "We can't depend on rich people to die at the right times to make things happen."