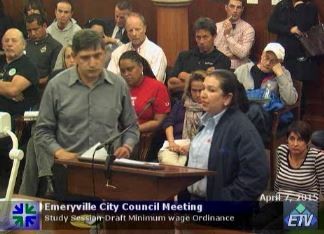 Last night, at a
special study session meeting
of the Emeryville City Council, dozens of business owners and workers spoke about the city's proposed minimum wage increase. No business owner spoke out against raising the minimum wage. But almost all of them voiced concerns about the pace of the increase, and whether or not Emeryville should adopt what would be the highest municipal minimum wage in the nation. Some business owners asked for special exemptions for their businesses.
After hearing from the public, the council decided to draft an ordinance that starting on July 1 will increase Emeryville's minimum wage to $14.42 an hour for large businesses and $12.25 an hour for small businesses. Small businesses are defined as companies with fewer than 55 employees.
[jump]
The draft ordinance will adjust the large employer wage upward each year to account for inflation. And the small employer $12.25 wage will be increased by a dollar each year until 2019 when it converges with the large employer minimum wage, creating a single minimum wage for all employers.
The Emeryville City Council will vote on the minimum wage next month.
See also:
Emeryville Poised to Leapfrog Oakland With Minimum Wage Hike as High as $14
Business owners and workers on both sides of the issue helped the council craft the proposal.
"I don't have a single employee that makes less than the living wage [$14.42] when you factor in tips," said Dylan O'Brian, one of the owners of the Prizefighter bar. O'Brian said his business has twelve employees.
"We are pro-labor, 100 percent," said Jon Santer, O'Brian's business partner. But Santer said an increase to a $14.42 minimum wage "would place an undue burden on our business."
"From where I'm standing it looks like wealth redistribution," said O'Brian.
Maria Hilda Chavez told the council it's important to reach $15 an hour as soon as possible. Chavez has worked as a janitor at the Watergate Towers office complex for more than ten years, but said the cost of living is so high in the Bay Area that her family has trouble paying rent and buying groceries.
Oakland fast food worker Guadalupe Salazar told the council about how Oakland's new $12.25 minimum wage has benefitted her family. "It's amazing. I got to pay my rent in only one single payment, and still got money in my pocket to put food on my table," said Salazar. "My daughter asked me if we could go to the movies and I said yes."
Betty Williams, the work study clinic supervisor at the National Holistic Institute, told the council that an increased minimum wage would force the institute to raise rates on massages. Williams said the institute employs 48 student massage therapists, paying them an average hourly wage of $12.50. Some make only $9 an hour. Williams and other business owners asked the council to exempt them from paying the new minimum wage, an idea the council turned down.
"They're serving the community by doing massage," said Williams of her employees. "Most of our clients are senior citizens. If we are not able to get an exemption for our students as employees, we'll be raising our rates for our community, and most of these are senior citizens on fixed incomes."
Ultimatley most of the business owners who spoke got what they wanted; a lower phased-in minimum wage increase. Large retailers, janitorial companies, and restaurant chains, of which there are many in Emeryville, will see an immediate increase to $14.42, however.
"The study session proved we had basically reached a consensus," Emeryville Mayor Ruth Atkin said in an interview. "I expect this will be the version of the ordinance that ultimately goes through two readings and becomes law."