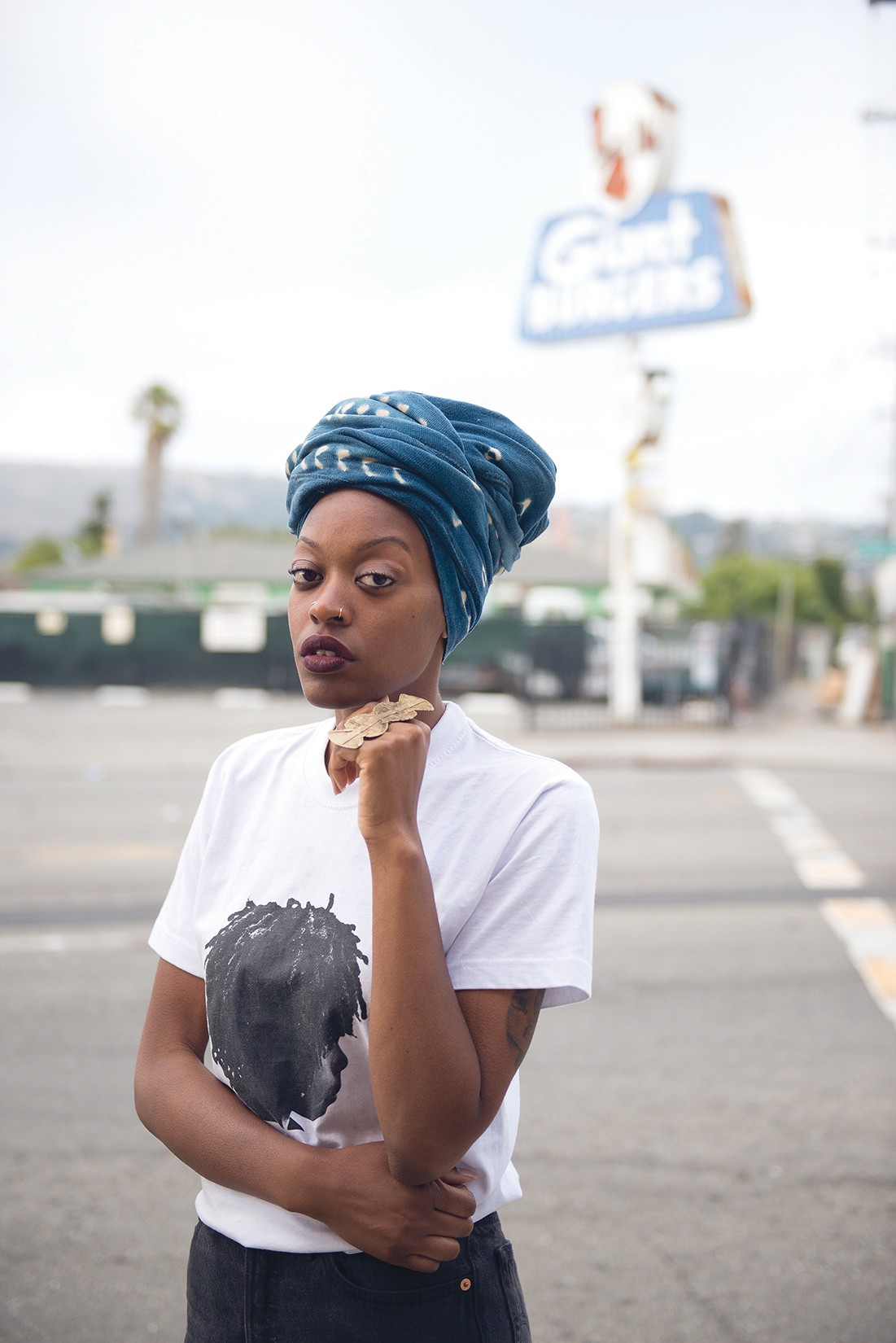 Best Oakland Photo Documentarian

     Brittani Sensabaugh aka BrittSense      
BrittSense.com

Brittani Sensabaugh traces the inspiration for her photography practice back to a moment on the New York subway. She was wearing a hoodie emblazoned with "Oakland," her home town, when an elderly white woman warned her never to go to such a place filled with "thugs." Soon after, she decided to drop her role as a fashion photographer and began traveling across the country photographing low-income, primarily Black neighborhoods that the media typically paints as dangerous. She started in the East Oakland neighborhood where she grew up, conversing with her subjects at length before finally taking their portrait. She replicated the process in Chicago, Houston, Baltimore, Watts, and other areas, producing a series of incredibly honest and striking photographs entitled Forgotten Cities. In doing so, she gave those residents the documentation they deserve — the kind that sees them as people.
— S.B.
Best Art Collective

     Black Salt Collective      
BlackSaltCollective.Squarespace.com

Black Salt Collective has been making waves. In January, the group of four female artists of color put on Visions into Infinite Archives, a show that featured more than twenty-five artists of color reflecting disobeying confinement within a Eurocentric art historic canon. Each member has their own practice, as well. Adee Roberson performs as musician Tropic Green and recently as part of a temporary collective of Black dancers for the show Blank Map. Grace Rosario Perkins is a painter, sculpture, printmaker, and generally discipline-defying artist whose work dynamically challenges Native American stereotypes. Anna Luisa Petrisko (the one member who lives in Los Angeles) does performance and installation art as Jeepneys, through which she often reflects on her Filipino background. And Sarah Biscarra Dilley is a Chumash and Chicana multidisciplinary artist whose work traces the complex landscape of indigenous resilience. Together, they're a formidable foursome whose collective authorship represents an exciting and necessary voice in the Bay Area art scene. Watch them closely.
— S.B.
Best Theater Production

     Shotgun Players' Hamlet      
1901 Ashby Ave., Berkeley, 510-841-6500, ShotgunPlayers.org

It's only fitting that a theater company named after a firearm would turn Shakespeare's Hamlet into a death-defying game of roulette. For the 25th-anniversary season of Berkeley's Shotgun Players, founder Patrick Dooley and director Mark Jackson pared the Danish play to eleven roles for seven fearless actors, who are randomly recast at curtain time and given five minutes to get into costume and character(s). At any given performance, David Sinaiko or Megan Trout might play the brooding prince; Kevin Clarke or Cathleen Riddley could be Gertrude; El Beh, Beth Wilmurt, or Nick Medina might double up as Horatio and Ophelia. Races, genders, orientations, and ages mix, match, and defy preconceptions. But because every combination is random, the takeaway is up to you — this is Hamlet as Rorschach test and roller-coaster ride in one. Take your chances with it in repertory through January 2017.
— C.B.

Best Cinephile

     Tooth      
BlackHoleCinematheque.org

The Oakland artist known as Tooth creates arresting, non-narrative films — often painstakingly shot frame-by-frame or composed of repurposed industrial footage — that poetically connect geometric shapes to nature, arcana to the deeply familiar. They're also films about film, investigating saturation, focus, and light. But that's only part of what earns Tooth — who often combines projections with installations and drone music in durational performances as Arc — the title Best Cinephile. There's also his generosity, illustrated by intermittent screenings at a West Oakland warehouse known as Black Hole Cinematheque. The series, now in its fifth year, features the work of traveling filmmakers, selections from Tooth's own archive, and films borrowed from distributors such as Canyon Cinema (itself Black Hole's spiritual antecedent). These are free, cozy affairs that are thoughtfully programmed and introduced by Tooth, who in exchange for his labor demands only attendees' attention. Now, if only he'd bring back that Saturday Morning Cartoons edition.
— S.L.
Best Arts Nonprofit

     Attitudinal Healing Connection      
3278 West St., Oakland, 510-652-5530, AHC-Oakland.org

At Attitudinal Healing Connection, budding and experienced artists are given platforms to express themselves through programs that strengthen self-awareness and community connections, from offering educational workshops and healing circles to hosting all-ages art events. Although the nonprofit has been around for 27 years, it catapulted into mainstream consciousness in September following the death of Antonio Ramos, a 27-year-old who was shot and killed while working with AHC on an anti-violence mural in a West Oakland underpass. The death spurred a slew of national reports on growing gentrification and the unfortunate irony of Ramos' death, but few focused on the core values of his beloved project, or the project that Attitudinal Healing Connection has been spiriting for almost two decades: Reduce violence through the arts, with the help of the community affected by it. According to AHC, its mission is all about choosing peace over conflict and love over fear. What could possibly be better for Oakland than that?
— G.E.
Best Advocacy Through Art

     Anti-Eviction Mapping Project      
AntiEvictionMap.com

Tech and displacement often go hand-in-hand when talking about the Bay Area's housing climate. Less often, however, do we hear about coders at the frontlines of anti-eviction activism using their tech-savvy skills to mitigate the eviction crisis. The Anti-Eviction Mapping Project (A(E)MP) — a group of volunteer coders, cartographers, artists, storytellers, and activists — is one of these exceptions. Using data-driven technology, community engagement, and collaborations with local organizations, A(E)MP visualizes displacement by mapping housing trends onto interactive online maps. The group, which was co-founded in 2013 by Erin McElroy, also often works alongside artists and galleries, like with their recent "Oakland Power Map" installation at Betti Ono Gallery, where locals were invited to mark important cultural data onto a large map of Oakland. A(E)MP is currently expanding its project, which began in San Francisco, to the East Bay by mapping housing data and oral histories collected throughout Oakland, Berkeley, Alameda, and Fremont.
— S.J.
Best Podcast

     Kamau Right Now! With W. Kamau Bell      
KALW.org/Programs/Kamau-Right-Now

Last year, the Express dubbed Berkeley comedian W. Kamau Bell "Best Comedian." This year, Bell has again found his place on the list, this time for his live radio podcast Kamau Right Now! In the show, which airs on KALW, Bell doesn't skirt around the tough stuff, but dives right into topics surrounding race, politics, gender, and the complex intersection of them all. The podcast has featured guests such as Oakland mayor Libby Schaaf and Fruitvale Station director Ryan Coogler for what Bell refers to as "a three-ring circus of relevance." The Bay Area comedy hero even daringly invites listeners to chime in via social media, which he responds to live on-air. With Kamau Right Now!, Bell not only fosters difficult conversation and constructive debate, but he miraculously achieves this while keeping a live audience in high spirits and uproars of laughter­. It's an informative hour of raw, side-splitting comedy.
— S. J.
Best Comedy Show

     Man Haters      
ManHaters.org

What do you get when you cross a room full of women and queers with a stage full of comedy? The Best Comedy Show in the East Bay. Aptly named, "Man Haters" is a ferocious feminine comedy storm presented by local comedians Irene Tu and Ash Fisher. Every fourth Thursday of the month, Tu and Fisher host a lineup of the Bay Area's funniest women and queer comics — plus one guy, a nod to the comedy world's frequent token female performer — to the White Horse Inn (6551 Telegraph Ave., Oakland) for a night of misandry and live laughs. And at Man Haters, making fun of the patriarchy starts as soon as guests buy their tickets, which cost $10 at the door or $7.70 online with the "Equal Pay Special" inspired by the fact that women make 77 cents for every dollar that men make. Hosts and guest performers like Jessica Sele and Marga Gomez find the funny in everyday experiences, sharing both insight and social critique through utterly hilarious deliveries.
— S.J.
Best New Cultural Event

     Oakland Book Fest      
OaklandBookFestival.com

The Oakland Book Festival has emerged as a bright beacon in California's cultural scene, with more than sixty writers and prominent members of the East Bay's literati taking part. This year's theme of "labor" was explored by dozens of panels, readings, and speakers at City Hall, with designed tracks that included "Confinements," "Struggles," and "Voices" directing individuals to certain facets of the topic. For those with kids, the event included an entire day of children's educational programming. The festival is the brainchild of Timothy Don and Kira Brunner Don — a married couple that consists of one homegrown Oaklander and one incredibly enthusiastic migrant to the city — who envisioned a free event that would draw in people across Oakland for a day of learning, debate, and dialogue. In only the event's second year, we can't call it anything other than a roaring success.
— S.J.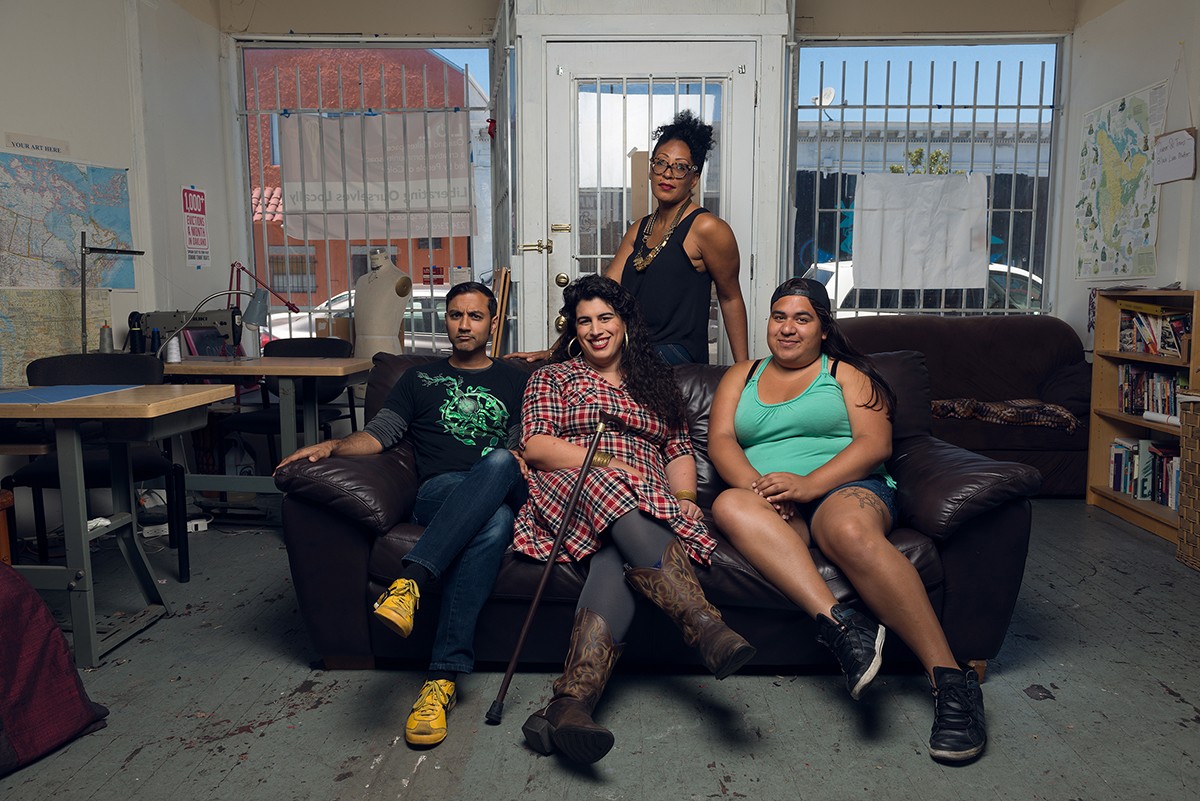 Most Historic Cultural Event

     Brouhaha      
PeacockRebellion.com

Last year, trans Latina activists Lexi Adsit and Luna Merbruja teamed up with Devi Vaidya of the local LGBTQ arts organization Peacock Rebellion to bring us Brouhaha, the first ever all trans woman of color comedy show. It was an important night, considering that trans women — and particularly trans women of color — rarely get the opportunity to tell their own stories, frequently enduring misrepresentations in pop culture and mainstream media. It was a powerful night, because people who are too often made into punchlines were delivering the punchlines themselves. And it was a hilarious night, because the performers were damn good and brutally honest. All the performances sold out. And since, the Brouhaha team has held multiple more events, growing bigger and better each time. Keep an eye out, because their performances are a pleasure not to be missed.
— S.B.
Best Arts Advocacy

     Oakland Creative Neighborhoods Coalition      
Facebook.com/KeepOakCreative

The Oakland Creative Neighborhoods Coalition was started last summer as a way to rally Oakland's arts community to fight for representation within city government. That means demanding an arts commission, more staffing in the cultural funding department, a voice in city planning, and other ways of defending Oakland's creative community from cultural erasure amid a climate of skyrocketing rents. The result has been crucial proof that East Bay artists will not sway with the whims of a changing city, but come together as a diverse yet cohesive and proactive force envisioning what they would like to see in the Oakland of the future. And with grassroots vigor, exemplary egalitarianism, and an adamant commitment to cultural equity, OCNC has proved to be an inspiring and necessary platform for artists to engage with East Bay politics.
— S.B.
Best All Female Art Show

     Not Ur Baby      
VaviVisuals.com/NotUrBaby

In its second year, Oakland-based art show Not Ur Baby once again impressed with its massive turnout and badass execution. The all-female art show was created by 22-year-old local artist Vanessa Vigil to combat the command of a male-dominated art scene. Extending a curatorial inclusivity often lacking in traditional art spaces, Vigil was intentional about choosing a diverse array of disciplines from artists identifying with underrepresented and marginalized groups. This year's roster showcased everything from photography and jewelry design to spoken word andnail art. (Full disclosure: Our Managing editor helped to publish a zine sold at the event.) The project was funded in part by crowdsourcing donations — including major contributions from Oakland-born rapper G-Eazy. No admission fee was required to enter the the March show, however all donations and proceeds from art sales were donated to
Regina's Door (352 17th St., Oakland), a vintage boutique that also serves as a healing space for survivors of sex trafficking.
— A.S.
Best Lunatic Dance Company

     Fog Beast      
FogBeast.com

When your destination is a Fog Beast performance, leave your expectations at home. Because although founders Melecio Estrella and Andrew Ward are finely trained dancers whose résumés include Joe Goode, Bandaloop, and Scott Wells, as artistic partners they share a ravenous appetite for self-expression by any means and media possible. The Oakland-based duo's 2011 appearance at the 8x8x8 choreography showcase turned into rock 'n' roll mayhem; in last year's epic Change, they combined contemporary dance, a five-piece band (with the dancers themselves on guitar, bass, tambourine, and vocals), PowerPoint, original show tunes and shamanic passion into a musical about global warming, complete with input from climate scientist Dr. Andrew Jones. Then again, 2012's Move Here was a choreographed séance that channeled the spirit of Berkeley's Shawl-Anderson Dance Center. Fog Beast hasn't announced their next production, but it's safe to expect an intriguing, imaginative, beautiful adventure
. — C.B.
Best Curating with a Concept

     Aggregate Space      
801 West Grand Ave., Oakland, AggregateSpaceGallery.org

"Conceptual Art" can be a scary phrase for people determined to distinguish themselves from "artsy" types. Often, the broad genre encompasses works that people deem too difficult to engage with. Although Aggregate Space is technically dedicated to video work and large sculpture — two disciplines that have few East Bay spaces reserved for them — the West Oakland gallery does an exceptional job of presenting shows that are both conceptually rich and visually striking. Curator Conrad M. Meyers has a refreshingly snarky curatorial style, always presenting shows that evoke extreme emotions — from discomfort to disorientation to awe. But most impressive is Aggregate's ability to present conceptually challenging shows while being neither opaque nor obvious. Every exhibit draws in the viewer — even those who might think they don't appreciate art that requires thinking.
— S.B.
Best Nomadic Theater Company

     Ubuntu Theater Project      
UbuntuTheaterProject.com

Ubuntu's specialty is presenting theater in unlikely places. This season, for example, the small company performed a version of Othello at Emmett Eiland's Oriental Rug Company — an apt setting considering that Ubuntu's version of the plays up its commentory on 'othering.' Ubuntu productions are not merely plays outside of theaters. They're thoughtful pairings of setting and content, along with astute yet minimal art direction and fantastic acting. Having started in just 2012, the company is quickly blossoming into one of the East Bay's best.
— S.B.
Best New Nonfiction

     Pushout by Monique W. Morris      
MoniqueWMorris.me

In Pushout, Oakland author Monique W. Morris focuses a discussion on the school-to-prison pipeline on the specific experiences of Black girls. With an adamant and necessary intersectional approach, Morris delicately yet confidently navigates the subtleties of the Black girl experience, from the ways in which Black girls are constructed as "ghetto" and having attitude to how many are manipulated at the most vulnerable moments in their growth. Through sensitive and eye-opening interviews with more than one hundred girls (and other non-cis gender identities) both in and out of juvenile detention centers, Morris illustrates a troubling landscape of myriad unfair obstacles. And, at the end, she does not fail to offer concrete guidance on how teachers and parents can begin to aid the situation. It's a must-read.
— S.B.
Best First Friday Art Party

     Warehouse 416      
416 26th St., Oakland, 510- 922-1653, Warehouse416.com

On First Fridays, Oakland's Telegraph Avenue is rife with sound and color — live music permeating through the streets alongside the wafting smells of local mobile eateries. It's a party outside, while the open art galleries along the street seem to subdue that outside energy into one more fit for chilled art perusing. But not Warehouse 416. The art and workspace, located between Telegraph and Broadway, brings the lively spirit of First Fridays in through its doors — its red brick walls covered in colorful art and its wooden bearings shaking from the pulsating music playing from a balcony-like overlook overhead. Warehouse 416 is also host to some of the most remarkable curated events, such as four installments of Oakland Art Con, an international event that features work influenced by science fiction, animation, and comic books. So next time you're perusing the art galleries along Telegraph, stop inside Warehouse 416 for an experience that is more than your typical art gallery offerings.
— R.A.
Best Place to See Celebrities on Stage

     Berkeley Repertory Theatre      
2025 Addison St., Berkeley, 510-647–2900, BerkeleyRep.org

If you are prone to FOMO (or fear of missing out) you probably shouldn't look at Berkeley Repertory Theatre's 2015-2016 season offerings. The Tony-winning theater, whose mission is to "set a national standard for ambitious programming," surely outdid itself this past season, harnessing major star power for their productions. From the brand-new, Broadway-bound Amelie: A New Musical starring Les Miserables' Samantha Barks in the title role, to an adaptation of Shakespeare classic Macbeth featuring Tony-winning actress Frances McDormand, Berkeley Rep lives up to its hollowed name. But never fear — you can still catch John Leguizamo in his one-man show John Leguizamo: Latin History for Morons to scratch your itch for a celebrity sighting without having to leave the East Bay.
— R.A.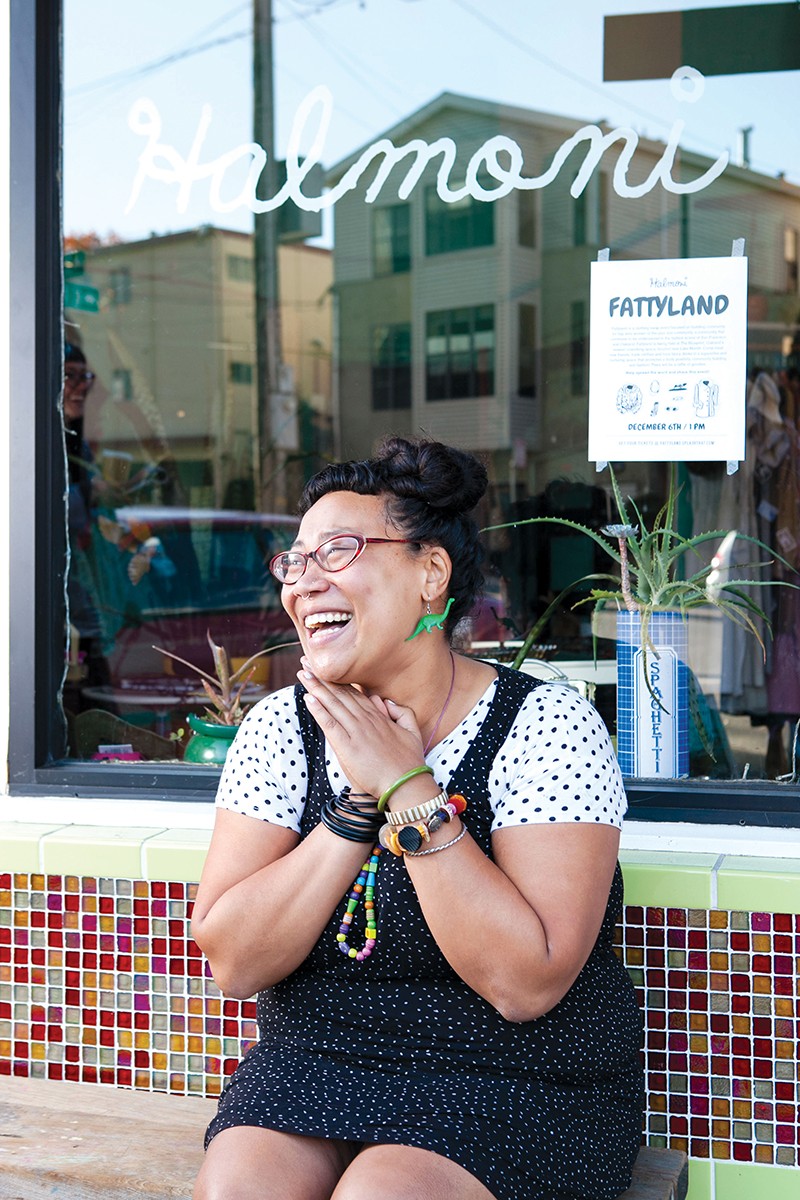 Best Body Positive Event

     Fattyland      
Fattyland.splashthat.com

Fattyland is a clothing swap for fat femmes with big style. Presented by Halmoni (1601 2nd Ave., Oakland), a vintage clothing boutique owned by Natasha Harden, Fattyland seeks to draw fatshionistas of the plus size community throughout the Bay Area — a community that often goes underserved in the world of fashion. A sister event to Fatty Winter Wonderland, another Fat Clothing Swap hosted in 2014 by both Harden and local author, expert, and fat activist Virgie Tovar, Fattyland invites people who proudly identify as fat to come together, meet friends, and walk away with a new outfit or two. Guests are asked to bring a bag of old clothing and accessories to exchange­, with left over items going to organizations like The Serenity House, an Oakland-based non-profit that helps women struggling with trauma. The fun and intimately safe space is unmatched in its encouragement of both body diversity and fierce, unapologetic fashion. —
S. J.
Highest-Flying Dance Company

     Bandaloop      
Bandaloop.org

They call Oakland home, but all the world is a stage for Amelia Rudolph's aerial-dance company, Bandaloop. Since 1991, they've hitched themselves to skyscrapers, cathedrals, walls, and landmarks in seventeen countries, from Oakland's City Hall to the Golkonda Fort citadel in Hyderabad. Their most recent performance, #SFPublicCanvas, premiered in June in the Tenderloin and explored the changing culture of the Bay Area, incorporating images, poetry, and ideas hashtagged on social media by the public. Arguably their most compelling work to date, though, was Crossing, a spectacular installation on various cliffs in the Sierra Nevada. There was no audience present, but clips are available on YouTube; watching the dancers float and whirl through the high-mountain air, framed by glacial peaks and blue sky, one can't help but reflect on the Earth's vastness and the fragile beauty of humankind.
— C.B.
Best Place to See Artists from Abroad

     Athen B Gallery      
1525 Webster St., Oakland, AthenBGallery.com

The East Bay arts scene has a commendable commitment to uplifting its own. That means featuring local artists doing work that's relevant to Oakland residents. Athen B does that too, but with a dedication to showing them alongside popular names from around the world. As the premier street art gallery in the East Bay, Athen B consistently features some of the biggest names in the scene, hailing everywhere from Argentina to Germany. Shown alongside local talent, Athen B's shows put our artists into an international art world context while also offering fans the opportunity to get close to works by artists they've been following on Instagram for years. And the bonus is that when the artists are in town for the show, or doing temporary residencies in the Athen B studios, curator Brock Brake and owner Sorell Raino-Tsui often set up mural opportunities for them around downtown Oakland, so you can keep enjoying the work even after the show comes down.
— S.B.
Best Family Friendly Theatre

     Berkeley Playhouse
     2640 College Ave., Berkeley, 510-845-8542, BerkeleyPlayhouse.org
If you're looking for a local place to see your childhood favorites come to life, look no further than Berkeley Playhouse. The nine-year-old theatre company has made its mark as a hotspot for full-family outings. With colorful and giddy interpretations of classic kids' favorites made into musicals, to accessible versions of some of Broadway's finest romps, theatre-goers both young and old can enjoy the intimate and interactive productions year-round at the historic Julia Morgan Theater. Highlights from this past season include the surprisingly light-hearted musical adaptation of The Addams Family and a high-flying production of Peter Pan. And for the young ones who want to try their hand at performing, Berkeley Playhouse offers educational programs for beginners and intermediate performers, as well as youth programs that allow kids to participate in ticketed productions. Whether it's a family night out or a step towards your little one's acting career, Berkeley Playhouse deserves a standing ovation.
— R.A.
Best Local Artist to Go Viral

     Stephanie Sarley      
StephanieSarley.com

For many artists, going viral is the dream. But when local artist Stephanie Sarley's art became a meme, she fought back. She worked with Instagram to take down her stolen artwork, and shortly after that, her work was noticed and written up in the Guardian, Cosmo, Daily Mail, Feministing, Complex, Esquire, AV Club, and more. So what is it about her work that speaks to both meme makers and mainstream media? Her recent videos depict a finger, delicately caressing and touching various kinds of fruit, such as blood oranges, strawberries, and mangos. The highly provocative pieces are eye catching, acting as a simultaneously nonsexual yet hypersexual guide to fingering a woman. In an age where Instagram culture cops are eager to take down any photo with a woman's nipple in it, Sarley is surreptitiously teaching us all how to better caress a clitoris. She's also teaching us that it's better to get famous than go viral.
— P.R.
Most Beloved Vandal

     Anemal      
@AnemalOne

Anemal, also known as Smoky, was a beloved, charismatic guy who was also one of the most talented graffiti writers in the Bay. He was a prolific and jaw-dropping artist, both locally and internationally adored, whose work could be seen on rooftops, under freeways, on billboards and street corners, and as tattoos. He could often be seen around town, lugging around rollers, climbing atop buildings, getting wild, or inciting a good time. When he died in September 2015, it was a heartwrenching shock to the local art community, who came in droves to the library steps to mourn his passing and celebrate his life as well as posted an outpouring of grief under the hashtag #RIPSmoky. In the coming weeks, all of a sudden, a new tag appeared on what felt like every surface of the city: "Anemal Forever." He might be gone, but we will never forget.
— P.R.
Best Place to See an Art Film

     The Pacific Film Archive      
2155 Center St., Berkeley, 510-642-0808, BAMPFA.Berkeley.edu

This year, the Berkeley Art Museum and Pacific Film Archive reopened in a shiny new building on the corner of Center and Oxford streets. And inside that glorious new venue is a completely refurbished state-of-the-art theater. It can play virtually any type of analog film. It's equipped with a Meyer Sound system. And it even has a small stage at the front in case a mini orchestra wants to play live music to accompany a silent film. Plus, the programming continues to be top notch. Current film series include "Guided Tour: Museums in Cinema" and "Wim Wenders: Portraits Along the Road." It's paradise for cinephiles. But even if you've never heard of the movie you're about to attend, you can always expect it to be a memorable screening. Plus, movie tickets ($8–$12) include admission to the rest of the museum.
— S.B.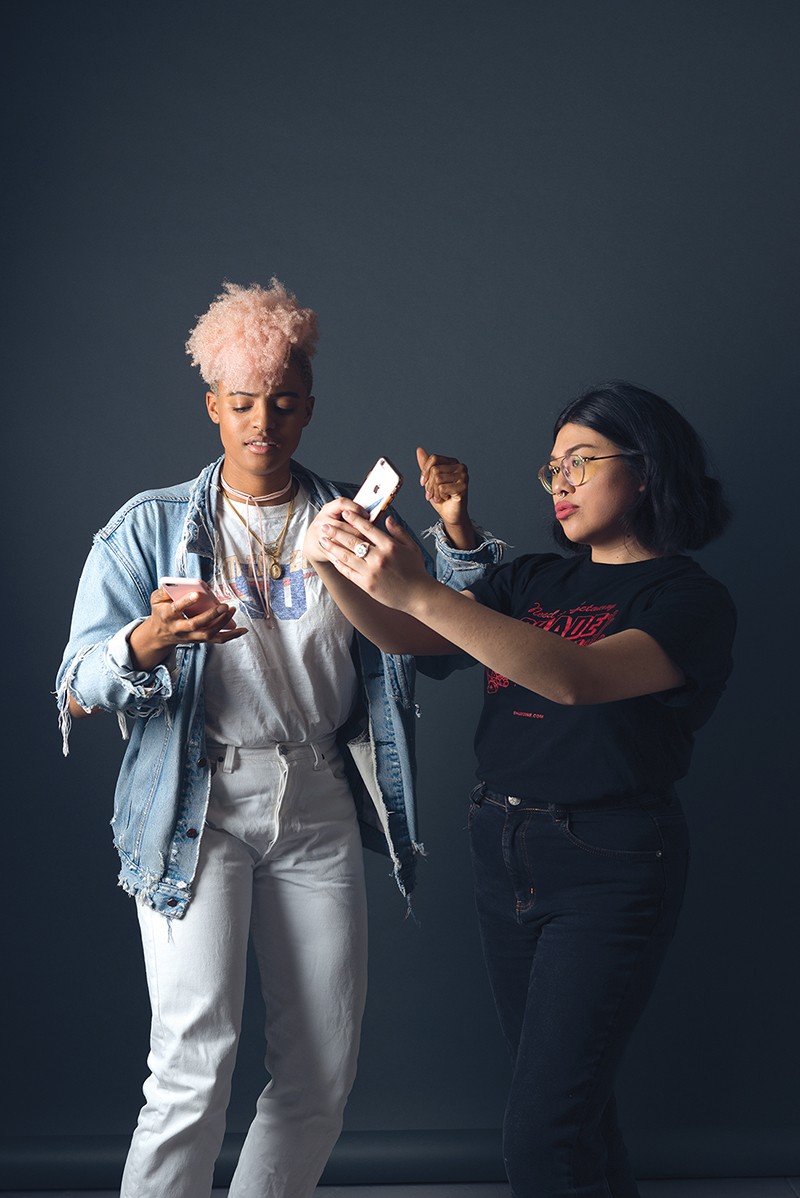 Best Tumblr

     Shade Magazine      
ShadeZine.com

Best friends Azha Ayanna Luckman and Apryl Fuentes were tired of the lack of representation of people like them — queer youth of color — on the internet. That's why in 2013, the creative duo created Shade Magazine, a Tumblr-based publication that highlights the work and identities of young queer people of color. The intentional online space cultivates a creative and critical community by honing in on intersectionality, an approach that recognizes how race, gender, and sexuality overlap and cast life experiences for individuals. Though in-person appearances can be rare, the Oakland-based zine — which features photography, music, fashion, illustration, and much more — boasts thousands of online followers from around the world. And though Luckman and Fuentes started the project to change the internet status quo, Shade has come into its own alongside a growing number of online platforms that also seek to dismantle assumptions about race and gender through art and media.
— S.J.
Literary Art Installation

     Lacuna      
FluxFoundation.org/Lacuna

This June and last, book lovers convened in Civic Center Park to participate in the temporary magic of what could be called the world's most public library. Lacuna — a gargantuan installation built artfully from over 50,000 donated books — was the centerpiece of the the Berkeley-based Bay Area Book Festival. The outdoor interactive library was installed by the Flux foundation, an area nonprofit specializing in the design and construction of public art as a catalyst for education. Branching from the central apex, twelve book-lined alcoves created intimate nooks in which visitors could explore or read. The experience was nebulous by nature — as participants took home free books from the structure the interplay of light and sound within the library shifted. Viewed aerially, the installation would originally be shaped like a sundial. Lacuna was installed for its second year at the festival — its creators have said there is potential of a future museum installation or replications of the project at other festivals around the country. For now, however, only East Bay residents and visitors have had the opportunity to take part in the unique literary experience.
— A. S.
Best Up and Coming Dance Studio

     In the Groove Studios      
580 14th St., Oakland, 510-834-5800, InTheGrooveStudios.org

Compared to the long established Culture Shock and New Style Motherlode, In the Groove Studios has only been around since 2011 but its community is quickly growing in its laid-back and welcoming space. Featuring teachers who have been in the tight-knit Bay Area dance scene for many years such as Daniel Kang, Momo, and Leslie Panitchpakdi, In the Groove offers classes for both adults and kids in diverse styles such as ladies-only hip hop, dancehall, K-Pop, African dance, Cuban salsa, and more with one-off workshops. It's also home to and temporary practice space for many Bay Area dance crews. Don't know where to start? The beginner classes are a safe bet, and cardio hip hop guarantees a serious workout.
— C. L.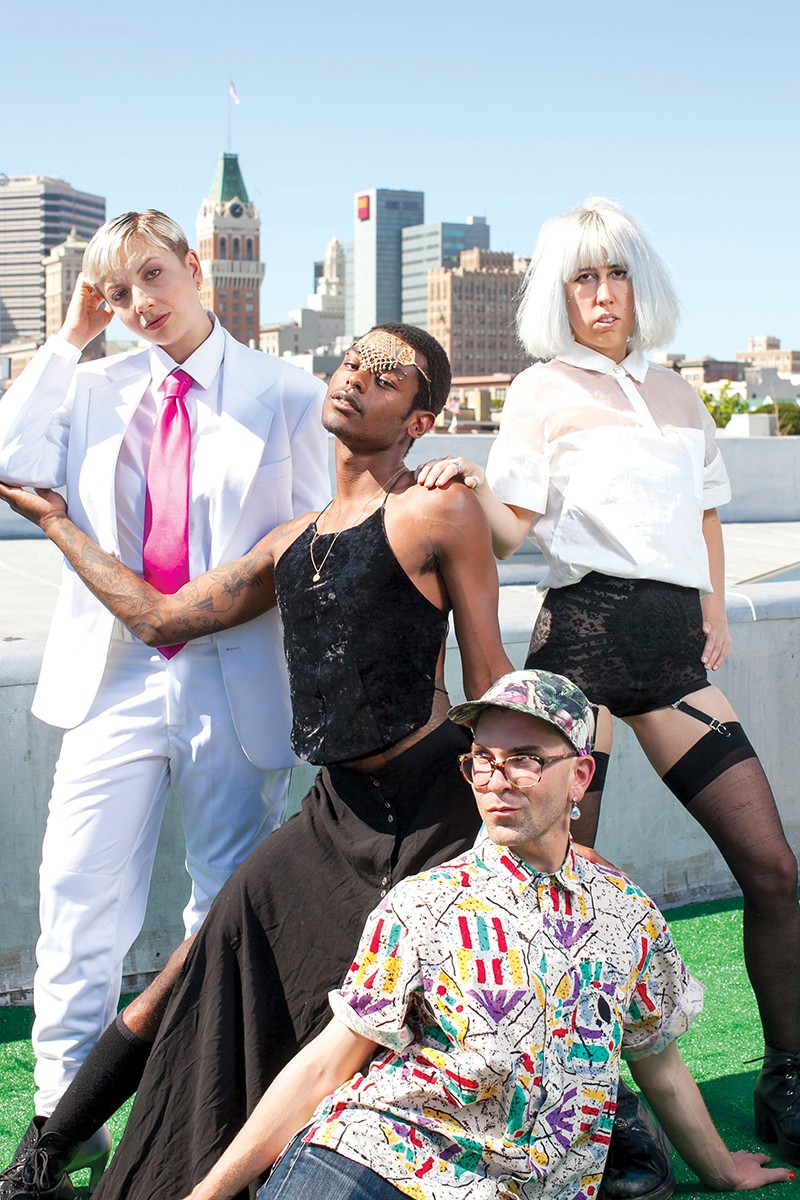 Best Queer Art Parties

     B4BEL4B      
184 10th St., Oakland, B4bel4b.com

In Oakland, the art seems to operate under the onus of First Friday, which caters to a bridge and tunnel crowd that wants to see neatly produced art and needs to catch the last BART back home. So if you're looking for something a bit more daring, a lot less family friendly, and more provocatively artistic than all of that, B4BEL4B is the place to be. Ascending into the Chinatown gallery is reminiscent of stepping into another world, with ambient lighting, throbbing music, and strangely lovely art stars floating around. With a magazine release party for ONX, a sexy and gender bending performance by Adrian Clutario x Adriana Clitaria, and late night dance parties, B4BEL4B brings out the best and brightest in the local art scene, party scene, and political scene for late nights of artistic indulgence and partying. It's a place where the fashion ante is always upped, and every sexuality and gender identity is celebrated. The parties aren't called "queer" parties. It's just their status quo, and we like that.
— P.R.
Best Portrait Artist
     Jader
     JaderVision.com

Who said that portraits should look like the person modeling for them? It definitely wasn't Jader. The Oakland artist specializes in theatric portraiture that channels the romantic kitsch of Pierre et Gilles, the creepy character development of Cindy Sherman, and the pop sensibility of David LaChapelle. With an impeccable mix of costume make-up, Photoshop post-production, and camp styling, Jader (Justin Edwards) shoots his portraiture practice into a surreal, sci-fi world that says more about identity than a realistic version would. Whether transforming his subjects into alien-like creatures or candy-obsessed clowns in aloha shirts, he's unafraid to make his audience uncomfortable while also fully embracing an aesthetic sense of fun. And all the while he's making loud statements about normative expectations of gender, sexuality, and race representation.
— S.B.
Correction: Our write-up for "Best Lunatic Dance Company: Fog Beast" originally identified Dr. Andrew Jones as Dr. Andrew Ward.