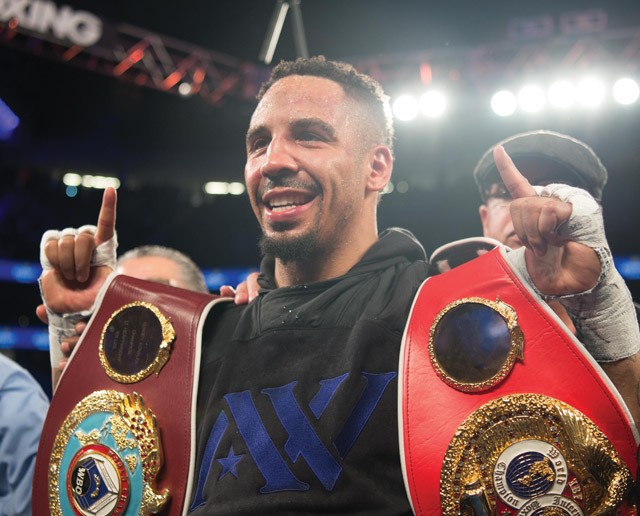 When was the last time you heard of an athlete with a 20-year winning streak? Boxer and longtime Oakland resident Andre Ward suffered his last loss when he was 13 years old, competing as an amateur. When he retired as a 33-year-old professional last September, he'd amassed a record of 32 wins (16 by knockout) and no losses.
"It's just unreal. It almost feels like I'm not the guy that accomplished that," Ward recalled in a recent interview.
Through it all, "S.O.G." (abbreviation for "Son of God," in honor of his Christian faith) has proudly represented the Bay Area. Ward is an avid Golden State Warriors fan and has appeared in promotional videos for the team. He also holds frequent signings and appearances in the Oakland area to connect with his fans. He and his family also still live in the area.
As he explained, there are some special traits East Bay residents have that he relates to. "I have roots in Hayward as well as Oakland. It's played a big part in terms of who I am as a person and who I am today. I've been fortunate to travel around the world even as a teenager, traveling on the USA amateur [boxing] team. I just don't think there's any place quite like California, specifically Northern California, and more specifically the Bay Area. I just love the people. There's a grit here. There's this kind of underdog mentality, and there's a fighting spirit. There's a lot of talent that has come out of here, not just in sports but in many different fields. I think the people are amazing, man, and I'm honored to be from here."
The road wasn't remotely easy. Ward began boxing as a 9-year-old in Hayward when his father, Frank Ward, took him to a local boxing gym. In 2004, at the age of 20, he won Olympic gold. After turning professional, he won multiple world championships in the super middleweight (168 pound) division. For his final two bouts, Ward moved up in weight to the 175-pound limit to defeat world light heavyweight champion Sergey Kovalev — twice. In the rematch, Ward won by a knockout.
Outside the ring, Ward was endorsed by Jordan brand, became a boxing analyst for HBO, and appeared in the 2015 hit film Creed. But it's been about more than achieving star status for Ward. He's used his platform to give back to the community by working with organizations like Pay Away the Layaway, which helps families pay off layaway balances, and the Boys & Girls Clubs of Oakland to reach those most in need. He has also worked with campaigns like Knock Out Dog Fighting, which educates youth to help stop animal abuse.
Now that he's retired, Ward has time for something he's never had before: reflection. "I went to Oracle Arena yesterday," he said. "I've been a professional for 13 years, and I've fought at Oracle eight times. That was the first time that I've ever had the opportunity to just stop and really admire the building and see — wow, look at all these seats; and this arena is amazing. From that perspective. Because when I was an active fighter, I didn't have time to become a spectator. It's the same with your accomplishments. I didn't have time to necessarily relish the victories like you would when you're retired. You don't have time to pat yourself on the back. It's always on to the next. And it's been like that since I've been a young kid."
Ward has said that he "gave up a childhood" to pursue his sport. But while he took his difficult sport seriously, he ensured that boxing never became his entire life. He put his family and his faith first. Now, as a retired father of four (soon to be five), Ward is enjoying life with his children. "I have a lot of fun with my teenage boys," he said. "I have two younger kids as well. We're always joking, playing, wrestling.
"I've had a real structured life. Obviously, boxing is a very rewarding sport, but it's also a very serious sport," he continued. "So, that's my opportunity, man, to just be a kid and enjoy them."
Ward recognizes the value of sports in kids' lives and is supportive of children getting involved in athletics if they're interested. "I love sports because of the structure," he said. "You have the opportunity to overcome fear, you have the opportunity to face your fears, you learn to be courageous, you learn to do things that you never really thought possible. You set a goal and you do everything you can from day to day to meet that goal. To achieve it, it just does something for your psyche. It does something for your confidence, even at a young age."
Now that he doesn't have any fights to prepare for, Ward is keeping busy with his new line of S.O.G. sportswear as well as an exciting new project: a documentary film about his journey.
"I'm sure everybody who does a documentary on their life feels this way, but I feel like there's a lot of things that people don't know," he said. "And that's because I haven't told it. I'm a very private person, I respect my mom and my dad, and I never wanted to sort of air out some of their issues they had — and struggles I had as a kid. But I also had to come to the realization that it's not airing them out — it's just telling my story. Somebody needs to hear it. I've talked to my mom and she's cool with the process. Obviously, my father's passed so I can't get his blessing, but I can still honor them while I tell the story of the struggle and the things that they had to overcome. So, I feel more liberty in that area to tell the story."
Ward opened up about the motivation behind the creation of the film. "I want to let my supporters see a lot of the things that happened in my life that got me to the Olympics, what got me through that, and my father passing, and some of the struggles I had to deal with leading up to fights that people know nothing about. They just see me show up and perform, and they rate the performance, whether it's good or bad, and we move onto the next. But if they see the work, the struggle, the behind-the-scenes things that happened, they're gonna walk away, hopefully, with not just a greater appreciation for my career but maybe some encouragement. Because they'll see that, man, I'm human. And really, this is a humanizing piece. So, people can feel like it's tangible and feel like they can relate."
Part of Ward's focus with the documentary is that, whatever someone is working toward, it takes dedication to succeed. "I never felt like the sport came easy to me," he explained. "I know that I have a skill set, I know I've been blessed with some ability and skill, but I've always had the mentality that I have to outwork the other person. I have to prepare better than him if I'm going to be successful — especially as I got to the highest level and became a champion. The attention to detail, the time that you put in, the sacrifice that you make — it's kinda unreal. And anybody who has sustained success in any field, they're making those sacrifices. They're putting in that kind of work. And that can definitely be lost on the fans if you don't give them an opportunity to understand your journey."
This report was originally published in our sister publication,
Oakland Magazine.