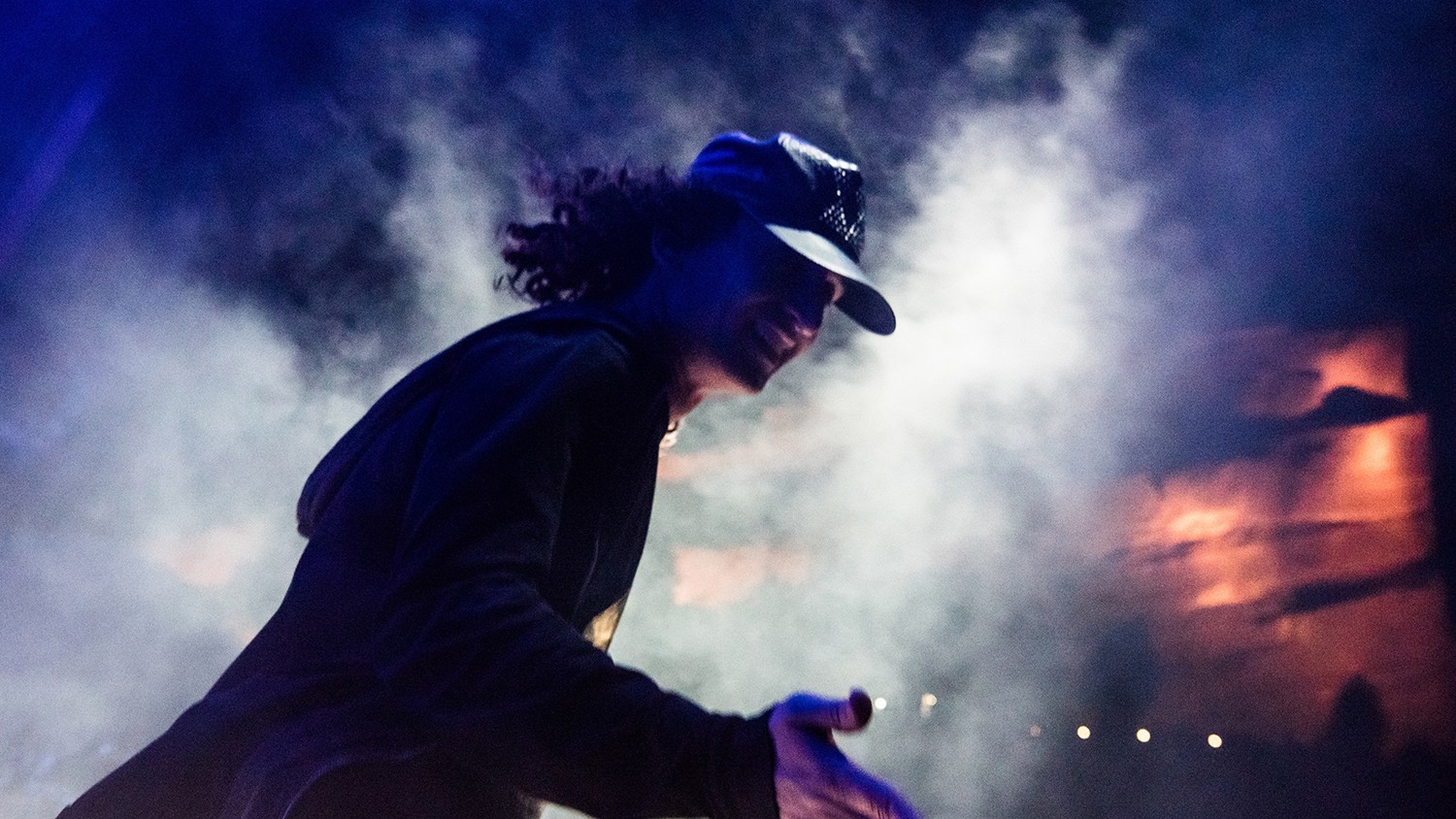 When Adam Ohana performs as one half of the electronic music duo Dimond Saints, his mirrored face mask flashes, refracting rays of light. It's a curious move: ostentatious, but enigmatic, too.
Better known by the stage name An-ten-nae, the Oakland-based producer has been a fixture in the Bay Area bass music scene for well over a decade. A self-taught musician, Ohana has become synonymous with acid crunk, a genre he defines as "psychedelic-tinged, bass-heavy hip-hop beats." Despite his reputation in the music scene, the New York City native maintains an aura of mystery about both his personal life and his prolific professional output.
"When we started, we wanted the music to speak for itself, [for us] to be in the shadows versus in the spotlight," Ohana said, referring to the masks he and collaborator Releece don for Dimond Saints shows.
Ohana's resume is littered with both solo and cooperative projects. The roster of active ones alone includes DnA, The Invisible People, and Black Crow, in addition to Dimond Saints and solo work as An-ten-nae.
There's also Lowriderz; the defunct collaboration with DJ Laura Low and Auberon hasn't come out with new music in years, but it's slated for a reboot with the former under a different name.
"I like it all," Ohana said. "In collabs, I get to learn different takes on music and learn new techniques and create something that is bigger than just me. Working on my own, I get to reflect on myself and push my own art. Both are fulfilling."
Dimond Saints — the name is a nod to Oakland's Dimond District — is a bass-centric collaboration with Reece Rosenfeld, known professionally as Releece. After meeting as neighbors in the Dimond, the two began sharing music and ultimately producing and playing shows together, at times with a live brass section. Their latest EP, Sun & Moon, came out last April.
Ohana also makes music as DnA with fellow electronic music producer David "Dov" Bruyns, known as Dov1. "DnA is a fusion of our performance names Dov1 and An-ten-nae," Bruyns said. "But it also is a reference to music being at the core of our existence, essentially in our DNA."
The pair originally distributed music and put on events together before ultimately collaborating in the studio. They made two songs under the moniker about a decade ago and revived the project toward the end of 2017. Two new tracks just dropped on Jan. 4.
Meanwhile, The Invisible People is Ohana's solo deep house act launched in 2017. The second EP,
New Horizons
, was released on Nov. 28. He plans to hire session musicians for instrumentation on future productions.
And don't forget about Black Crow, another Ohana project whose debut LP from 2017,
Broken Circuits
, ranges from halftime drum and bass to grime-infused dubstep. "I am constantly creating and exploring new ideas under different names," Ohana said. "Sometimes, people will never know it's me."
That may be true in terms of his behind-the-scenes work — more on that later — but it's nearly impossible not to recognize Ohana in person. Perpetually sporting a black cap tucked tight over an aquiline nose and mop of dark, curly hair, Ohana's visage is characteristically distant. And even if that didn't immediately give him away, his DJ controller would.
Ohana uses a customized Faderfox MIDI controller that's been mapped to allow him to DJ by brandishing the unit rather than simply using the various buttons and switches as one typically would (think of it as the Wii Remote of DJ equipment). The effect is dynamic, allowing him to rove on stage. "It takes me away from the computer and makes my set a bit more interactive," he explained.
Bruyns, who has owned and run the self proclaimed "future bass" record label Muti Music for the past 17 years, has released the bulk of Ohana's solo An-ten-nae releases. Using Muti Music as a platform, the two launched a sister label called Medicine in 2017.
On top of juggling a packed schedule of performances and music production for his own outfits, Ohana provides a platform for other artists. Ohana's long-running Acid Crunk compilation series, started in 2008, launched many a rising star in the West Coast underground bass music scene. It nurtured artists like Opiuo, a Kiwi who was at the time a relatively unknown glitch hop artist and is now touring internationally, with a stop at Cornerstone in Berkeley on Jan. 25. However, the goal of the series was more general: "to help promote a new sound developing on the West Coast," according to Ohana. The
Acid Crunk
installments' neo-Wild West aesthetic — stylized versions of Ohana preside on more than one of the covers, replete with big guns, exaggerated spurs, and low-rider cars — forms a sort of ode to a new frontier in electronic music.
Once the music director at San Francisco's 1015 Folsom club, Ohana continues to host local and far-flung events via the production company An-ten-nae Presents.
"Making music is my highest love, but in general I love creating," Ohana said. "These other projects are outlets to present a broader vision of my art."