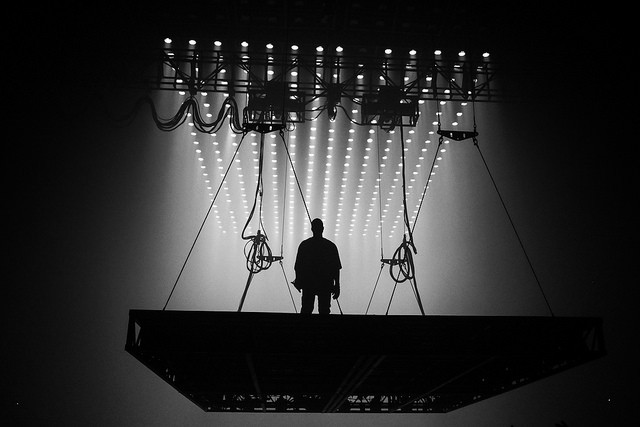 Kanye West takes over Oracle this Saturday and Sunday,
back-to-back nights for his St. Pablo tour
. And this got me thinking about a funny experience I had once with Ye's security guard.
It was April 2008. West was in Sacramento. What the hell was Kanye doing in Sac? Touring, of course. But a friend informed that he was also holed up in a secret (and awesome) local recording studio, laying down vocals for what would become 
808s & Heartbreak
.
I never get to play paparazzi, so I immediately headed over and posted up out front the studio with a camera.
Here's what I wrote back in 2008:
After about an hour of loitering streetside eavesdropping to Kanye rap about Bobby and Whitney and breaking up with chicks, a black Escalade finally rolled up. A man in street clothes hopped out and said, "Hey, you're going to have to leave because there are no photo-ops here."

"I don't need a photo-op. I just need a photograph," I replied.

"That's not going to happen, because you won't even get that lens cap off," he threatened. (I already had my lens cap off.)
After this, the studio owner — basically the nicest dude in Sac — asked me to leave, so I scrammed.
I also remember that day because, later at the show, Kanye came out an yelled "What's up,
Seattle
?"
A few months after my run-in with West's bodyguard, Ye and his entourage assaulted a photographer at LAX:
[embed-1]
So, yeah, be sure to check Kanye this week3end — and if I don't survive to see Monday … now you know.