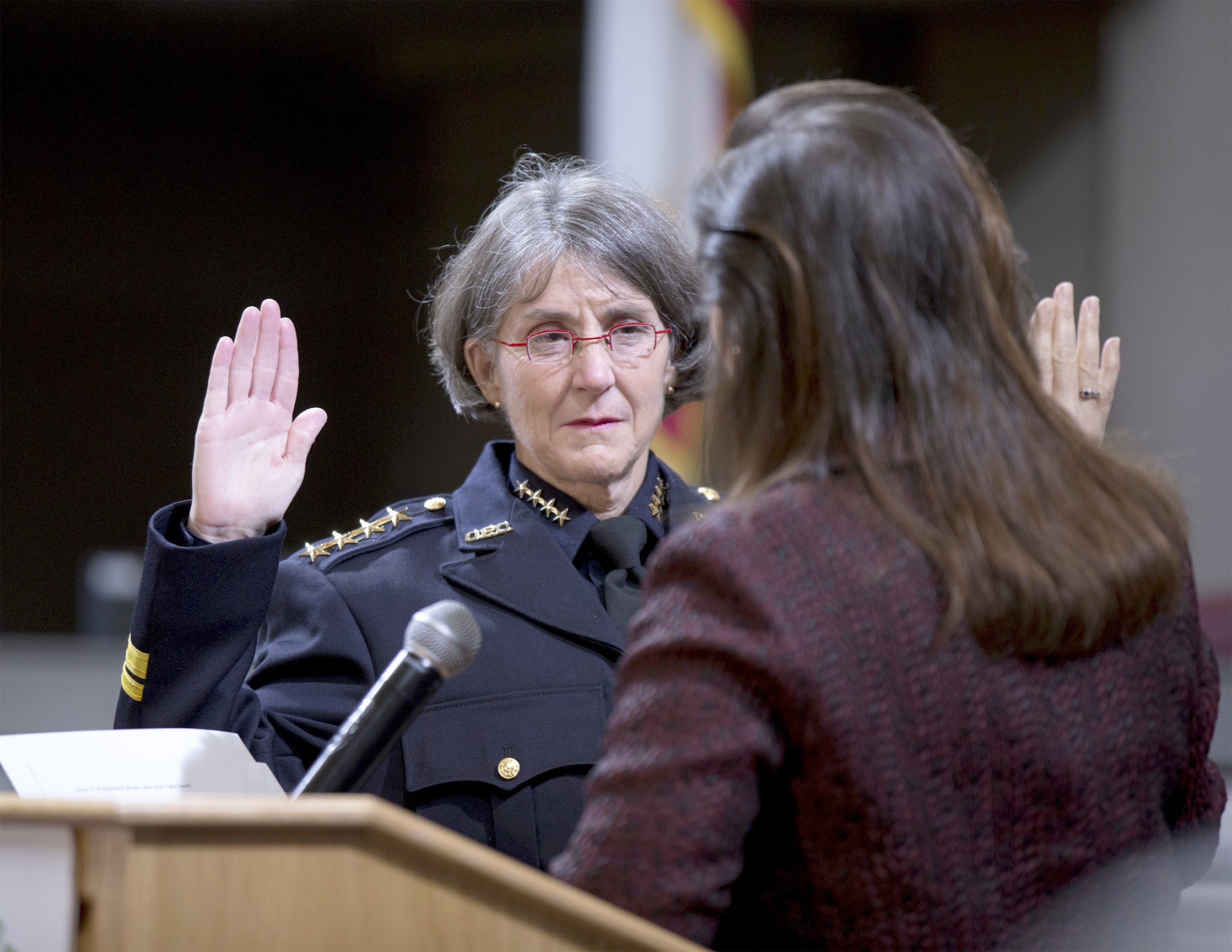 For the past three months, Oakland Police Chief Anne Kirkpatrick has stood by her decision to assign three police officers to provide traffic control during a federal immigration operation in West Oakland. Kirkpatrick has maintained that the early-morning raid on Aug. 16 by the Homeland Security Investigations unit (HSI) of the U.S. Immigration and Customs Enforcement agency (ICE) involved "human trafficking" and was not a deportation case. However, the raid only resulted in the arrest of one person, Santos de Leon, for being an undocumented immigrant. And HSI/ICE officials have publicly acknowledged that de Leon was not involved in human trafficking or any other criminal matter and is now facing civil deportation proceedings.
Earlier this month, Brian Hofer, chair of the city's Privacy Commission, along with several other people, filed an official complaint against Kirkpatrick, alleging that she made false statements about the HSI/ICE operation and OPD's involvement in it. Councilmembers Rebecca Kaplan and Desley Brooks have also called for a public airing about Kirkpatrick's statements. That hearing is scheduled for Nov. 28.
Although there is no evidence to date that Kirkpatrick lied about the HSI/ICE raid or purposely misled the public about it, there are strong indications that HSI/ICE may have done so and that Kirkpatrick parroted false statements made by the federal agencies. A review by the Express of federal court records reveals that federal human trafficking cases from Oakland are extremely rare. In fact, HSI/ICE and the U.S. Attorney's Office have never successfully prosecuted a human trafficking case (excluding sex trafficking) from Oakland during the past 10 years, according to a database search of federal court records.
As such, there is no reason to believe that the current HSI/ICE investigation will result in the first federal human trafficking conviction from Oakland in at least a decade. There is also no good reason for Chief Kirkpatrick and OPD to continue assisting HSI/ICE, considering that Oakland is a sanctuary city that is supposed to protect its residents from federal anti-immigration efforts. Moreover, HSI and ICE are perfectly capable of carrying out their own raids without OPD's help. On Dec. 5, a city council committee is scheduled to take up a proposal from Kaplan and the Privacy Commission to sever all ties with HSI/ICE. Oakland should do so.
In recent years, HSI, ICE, and the DOJ have expanded the definition of human trafficking to the point that it no longer means what many people think it means. The term "human trafficking" conjures images of people being transported in shipping containers and forced to do labor or sold as sex slaves. In the West Oakland case, HSI/ICE and OPD have maintained that it did not involve sex trafficking. However, there's also no evidence that the case involves human trafficking for forced labor. Instead, if past federal cases are any indication, the West Oakland case likely involves HSI, ICE, and the DOJ's expanded meaning of "human trafficking," in which people who help immigrants get into the country or provide them with a place to work or live are considered "human traffickers."
Under the traditional definition of human trafficking for forced labor, there have been no successful federal court prosecutions from Oakland in the past ten years, according to the Express' database search of court records. And under the expanded definition, there has only been one. In that 2009 case, owners of an auto glass store chain, which included a shop in Oakland, were convicted of "harboring" — of hiding their undocumented workers from HSI/ICE. But there was no indication that they transported undocumented immigrants or forced them to do labor.
The most recent local example of the federal government's expanded definition of human trafficking occurred this summer in Hayward. HSI/ICE and federal prosecutors trumpeted a human trafficking case in which they accused a man, Job Torres Hernandez, of holding undocumented workers against their will at his warehouse. But federal court records reveal that prosecutors only charged Hernandez with "harboring," that is, concealing his employees from immigration authorities. Hernandez' indictment also makes no mention of workers being held against their will.
In an interview, immigration rights attorney Jackie Gonzalez of Centro Legal De La Raza of Oakland confirmed that federal human trafficking prosecutions (non-sex trafficking) are rare in the East Bay. She also argued that, as a sanctuary city, Oakland should not allow its police department to assist in federal raids that result in the arrest of undocumented immigrants. "In these cases of alleged crime, they almost always arrest undocumented people not involved in crime and then begin deportation proceedings against them," she said. Gonzalez also noted that if immigrants believe OPD is in league with ICE, they're less likely to report being victims or witnesses of crime, thereby potentially endangering themselves and others.
Hofer (who also has a law degree) and the Oakland Privacy Commission agree, and have called for the police department to sever all ties with HSI/ICE. Earlier this year, the council voted unanimously to prohibit OPD from partaking in HSI/ICE raids, but the ban did not include stopping OPD from providing traffic enforcement — as what happened in the August operation in West Oakland. "There is no reason for Oakland police to be there," Hofer said of HSI/ICE raids.
Police Chief Kirkpatrick did not respond to requests for comment by press time (see the below update). In a recent report to the city council, Kirkpatrick maintained that she assigned two officers and a sergeant to traffic control during the raid "to reduce the risk of a friendly-fire event." The chief explained that she was worried that Oakland cops might get in a gunfight with HSI/ICE if they suddenly came upon them dressed in plainclothes and armed.
However, Kirkpatrick's fears appear to be unfounded, considering the fact that the federal agents in the raid were clearly wearing HSI/ICE jackets. In addition, the chief, in the future, can ensure that HSI/ICE agents give the department a heads-up when they're serving search and arrest warrants. After all, other federal law enforcement agencies, including the FBI, have a history of conducting operations in Oakland without requiring OPD help for traffic control.
HSI/ICE officials and the U.S. Attorney's Office in San Francisco did not respond to requests for comment.
Mayor Libby Schaaf, who has supported Kirkpatrick's position on the West Oakland case and has said that she read the sealed warrant from the investigation and believes it was a bona fide criminal matter, said in a Nov. 21 statement that she now supports the proposal for OPD to not provide traffic control during HSI/ICE operations. She said that even though current Oakland law "forbids our officers to act in any way other than to protect our residents and officers from wandering into harm's way of an active operation, the perception that OPD now participates, or somehow aligns itself with ICE, has grown too full to ignore. This perception stops residents in our immigrant communities from viewing OPD as partners in our sanctuary city. It stops residents from reaching out when they have been the victim of crimes; when they need assistance for their children; when they want to participate fully in our community. It makes all of us safer to live in a city where everyone can feel protected and live free of fear."
The council is scheduled to take up the proposal next month by Kaplan and the Privacy Commission to ban OPD from doing traffic control in ICE/HSI operations. The council should approve it unanimously and send a strong message to the federal government and a president who has made the persecution of undocumented immigrants a cornerstone of his administration.

Update Nov. 22, 2017 at 12:05 p.m.: The Oakland police communications office released this statement from Chief Kirkpatrick in regards to the council proposal to ban OPD from providing traffic control for HSI/ICE operations:

"Chief Anne E. Kirkpatrick supports and values Oakland as a sanctuary city. The chief will honor any resolution the council may pass."