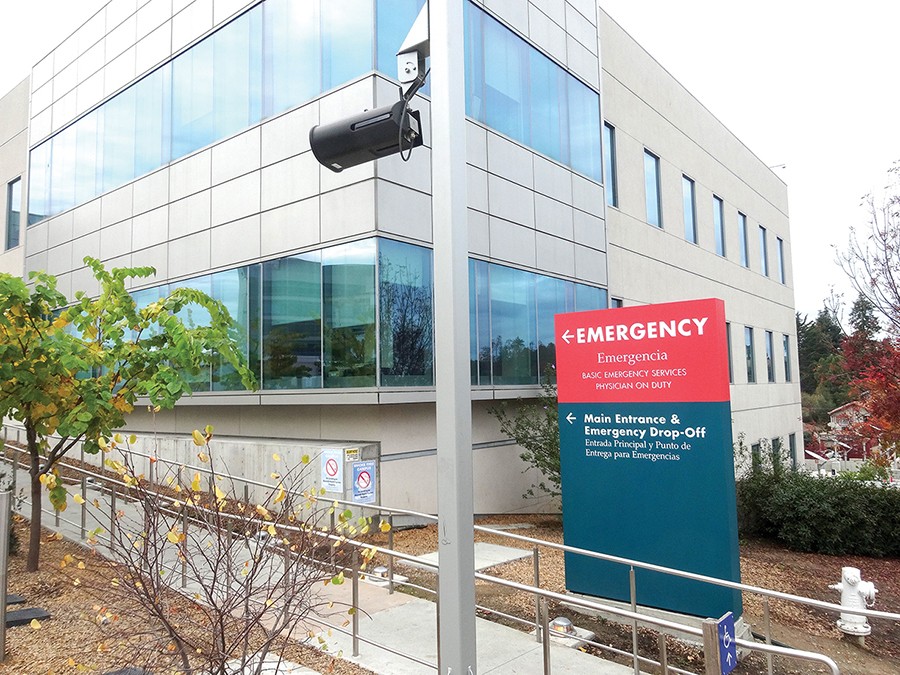 In 2014, Highland Hospital in Oakland quietly installed a surveillance camera near the entrance to its emergency room at a cost of $75,000. But instead of focusing on people, the camera, which is mounted on a pole outside, stares at the u-shaped driveway in front of the ER. It automatically reads the license plates of all vehicles that approach the emergency room and instantly sends the plate numbers to a database that numerous local, state, and federal law enforcement agencies can access, including the U.S. Immigration and Customs Enforcement agency (ICE).

The existence of the license plate reader (LPR) is raising concerns among civil liberties groups who are worried about the camera's presence at the county's largest public hospital. Most of Highland's patients are low-income and rely on Medi-Cal and county insurance. The hospital also serves a disproportionately larger number of Black, Latino, Asian, and immigrant patients compared to nearby private hospitals. And many uninsured people are forced to seek aid at the emergency room because they don't have insurance that would allow them to simply visit a physician.
"Why are the Alameda County Sheriff and Oakland Police accessing a surveillance system pointed at people seeking medical care, and what controls are in place to prevent misuse of the data?" asked Matt Cagle, an attorney with the ACLU of Northern California. "Alameda County and Oakland are both considering legislation to bring surveillance technology out of the shadows — this revelation underscores the necessity of such reforms."
Mike Katz-Lacabe, a researcher who runs the Center for Human Rights and Privacy, discovered the camera at Highland in a batch of law enforcement records he recently obtained through a California Public Records Act request. He noted that the use of an LPR camera at a hospital is concerning because the data could reveal sensitive information about people, like when and how frequently they've sought emergency health care services. And it could dissuade some people from using the emergency room's drop-off for fear of being identified and tracked down by the local police or federal immigration agents.
Katz-Lacabe noted that the data from the LPR camera at Highland goes to the Northern California Regional Intelligence Center (NCRIC), a consortium of local, state, and federal law enforcement agencies. "Pretty much every police department in the Bay Area has access to this," he said. It wouldn't surprise me if NYPD could sign in — and all the federal agencies can sign in, including ICE and the FBI."
NCRIC's website lists ICE as just one of the federal law enforcement groups that can access data shared by local agencies through NCRIC. As a result, ICE could use the data from Highland in its immigration deportation investigations. Under the Trump administration, ICE has boosted its efforts to capture undocumented people this year. The FBI, Drug Enforcement Administration, and even the Internal Revenue Service can also access NCRIC databases.
Records that Katz-Lacabe obtained from NCRIC show that the LPR camera at Highland has scanned about 25,000 license plates every month since December of last year. Prior to that, NCRIC wasn't tracking how many individual scans came from the camera at Highland as opposed to separate LPR cameras mounted on Alameda County Sheriff's Office vehicles.
In recent years, privacy and civil liberties advocates have pushed for more transparency about these kinds of surveillance tools. And they've asked for local governments to adopt policies that prevent data from being misused, leaked, or shared with federal immigration agents.
It's unclear whether there is a policy in place to govern how the data collected by the camera at Highland can be used and who can access it. In fact, it's not clear who actually owns and operates the camera.
When first contacted two weeks ago, Lorna Fernandes, spokesperson for Alameda Health System, which operates Highland Hospital, said she hadn't heard about the camera before. She later said the LPR system is overseen by the Alameda County Sheriff's Office, but didn't respond to follow-up emails seeking further clarification.
Sgt. Ray Kelly of the Alameda County Sheriff's Office confirmed that his agency's officers have access to the camera's data, but he said the sheriff isn't the administrator or manager of the system. "We do have access to it, along with [Oakland police], for investigative purposes," wrote Kelly in an email. But he added, "ACSO is not the administrator or manager of this particular system."
Nevertheless, he said the camera is a crucial investigative tool used to solve violent crimes. "Often victims are transported to Highland by friends, family, associates, and good Samaritans," explained Kelly. "Many times, the drivers of these vehicles do not wish to be contacted by law enforcement for various reasons, yet they are a part of the investigation and law enforcement needs to conduct follow up. This particular LPR system has been very instrumental in solving murders and violent crime in Oakland and other cities."
About 400 gunshot-wound victims were dropped off at Highland's ER last year along with another 250 stab-wound victims, according to Kelly.
Many of these crime victims were shot or stabbed in Oakland. But the Oakland Police Department's public information officers Johnna Watson and Marco Marquez didn't respond to questions about the camera and how the Oakland police use it to pursue investigations.
In July, the Alameda County Board of Supervisors created a "surveillance technology working group" to draft an ordinance that will comprehensively regulate the acquisition and use of new technologies by law enforcement and other county agencies.
The city of Oakland is also currently drafting a "surveillance and community safety" ordinance that will lay out specific rules for when and why city departments, including police, can obtain new technologies, and spell out clear policies as to how they can be used.
But part of the challenge for the county and the city is finding all of the surveillance tools already in use by the county's various departments. Many, like the LPR camera at Highland, have been in use for years, and only a few people know about their existence.
As to why the LPR camera at Highland went unnoticed by hospital staff for several years, Katz-Lacabe said it's possibly because it was installed as part of an obscure change order made to a $14 million construction contract that began in 2009. He also said the camera doesn't look like a surveillance device.
"It's this black piece of plastic that's outside hanging off this pole," said Katz-Lacabe. "Unless someone is curious and looked closer, they probably would have dismissed it as a light or something."