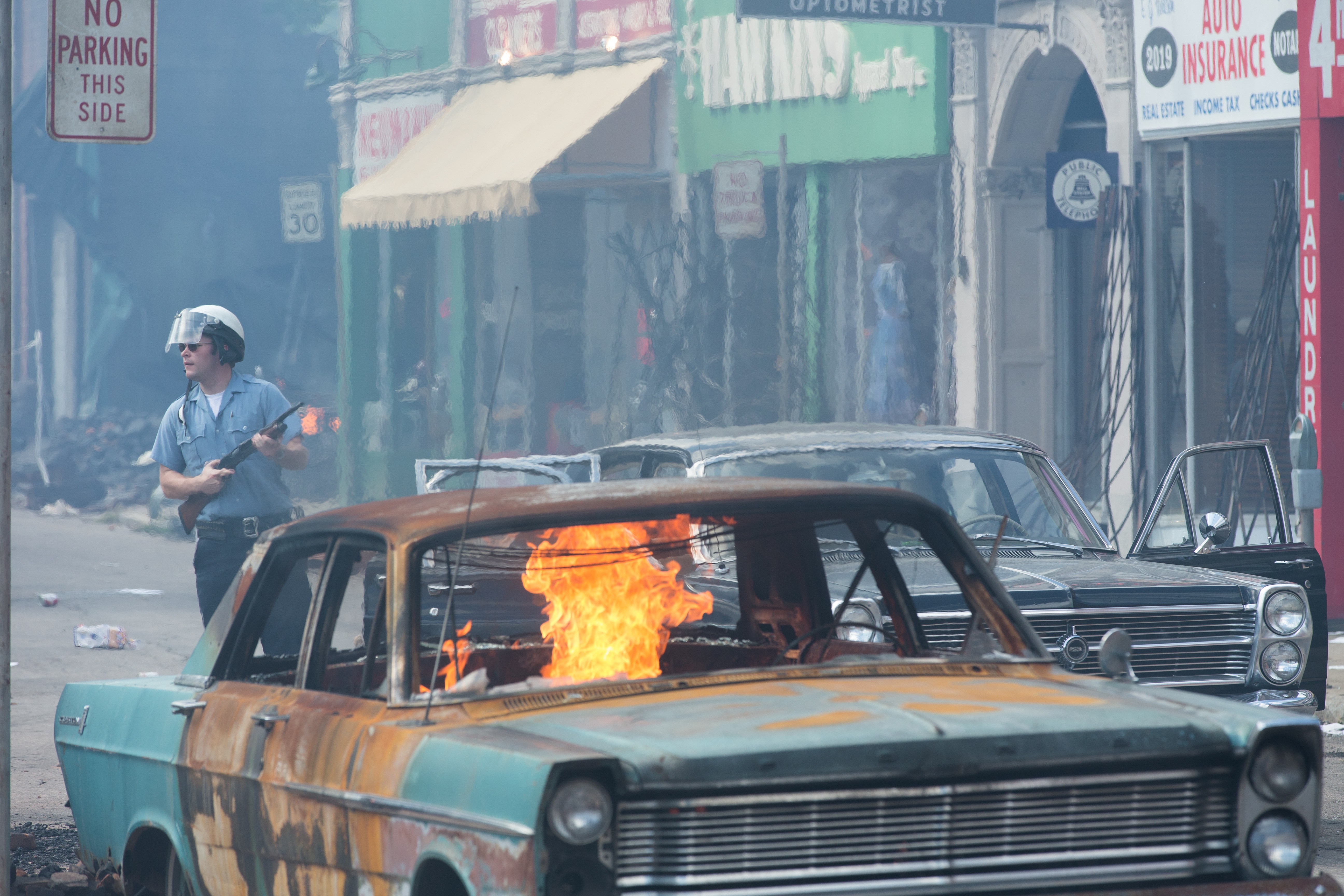 What's going on?: A scene from
Detroit
.
In the midst of the fiery Detroit riot in July, 1967, three white Detroit police officers cold-bloodedly murder three unarmed Black men at the Algiers Motel, and beat and terrorize nine other people – seven African-American men and two white women. The cops are later acquitted of all charges.
If that's all there were to
Detroit
, Kathryn Bigelow's dramatized urban history lesson – with telescoped events and some of the characters' names changed — would still be a pulsing, nerve-twisting experience. But director Bigelow and screenwriter Mark Boal tell their exhaustingly jittery true story in bold, violent strokes, ascribing ambiguous, all-too-human motives to everyone in the motel that night, including the police. The film makes us understand the ingredients of a "race riot." Things that Black people in this country know from hard experience. Things that still apply today, fifty years after that hot summer.
The flash point is a police raid on a "blind pig" after-hours club on 12th Street in the city's near west side. The cops rough up every Black person in sight, and soon an angry crowd gathers in the street. Tempers flare. Protesting turns into looting and arson; safeguarding public safety gives way to nightsticks, tear gas, and shotguns. Eventually the National Guard is called in, and the disturbance rages on for five days.
On the sidelines, trying their best to make a living no matter what, the soul music vocal group The Dramatics is about to get its big break, but they scatter like everyone else in front of the trigger-happy peacekeepers. Singers Larry (played by Algee Smith) and Fred (Jacob Latimore) decide to wait out the storm at the Algiers Motel annex, the Manor House, where they run into Carl (Jason Mitchell) and his friends, who despite everything are in the mood to party. The group includes a pair of fun-seeking young white women, Julie (Hannah Murray) and Karen (Kaitlyn Dever). After a few rounds of drinks, Carl starts playing games with a harmless starter's pistol, firing it out the window in sight of a squad of police a block away. Matters deteriorate from there.
In an earlier scene, Detroit PD Officer Krauss (Will Poulter) demonstrates that he is a racist hothead in the habit of shooting suspects in the back. He and his fellow patrolmen Flynn (Ben O'Toole) and Demens (Jack Reynor) respond to the "sniper" report at the Algiers by pistol-whipping the men and assaulting the two white female "nigger lovers," in their increasingly hysterical search for the supposed sniper. Caught in the middle of this police feeding frenzy is Melvin Dismukes (John Boyega), a Black security guard working nearby. His uniform and badge mark him as separate from the victims, yet his skin color brands him as a dangerous outsider in the eyes of the cops. Melvin's moral dilemma – whether to side with the police or the people in the motel – is the crux of Bigelow and Boal's screenplay. Don't expect an easy answer.
Bigelow's films
The Hurt Locker
and
Zero Dark Thirty
mark her as unafraid to wade into complicated, politically loaded situations involving the use of force. Almost all the characters in
Detroit
are guilty of something, from bad judgment all the way to murder. But the apparatus itself is called into question. Behind Poulter and Boyega's powerful performances (those two actors, in common with Murray, happen to be British),
Detroit
makes a point of punishing its audience as a blunt reminder of the state of police-Black relations, then and now.
Bigelow's frank indictment of unchecked police brutality echoes the fed-up mood of such recent hot-button entertainments as
Whose Streets?
,
Beatriz at Dinner
,
I Am Not Your Negro
, and
Do Not Resist
. Their social commentary is up front and unmistakable, as if the names of Trayvon Martin, Philando Castile, Laquan McDonald, Mario Woods, and hundreds of others — thousands, really, stretching back four hundred years in this part of the world – weren't already enough to stir resistance.
Detroit
is not a relaxing, fun-filled evening at the movies. It's a cavalcade of injustice. But it's one of the most meaningful films of 2017.