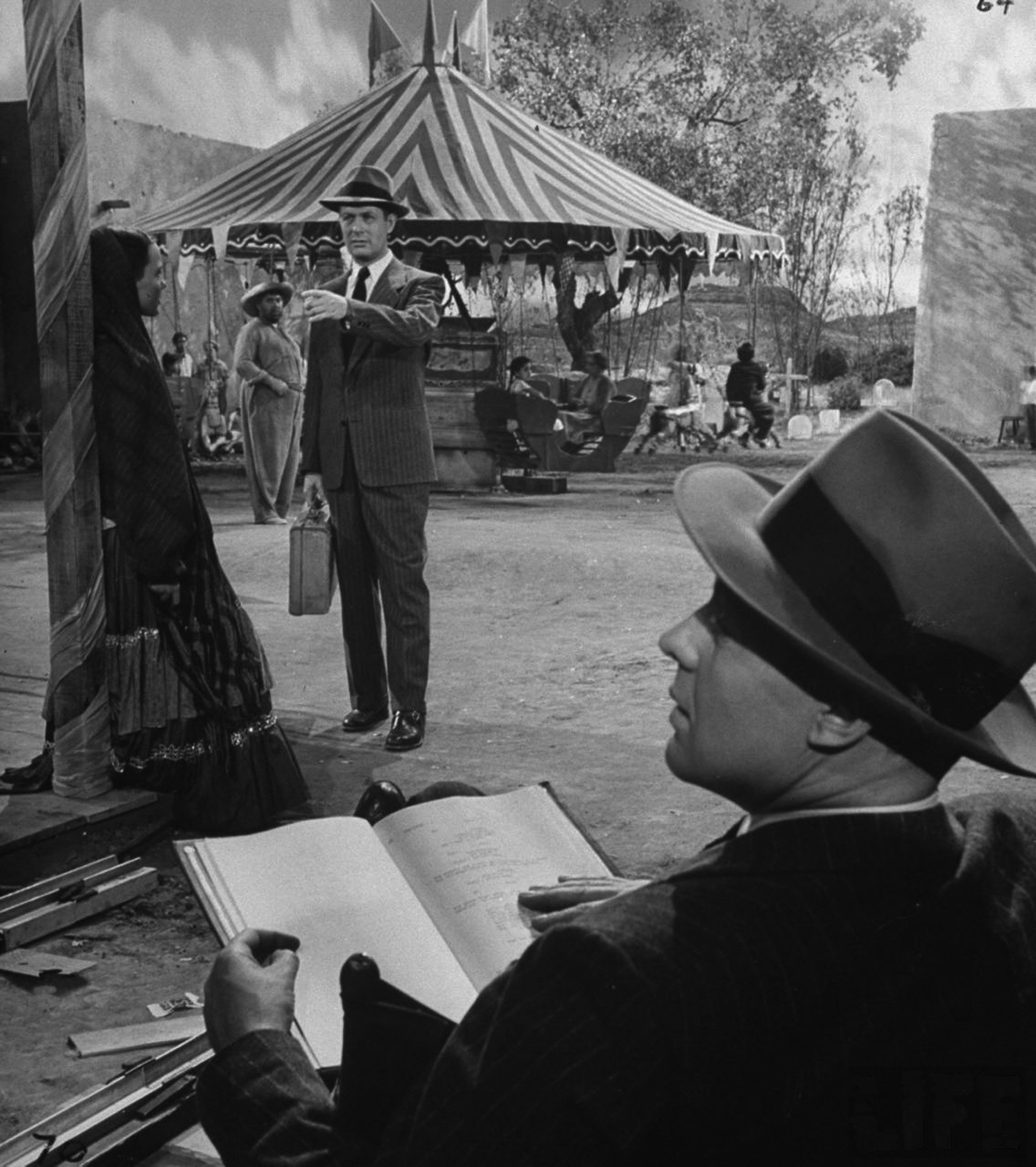 Robert Montgomery on the set of
Ride the Pink Horse
.
BAMPFA is in the midst of a welcome retrospective devoted to the work of women writers of crime fiction. The "Band of Outsiders" series, curated by Kathy Geritz, this week features an atypical film noir from 1947,
Ride the Pink Horse
– adapted by Charles Lederer and the legendary Ben Hecht from the novel by Dorothy B. Hughes (
In a Lonely Place
), directed by and starring actor Robert Montgomery.
Montgomery's Lucky Gagin wanders through the set of the US-Mexican border town of "San Pablo" like a sullen sleepwalker. The disoriented gringo newcomer has a score to settle with crime boss Frank Hugo (Fred Clark), who uses an elaborate hearing aid as a sinister conversation piece. Luckily for lucky, his dazed expression – and his easy bankroll — appeal to Pancho (Thomas Gomez), an unapologetically hammy tequila guzzler who operates a merry-go-round for the neighborhood kids. Lurking in the shadows is another admirer, Pila, played by a "browned-up" Wanda Hendrix.
As with many of the most appealing movies from noir's high period, the seedy charm derives not so much from what the characters do, but from how they do it. Lucky displays a lazy contempt for the locals, but they treat his insults as benedictions. In a town full of ugly Americans, Lucky is the only one who actually relates to the Mexican Americans as something other than hustlers and servants.
As a bonus alongside BAMPFA's Friday, August 4 screening of
Ride the Pink Horse
(6:30), Don Siegel's 1964 made-for-TV adaptation of the same property,
The Hanged Man
, starring Robert Culp and Edmond O'Brien, plays at 8:40. bampfa.org