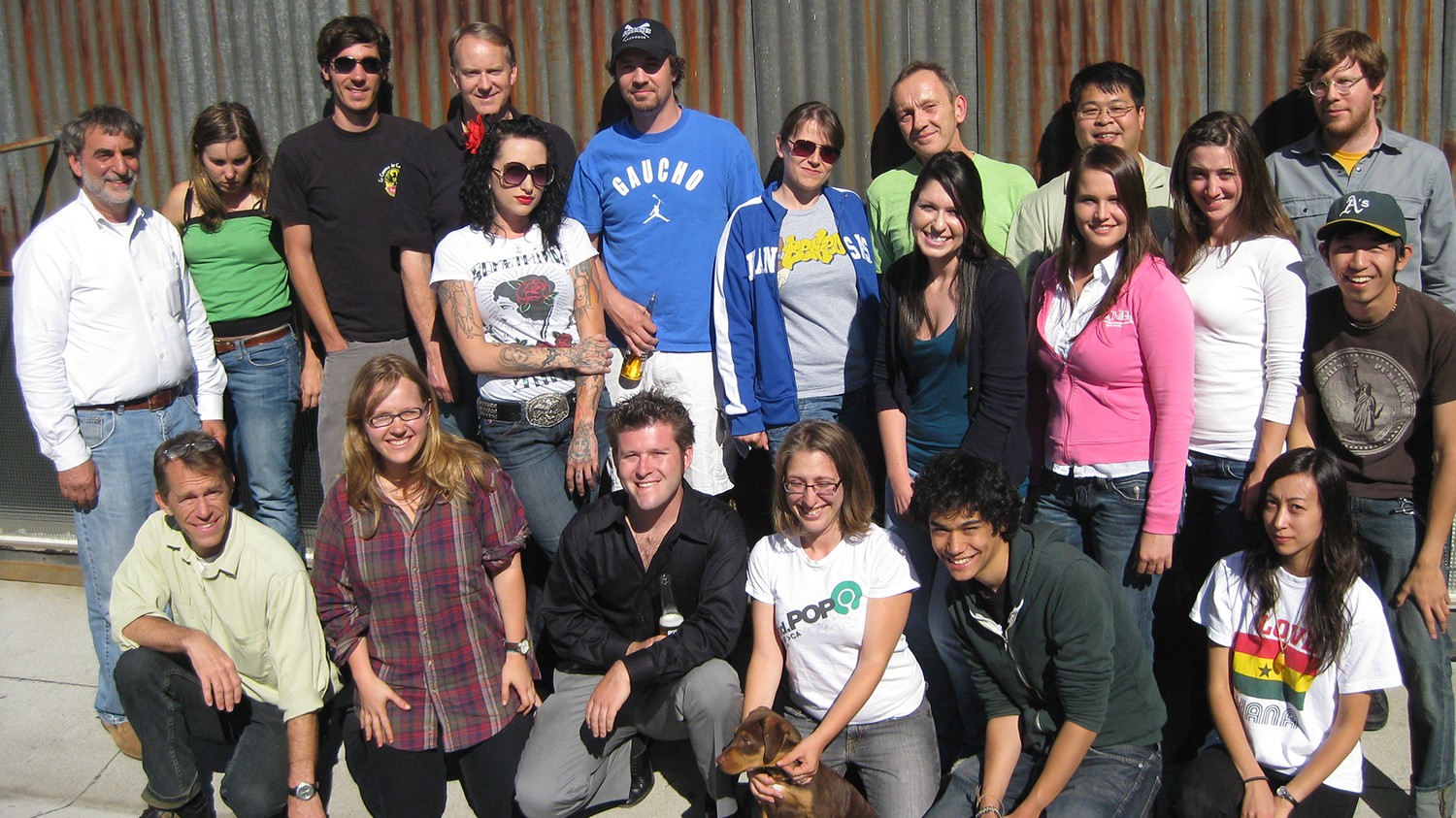 Ali Winston (contributor): After working at Reveal and freelancing for ProPublica, Ali is now an investigative reporter for The New York Times' metro desk, covering surveillance, privacy, and criminal justice.
Anneli Rufus (books editor): Anneli has spent the last few years writing nonfiction books such as Unworthy: How to Stop Hating Yourself and Stuck: How We Can't (or Won't) Move On, and freelancing for other publications including TheDailyBeast.com, Oakland Magazine, and Psychology Today.
Azeen Ghorayshi (calendar editor): Azeen is a science reporter for BuzzFeed News.
Bert Johnson (photo editor): Bert is now an interactive producer for CapRadio Insight and runs a photography business.
Brian Kelly (art director): Brian works for Cost Plus World Market, and after hours he writes and records music under the name Oceanography.
Chris Thompson (staff writer): Chris was a staff writer for the Village Voice and then wrote for Slate magazine, City & State newspaper, and CorpWatch. He died in 2016.
Dashka Slater (staff writer): Dashka is the author of nine books for children and adults, including the acclaimed 2017 release The 57 Bus. She's also an award-winning journalist who writes for The New York Times Magazine and Mother Jones.
David Downs (contributor): After serving as a cannabis editor at the San Francisco Chronicle, David is now the California bureau chief for Leafly.com.
Eliza Strickland (staff writer): Eliza is an editor at the tech magazine IEEE Spectrum.
Ellen Cushing (staff writer): Ellen was an editor at San Francisco Magazine and BuzzFeed News before becoming senior editor for The Atlantic.
Eric K. Arnold (clubs editor): Eric has been freelance reporter covering music, arts and culture, news, and media issues and is now a communications specialist for Urban Releaf in Oakland.
Erin Baldassari (calendar editor): Erin is a staff writer for the East Bay Times, covering transportation.
Gary Rivlin (staff writer): Gary was a staff writer for The New York Times and has written for The New York Times Magazine, Wired, Newsweek, and Mother Jones. He's also penned five books, including KATRINA: After the Flood.
Gillian Dreher (art director): Gillian is a senior product designer at Pandora.
Greg Traverso (art director): Greg is a freelance graphic designer and art director living and working in the heart of Gold Country, Amador City.
Joaquin Palomino (contributor): Joaquin in an investigative reporter for the San Francisco Chronicle.
John Birdsall (staff writer): John is an award-winning freelance writer for Bon Appétit, Eater, Food & Wine, Edible San Francisco, and Taste. He also co-wrote Hawker Fare: Stories & Recipes from a Refugee Chef's Isan Thai & Lao Roots with James Syhabout. He's working on a new biography of James Beard.
Jonathan Kauffman (staff writer): Jonathan was a food critic for Seattle Weekly and SF Weekly before joining the San Francisco Chronicle, where he focuses on the intersection of food and culture. His first book, Hippie Food: How Back-to-the-Landers, Longhairs and Revolutionaries Changed the Way We Eat, was published in 2018.
Justin Berton (staff writer): Justin was a staff writer for the San Francisco Chronicle before becoming Oakland Mayor Libby Schaaf's director of communications.
Justin Page (art director): Justin was managing art director at Playboy Magazine and now is creative director for 000 Magazine and art director for Cycle World Magazine.
Kara Platoni (staff writer): Kara is freelance writer for Smithsonian, Popular Science, Air & Space, and other magazines and wrote the 2015 book, We Have the Technology: How Biohackers, Foodies, Physicians and Scientists Are Transforming Human Perception. She's also a lecturer and assistant dean for students at UC Berkeley's Graduate School of Journalism.
Katy St. Clair (contributor): Katy is now the public information officer for the San Francisco Public Defender's Office.
Lee Hildebrand (associate editor): Lee has written for Living Blues magazine, the San Francisco Bay Guardian, the Oakland Post, and the San Francisco Chronicle. He also has authored and edited several books, including Hammertime; Bay Area Blues (with photographer Michelle Vignes); Colors and Chords: The Art of Johnny Otis; and Images of the Blues.
Linnea Due (senior editor): Linnea became the editor of Terrain magazine, a freelance writer, and award-winning author of High and Outside and Joining the Tribe: Growing Up Gay and Lesbian in the '90s.
Luke Tsai (food editor): Luke is the food editor at San Francisco Magazine.
Mark Gartland (art director): Mark became an art director at Google and creative director of Streamwize and is now art director at Lawrence Livermore National Laboratory. He also founded Gart Design.
Michael Mechanic (managing editor): Michael is senior editor at Mother Jones.
Nastia Voynovskaya (music editor): Nastia is the music and books editor at KQED Arts.
Nate Seltenrich (clubs editor): Nate is a freelance journalist covering science and the environment, both in the Bay Area and nationally.
Nick Miller (editor): Nick is senior editor of news and features at Capital Public Radio in Sacramento.
Nora Sohnen (editorial coordinator): After serving as press secretary on Gary Coleman's gubernatorial campaign, Nora earned a graduate degree in economics and international relations, and now focuses on helping young people around the world gain skills and find employment.
Paul Rauber (staff writer): Paul is a senior editor for Sierra, the national magazine of the Sierra Club.
Rachel Swan (staff writer): Rachel was a reporter for the Daily Journal and SF Weekly before joining the San Francisco Chronicle as a staff writer.
Rob Harvilla (music editor): Rob is a staff writer for The Ringer.
Roxanne Pasibe (art director): Roxanne is a senior designer at Diablo Custom Publishing.
Sam Lefebvre (music editor): Sam became a freelancer for The Wire Magazine, Pitchfork, the Guardian, and The Fader and is now a staff writer for KQED Arts.
Sam Levin (staff writer): Sam is a staff writer for Guardian US.
Sarah Burke (managing editor): Sarah is a journalist, critic, curator, and editor for Broadly.
Stefanie Kalem (books editor): Stefanie now works in the marketing communications cog of UC Berkeley's campus-wide fundraising machine; volunteers at KALX-FM (as herself for public affairs programming and under the DJ name Agapathus); and sometimes still even writes.
Will Harper (staff writer): Will became managing editor of SF Weekly and city editor for the San Francisco Examiner before becoming a community and media relations specialist for the Contra Costa Regional Medical Center & Health Centers.
Zaineb Mohammed (calendar editor): Zaineb is the communications manager for the Ella Baker Center.
And, finally, a note from co-founder and longtime editor John Raeside, who is now a development editor and editorial consultant in Oakland:
Where are they now? Dick Metsker.
Emerging from deep in the mists of time, long before the age of Twitter, longtime readers and contributors will recognize the name one of this paper's most prolific contributors to the Letters column, a notorious troll named Dick Metsker of Montecito Drive in Oakland. For decades, it was the policy of this paper not to print any complimentary letters to the editor, arguing that such letters were boring. For Mr. Metsker, however, the column was fertile ground from which he used to bitterly savage the paper and its writers.
Some students of Express history have always been curious about the disappearance of Metsker and date that absence from the sale to new owners in 2002 and the departure of its original editor.
Where is Dick Metsker now? Does anybody know?