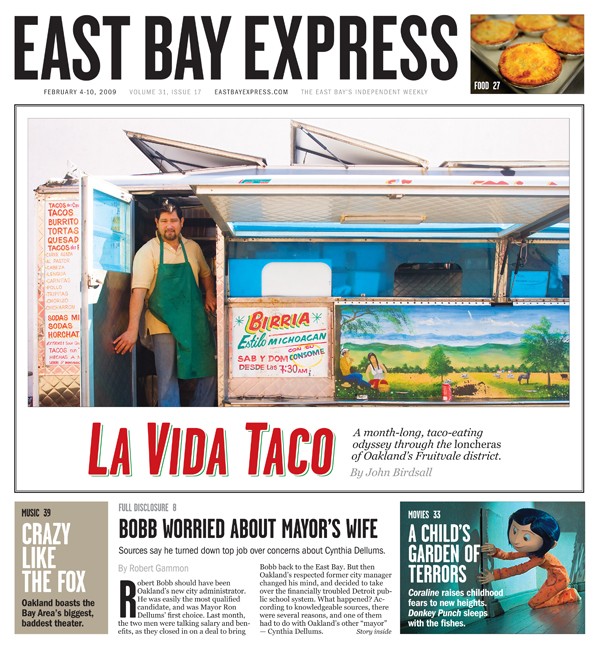 John Birdsall (former staff writer)
I'll always be grateful to the East Bay Express for giving me a voice and an audience. I started as staff food critic in January 2007, succeeding Jonathan Kauffman. For a novice writer, it was like being a BART busker somehow called in as Carlos Santana's stand-in to headline the Greek. I was terrified, and my editor, Michael Mechanic, scared the shit out of me even more. Mechanic did not suffer fools or imprecise language, and he was used to editing reporters, so building word count with bloated description was not an option. It was writing bootcamp. I found out why.
Express readers cared about the paper. They took my reviews seriously, and when some felt I'd got something wrong, or was bullshitting for stylistic effect, or just didn't know enough about Shanghai noodles or Nigerian soups, they expressed their disappointment.
Sure, snark was the house style at every alt weekly in the twilight of the first golden age, but the Express made me write with frankness and sincerity, for readers who were excited about every one of my ecstatic revelations, and who at least considered my judgments, even if we didn't agree. The Express taught me the skills of writing, and schooled me in the first responsibility of any journalist or critic: to answer to a community of readers. Long may the Express litter BART cars and search-engine feeds!
Ali Winston (former contributor)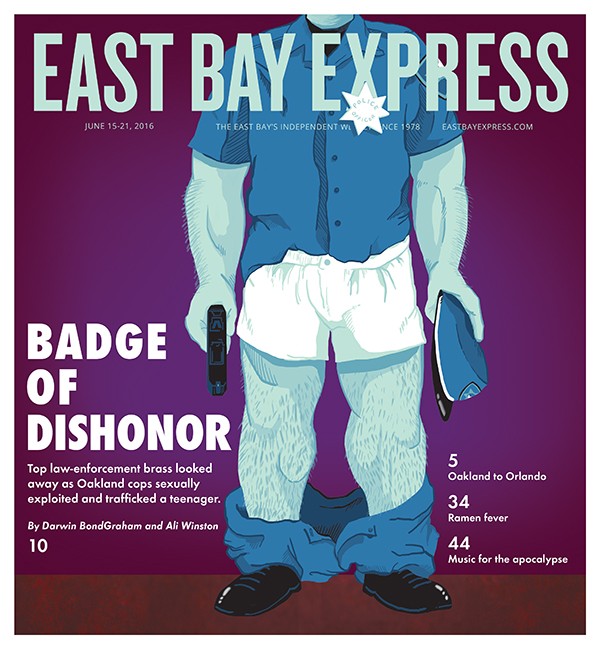 The Express allowed me the freedom and outlet to dig deep into the East Bay's criminal justice system and explore issues beyond the day-to-day headlines and churn of the news cycle. The reporting I produced — very often in tandem with the Notorious DBG [Darwin BondGraham] — on surveillance, profiteering firearms manufacturers, gun violence, corrupt cops and city officials, and sex trafficking would not have been possible to do with the same reach, comprehensiveness, and focus at other news organizations. The Express, along with KPFA, is the beating heart of Oakland and Berkeley's political discourse, all the more so now that Alden Global Capital is stripping the East Bay Times for parts.
Ellen Cushing (former staff writer)
When I started at the Express, in 2010, I was 22. The U.S. was still plunged into the worst recession in decades, and local, independent journalism in the midst of a well-documented free-fall. It was not, on paper, a wise decision. But the Express felt alive. We'd talk all day over our cubicle walls about transit policy or local hip-hop or where the best banh mi in Oakland really was. We stayed up all night covering Occupy and then came to work straight from the protest, delirious and muddy. Readers would fill our inboxes with impassioned and thoughtful and occasionally unhinged opinions about our coverage, and some of them would write so often they became our friends. I looked forward to Wednesday all week. My colleagues were the smartest, most interesting, most committed people I'd ever met, and I idolized each and every one of them. They taught me about: good beer; Deerhoof; the free Broadway shuttle; public records law; story structure; journalism as craft, as ethical practice, as feat of electrical engineering, as mirror, as hammer. Three jobs later, I'm still tremendously grateful, and I still look forward to Wednesday all week.
Justin Page (former art director)
The Express was one of the most valuable experiences I have had in my life. Over the course of about six years I was a production artist, assistant production manager, production manager, assistant art director, and art director and illustrator. I think you guys owe me a watch.
I always felt very proud of what we were doing there at the Express. It was hard work, but I was happy there. We all made a lot of personal sacrifices to be there but every Wednesday morning when our work was all over town, you were reminded why you did it.
Editorial meetings were fantastic. It was great to get to observe, and sometimes participate in conversations with such passionate journalists, like Chris Thompson, Will Harper, Kathleen Richards, Bob Gammon, Justin Berton, Kara Platoni, Steve Buel, and Michael Mechanic. It felt like I was allowed to listen in on something that would impact the culture of where I was from, or expose a wrongdoing, or inspire our readers — that always felt special. Frankly, I always felt like the dummy in the room, occasionally looking up words that the writers would ramble to make sure I understood what the hell they were talking about (mostly Chris.)
I also think about the big stories of those times often and how it was to be part of the process, even if indirectly. The Black Muslim Bakery story was the most intense, with Thompson in hiding and talk of death threats around the office, I would spend Friday nights alone in the building with the hired security guard outside my office window. One morning, I had a brick on my desk surrounded by broken glass. The brick had a note tied to it: "Don't fuck with the police."
Other times, it was impassioned arguments with Buel over the cover design, or working through illustration ideas with Mike. Looking back, I must have been a pain in his ass. But I think we did some great covers together. And we did the redesign, which we thought turned out pretty damn skippy. I think you guys are still using it to some extent. Maybe a few adjustments? OK, I'm rambling now. Sorry.
Stefanie Kalem (former books editor)
An experiential highlight for sure was the day that our Gary Coleman for Governor issue hit the streets, in August 2003. The paper was part of the New Times chain at that point, and the sales department had won some chain-wide sales contest for which the prize was something like $3,000 to spend on your staff. The sales director decided to treat the entire staff — not just her ad salespeople — to a day trip to Napa in a Green Tortoise bus; the trip happened to take place the day the Gary Coleman issue hit newsstands. For our Napa outing, we had lunch at a country club and then had a choice of croquet, golf, or lounging by the pool onsite. It was Nora Sohnen's first day (or week?) on the job as editorial coordinator, and she and then-editor Stephen Buel spent the whole day fielding calls from the national press about us running Gary Coleman for governor of California — in between holes of golf.
Kathleen Richards (editor in chief)
I was one of those Berkeley kids who grew up reading the Express. So when I got an internship here in my first semester of J-school (way back in 2006), I was overjoyed — but also extremely intimidated. It was my first real journalism gig, and at the time, the paper (then owned by Village Voice Media) had a large stable of top-notch reporters and editors, including Chris Thompson, Will Harper, Mike Mechanic, Justin Berton, Robert Gammon, Kara Platoni, Jonathan Kauffman, Rob Harvilla, Eric K. Arnold, Rachel Swan, and Kelly Vance. To be honest, I didn't really know what I was doing. But through a lot of hard work (and trial and error), I eventually got my bearings. I became clubs editor, and then staff writer, managing editor, co-editor, and (after a stint at The Stranger in Seattle), editor in chief.
The Express shaped me as a journalist, editor, manager, and ethical, empathetic human being, and although it was a lot more work and less pay than I would have liked, it gave me the creative freedom and the connection to the community that I longed for. It has been a bumpy and, too often, chaotic and stressful ride, but I'm forever grateful for the opportunities I've had and the talented people I've gotten to work with, several of whom have become close friends. I'm proud to have played any small part in keeping this community institution going all these years and hope it thrives long into the future.
Bert Johnson (former photo editor)
From 2014-2016, I was lucky enough to be the staff photographer at the Express. I was hired as part of a squad of young, engaged, community-minded reporters whose work is still a benchmark I aim for. We were a team, and together we covered the gentrification of the East Bay, Oakland's thriving music scene, the cultural relevance of food, the Black Lives Matter movement, police misconduct, and the roots of what came to be called "the Resistance." The love we got from the community was real — on countless photo assignments, I was told that my colleagues were covering an issue no one else was even aware of. An Oakland-based MC told me she loved the Express because she used to find concerts where she could sell pills in our events calendar. As an independent local publication, the Express was given access to people and stories that other outlets weren't.
Nothing is perfect, of course, and there were some hard days in the newsroom. We got it wrong sometimes, and if a reader were right-of-center, I'm sure our coverage looked hopelessly biased. But we reported the facts and openly acknowledged our progressive values, an approach that larger outlets avoid in favor of editorial objectivity. We struggled constantly to live with a limited budget, and when I finally resigned, I was relieved to leave on my own terms because I'd seen several layoffs in my two years on staff. I imagined I might be able to find more stability elsewhere (not true), but understood that the community I had at the Express was something unique (true). My East Bay Express squad are my family and even though I live in Sacramento now, the East Bay is still my home.