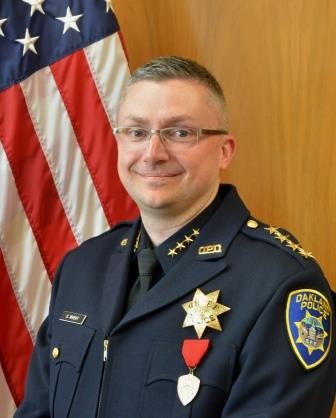 Multiple sources in City Hall and the Oakland Police Department say that Oakland Police Chief Sean Whent is being dismissed. The announcement is expected to be made tomorrow.
Oakland Mayor Libby Schaaf did not immediately respond to a phone call requesting comment.
Whent, a 19-year veteran of the department, became OPD chief in May of 2014 after Howard Jordan abruptly retired under a cloud of criticism.
For years, Whent led OPD's Internal Affairs Division, the unit in charge of investigating police officer misconduct.
During his brief tenure as chief, Whent was praised repeatedly by Independent Monitor Robert Warshaw, the court-appointed official in charge of overseeing mandatory departmental reforms. But recently,
Warshaw and the federal court became concerned about the handling of an internal affairs investigation
concerning the sexual exploitation of an underage woman who is the daughter of an Oakland police dispatcher by multiple Oakland cops.
In March, US District Judge Thelton Henderson, who is overseeing OPD's compliance with the negotiated settlement agreement, wrote in a stern and unprecedented order that "irregularities" and "violations" in the sex misconduct investigation called into question OPD's willingness and ability to hold its own officers accountable and make sustainable reforms.
The
Express
was unable to reach Whent for comment.
Update, 10:41 pm:
According to several sources, BART Police Deputy Chief Benson Fairow will serve as the interim police chief for Oakland while a national search is conducted to replace Whent.
And Chief Whent will be allowed to resign for "personal reasons" rather than be formally terminated.