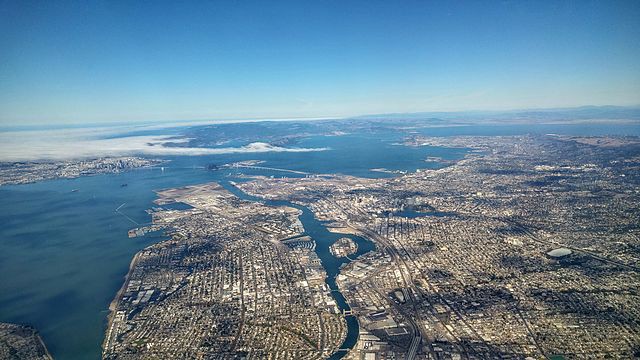 Stories you shouldn't miss for Feb. 8, 2018:
1. The
exodus from the Bay Area is continuing as home prices and rents in the region soar higher
, reports Louis Hansen of the Bay Area News Group$, citing a new study from the real estate firm Redfin. The Bay Area led the nation in outward migration in 2017 because of the extreme housing shortage and unaffordable prices. The top destination for residents in search of housing: Sacramento. Yet even with the mass exodus, the Bay Area's population continues to grow because more people are coming in than leaving as the region's job market prospers.
2. It will cost about
$38 million to fix the lead problems in Oakland public schools
, reports Ali Tadayon of the
East Bay Times
$. "About $22 million of that estimated cost is for replacing old water lines, and $16 million to replace drinking water and sink fixtures" at 15 schools that have tested with high levels of lead. The district plans to spread out the fixes over five years.
3. A $40 million homeless and health care facility at Alameda's West End
received federal approvals this week
, reports Peter Hegarty of the
East Bay Times
$. "The Alameda Point Collaborative, which provides services at the former Alameda Naval Air Station to people who were once homeless, is behind the project." The funding is coming from federal and state sources.
4. The Oakland City Council placed a parcel-tax measure on the June ballot
to provide much-needed funding for the city's public libraries
, reports Kimberly Veklerov of the
San Francisco Chronicle
. The $75 a parcel tax is expected to generate about $10 million annually over 20 years.
5. Terra Tech, the cannabis company that owns Blum Oakland dispensary,
got the final greenlight for a dispensary and manufacturing facility in San Leandro
, reports Darin Moriki of the
East Bay Times
$. The Blum San Leandro facility will be located at the corner of Fairway Drive and Nicholson Street.
6. Gov. Jerry Brown officially announced
the downsizing of his controversial water tunnels plan – from two tunnels to one
, the
Sacramento Bee
$ reports. The original twin tunnels proposal – estimated to cost $17 billion – failed to gain support from San Joaquin Valley agribusinesses that were supposed to help pay for it. The new plan is expected to cost $10 billion.
7. Lt. Gov. Gavin Newsom and Los Angeles Mayor Antonio Villaraigosa
are locked in a virtual dead heat in this year's governor's race,
the
LA Times
$ reports, citing a new poll by the nonpartisan Public Policy Institute of California. Newsom stands at 23 percent, with Villaraigosa at 21 percent. No other candidate is in double figures.
8. And a state judge in Bakersfield ruled that
a baker has the First Amendment right to deny service to a same-sex couple seeking to buy a wedding cake
, the
Bakersfield Californian
reports.
$ = news stories that may require payment to read.