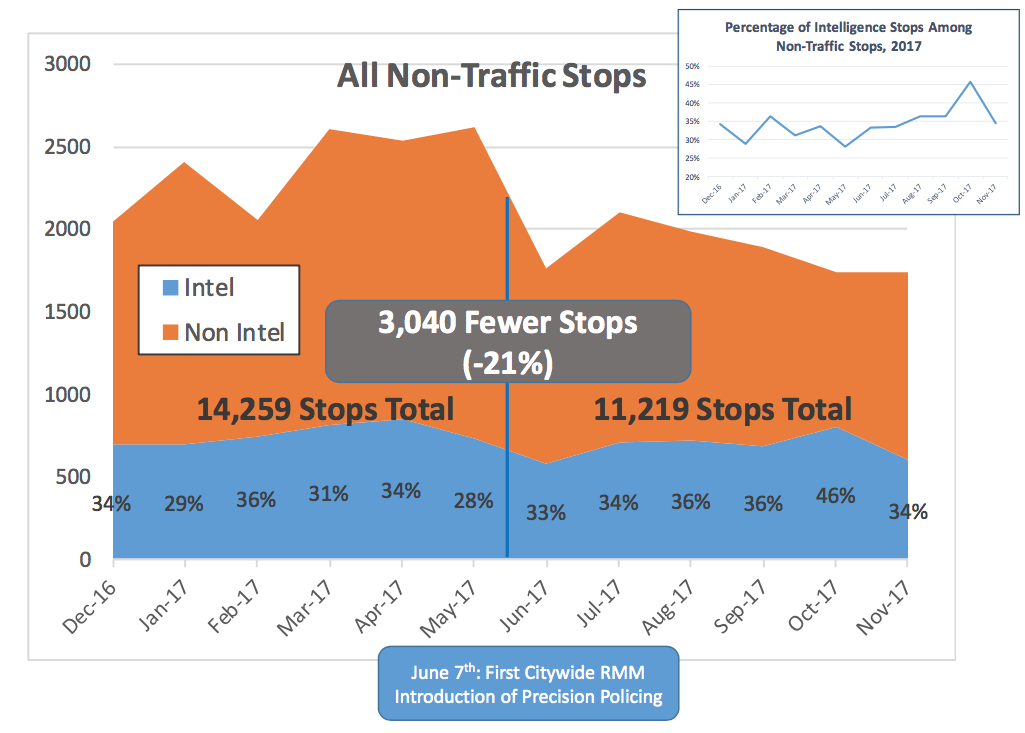 Oakland Police Chief Anne Kirkpatrick arrived one year ago promising to reduce racial profiling by cops. In fact, the police department is required to eliminate racial profiling under the terms of a 15-year-old federal court settlement agreement. Now, newly released data from Stanford University researchers reveals that one change instituted by OPD since Kirkpatrick took over has, in fact, dramatically reduced the number of stops of Black people that don't result in a citation or arrest.
These kinds of unjustified stops are commonly attributed to racial profiling tactics, and they can lead to conflict between police and communities of color.
The newly released data, which tracks police stops of pedestrians and bicyclists, shows that after OPD shifted to a "precision-based policing" model last June, the total number of stops of Black people dropped from 6,420 to 5,259, or by 18 percent.
Other racial groups saw similarly large percent declines in stops after the new policy was put in place. But the sheer number of Black people who were not stopped by the police, 1,161, resulted in a reduced police "footprint" on Oakland's Black community, according to Stanford's researchers.
In a presentation to OPD command staff last week, the Stanford team explained, "changing policies to reduce footprint can make an immediate difference in terms of impact on populations of color and reduce the greater cost they bear for policing."
At a federal court oversight hearing last Friday, Oakland Deputy City Attorney Kimberly Bliss said that new numbers are "most exciting," because they haven't coincided with a reduction in the number of arrests made by OPD. Crime also did not significantly increase, yet another sign that the eliminated stops were unnecessary and instead targeted people who weren't involved in any criminal activity.
Last year, shortly after she took over as police chief,
Kirkpatrick explained
precision policing to the Oakland's Citizens Police Review Board:
"If you wanted to be a good police officer [35 years ago], then  when you worked , our goal was to go find the bad guy. If you were an active good officer, you would go out and stop everything that moved out there; you are hoping that if you make enough stops you are going to find somebody with a gun, drugs, a warrant, etc., and if you stop and frisk enough people, then you will prevent crime. When you do that, the approach of policing is you have this swath you throw out – this broad net…"
Kirkpatrick said this prior type of policing caused damage to communities of color and that precision policing is a change in philosophy and tactics. The focus is instead on the "few people who commit crime," and the goal is to avoid needlessly stopping people based only on hunches or numbers.
A few caveats are worth mentioning, however. The new data only covers a six-month period. It also doesn't indicate any change in the disparity in terms of who's stopped by OPD. Even after the implementation of the new precision-based tactics, Black people still account for two-thirds of all police stops even though they only account for one-quarter of the city's total population.
[pdf-1]