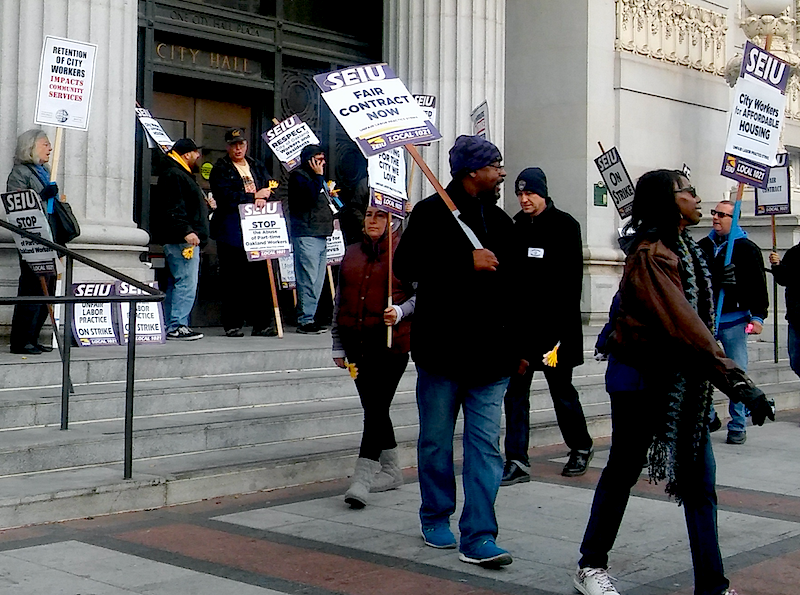 City of Oakland workers represented by the International Federation of Professional and Technical Employees voted to approve a new contract this week. The vote ends a contentious period of negotiations between the city and its second largest union, which has about 1,000 members. Approximately 82 percent of IFPTE Local 21's members voted yes on the deal, according to the union.
The new contract guarantees the employees a 4 percent pay increase retroactive to July 1, 2017. An additional 1 percent pay raise kicks in by January 1, 2019. And if the city's finances remain stable — measured by revenues hitting a specific target — then the union's members will receive another pay bump of 1 percent, also in January 2019.
The deal is similar to what the union was offered by the city just before its members went out on a seven-day strike in December, leaving some workers feeling frustrated.
"Our members were proud of the solidarity they showed," said Jennifer Li of IFPTE Local 21. "But our members are frustrated with the way the mayor handled this. She called it an 'illegal strike' when it wasn't' in order to scare our members away from the picket line."
"As for the council," said Li, "we were hoping they'd work with us. We were a little disappointed they didn't really stand up to the mayor."
City officials maintained that an impasse hadn't been reached by the time Local 21 called for a sympathy strike with SEIU Local 1021. But the union has said the strike was legal.
Just prior to walking off the job, the city had offered Local 21 a 4 percent pay raise retroactive to July 1, 2017 with a possible 1 to 2 percent increase in June 2019, if projected revenues hit a specific threshold. The same offer was made to SEIU Local 1021.
Li said the strike resulted in small but significant changes to the terms of the deal, including an extra percent pay increase guaranteed, and an improvement to the revenue formula that will determine whether or not the other 1 percent pay raise kicks in.
The city's largest employee union, SEIU Local 1021, is still in talks with the city and a mediator about it's next contract. Many members of 1021 also went out on strike in December. SEIU has received the same offer from the city that was just accepted by Local 21.
The city's firefighters union is also in talks with the city for a new contract, but unlike the civilian employees, they can't go out on strike. They do, however, have binding arbitration with the city to resolve disputes in contract talks.