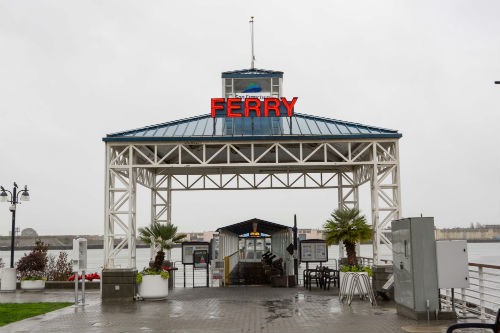 As predicted, a major storm has walloped the Bay Area on Thursday, leaving thousands without power, leading to BART shutdowns, a child trapped under a fallen tree in Santa Cruz, and constant pouring rain in some areas. We'll be updating as news unfolds.
 See Also:
Bay Area Schools Closed Today Due to Storm
"Storm of the Decade" Coming to Bay Area
[jump] In Berkeley, the ramp is closed on I-80 westbound at Ashby Ave. NBC is reporting three cars under water, though when our photographer scoped out the scene, it appeared just one was left. Photos from the scene: [image-11][image-10][image-12]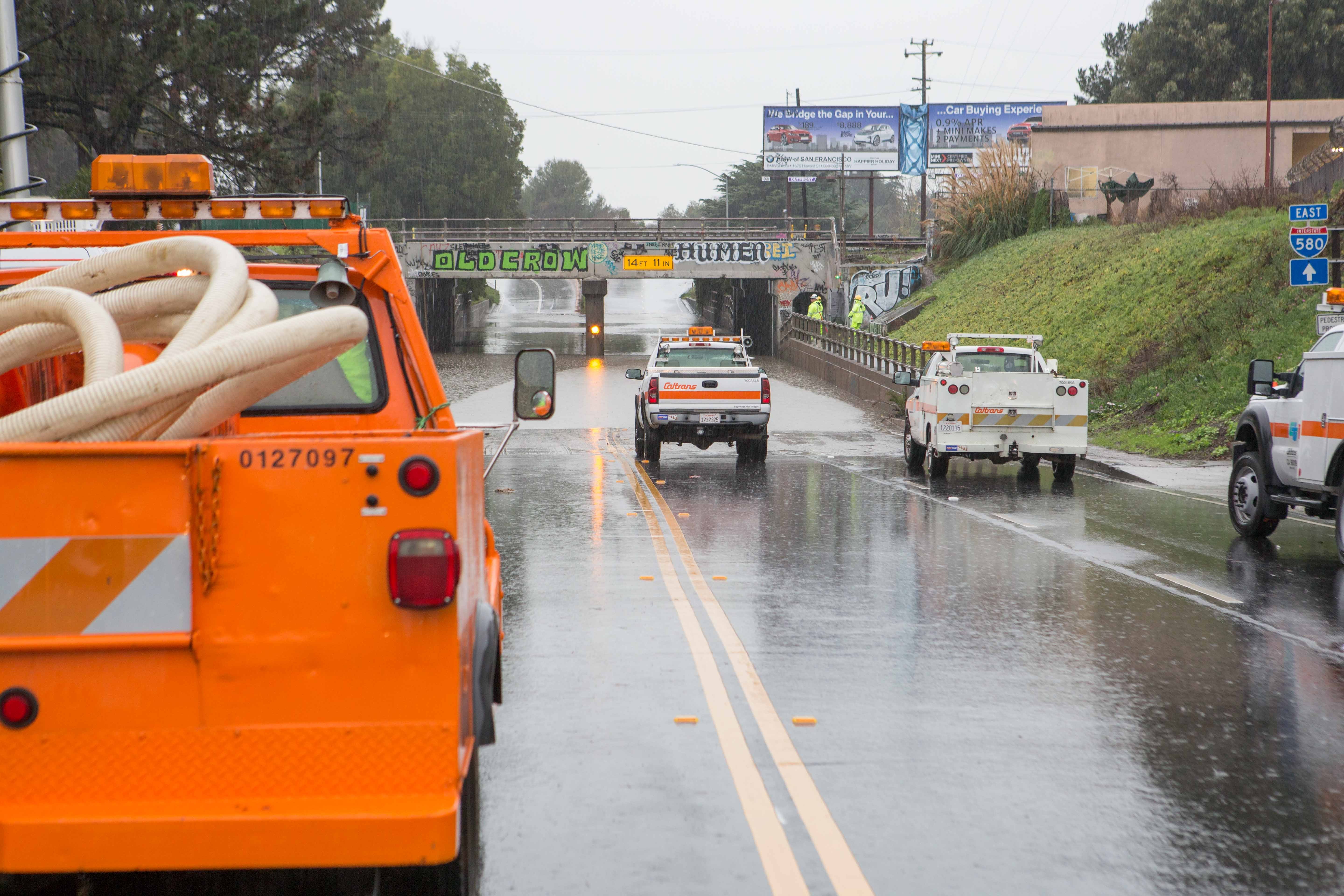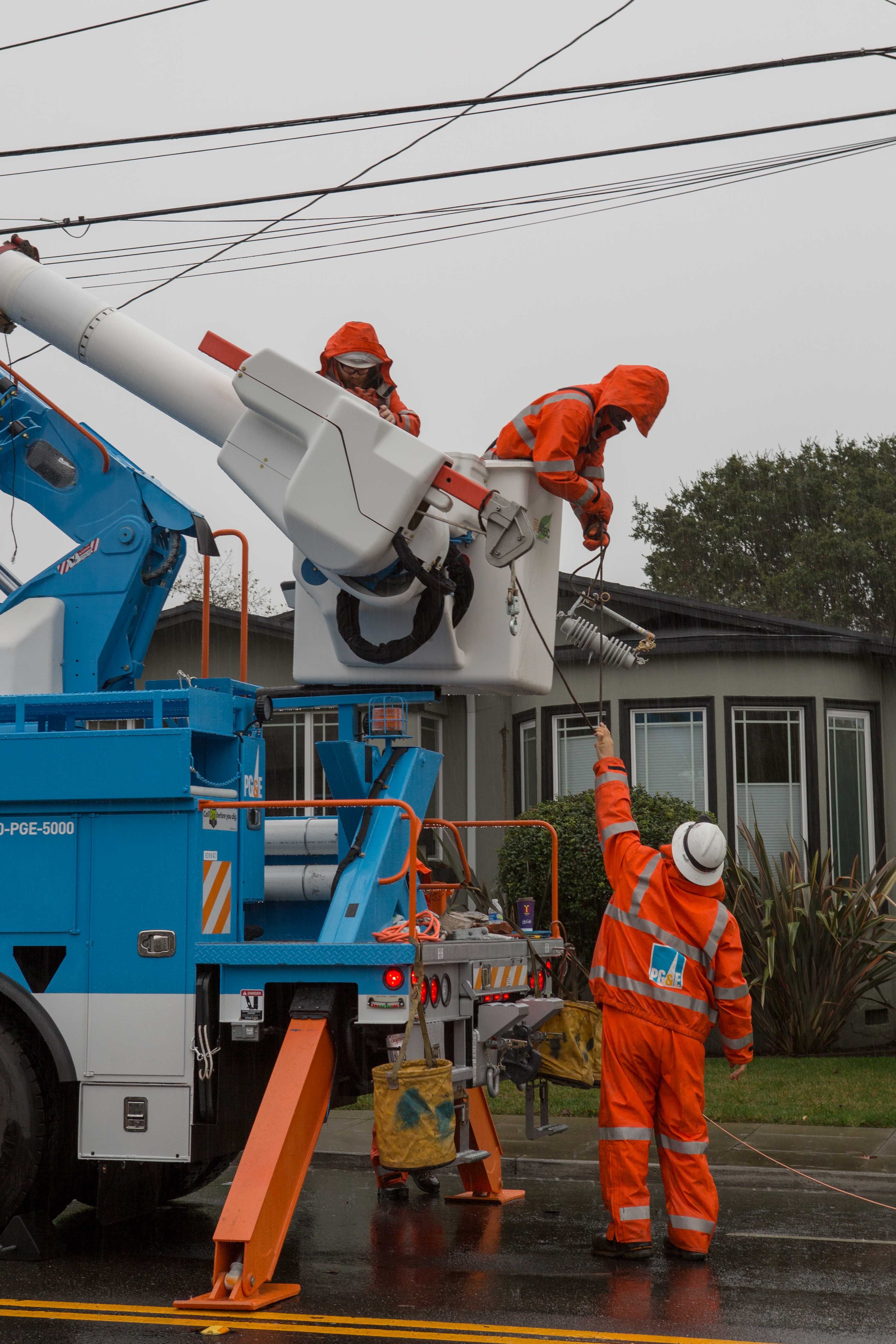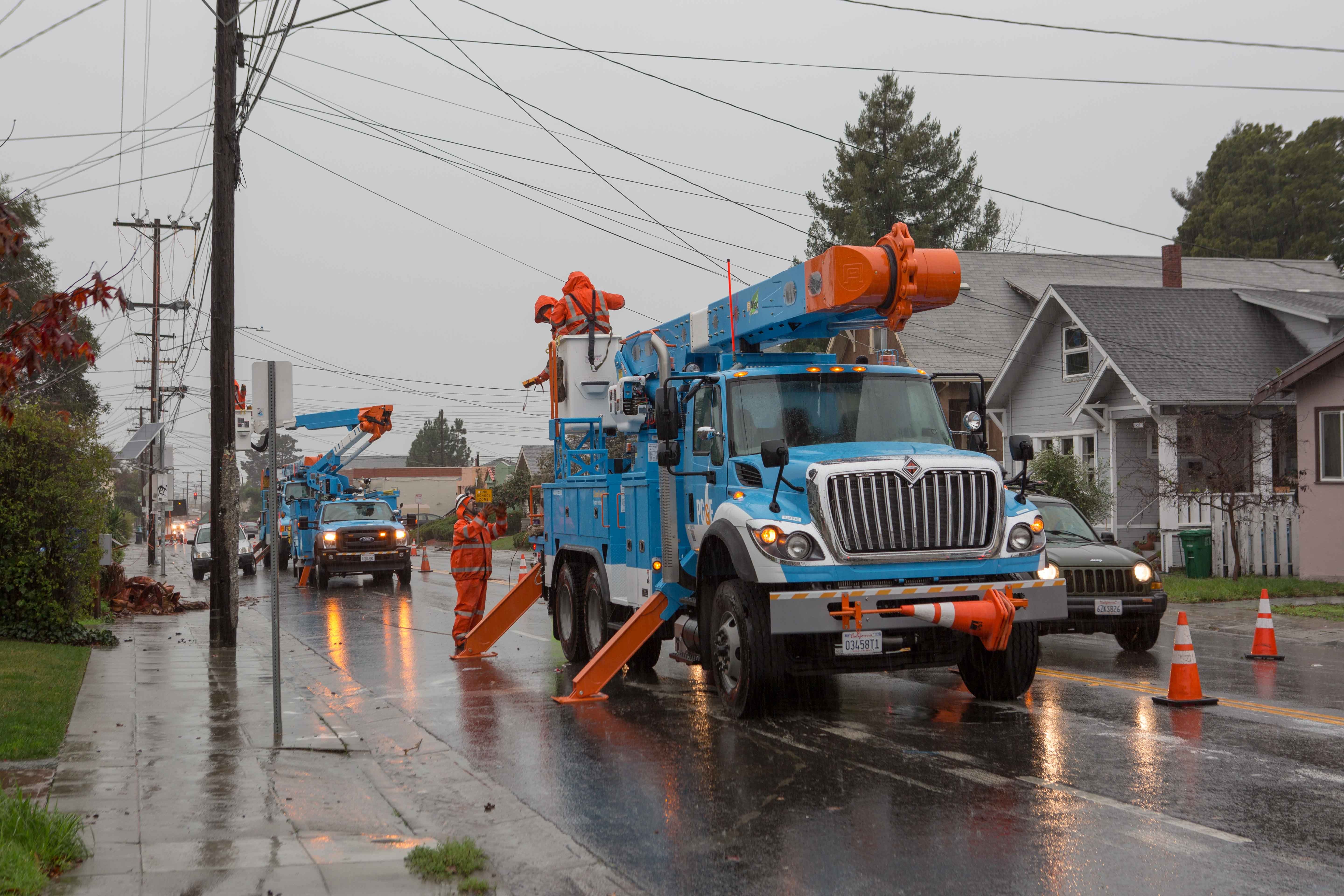 Caltrans trying to pump water from a flooded underpass at Ashby Ave in Berkeley. 3 cars in water. pic.twitter.com/FuHilCRvWp

— Christie Smith (@christies_nbc) December 11, 2014
Our photographer Bert Johnson braved the storm in Jack London to get photos near the Port of Oakland of the ferry terminal closure and people from downtown Oakland's Ambassador program clearing the drains: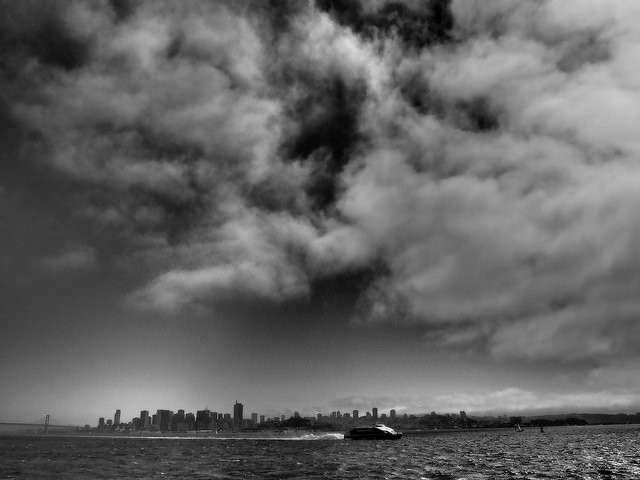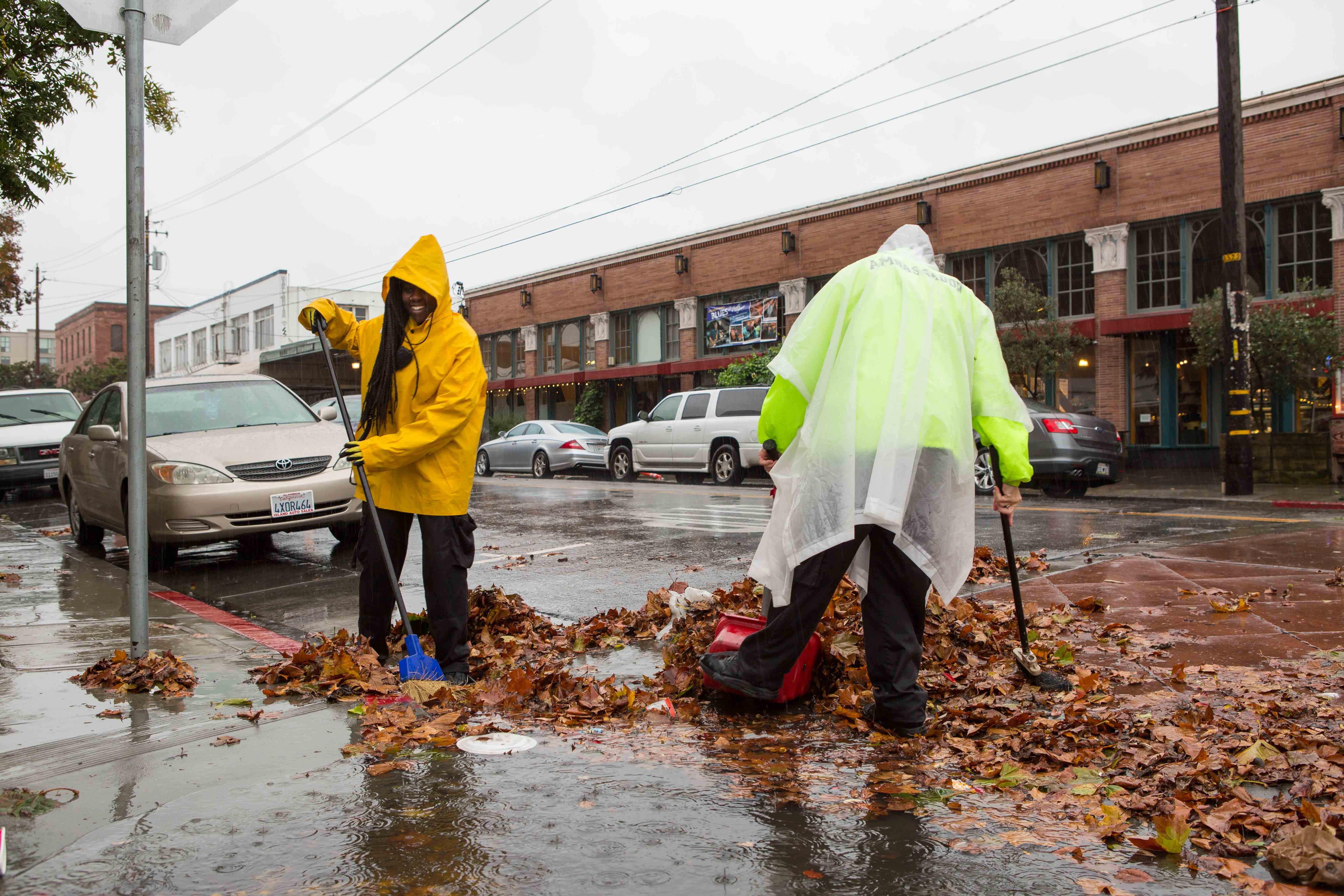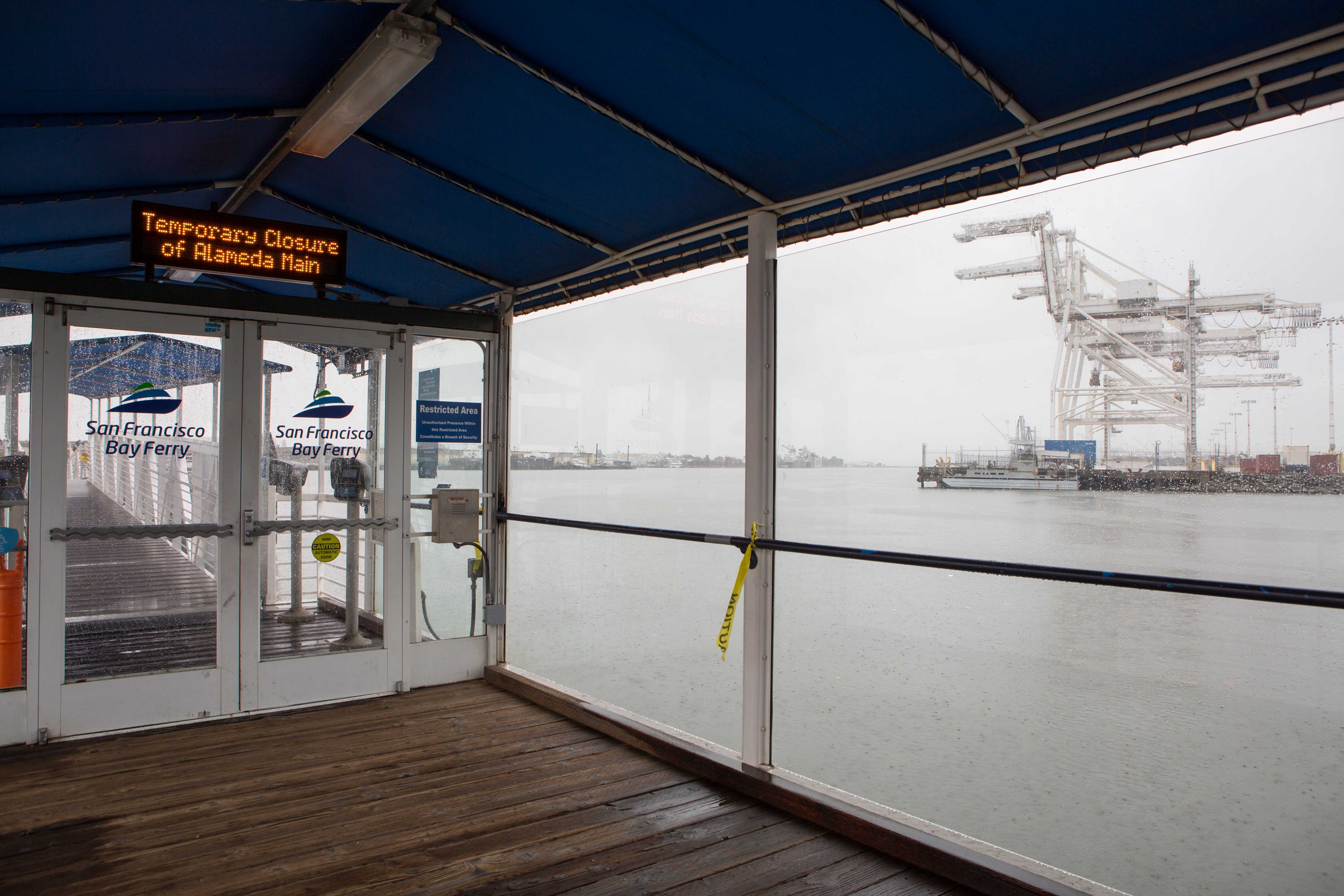 Flooding in Rohnert Park on Redwood, this is the worst we have seen so far this morning.#BayAreaStorm #whereyoulive pic.twitter.com/h2D2FacWRs

— stefan s (@kgocameraman) December 11, 2014
To report emergency storm damage, call the Oakland Public Works Call Center at 510-615-5566 or visit
oaklandpw.com
. 
Power outage? Here are a few tips from @RedCrossBayArea. #BayAreaStorm in #SouthSanFrancisco @SSFFire @mikefutrell pic.twitter.com/1Q6PybisDr

— South San Francisco (@CityofSSF) December 11, 2014
Flooding is affecting many roads in Oakland and Emeryville,
part of Highway 101 is shut down
, and at least one car got stuck near Grand Avenue:
#DEVELOPING car stuck in flood waters on 101s near Grand Avenue. #KTVU pic.twitter.com/rqk0HrUv79

— David Stevenson (@DStevensonKTVU) December 11, 2014
SFGate
reports on other traffic and road conditions: 
"All lanes of Highway 101 at Oyster Point in San Francisco blocked because of flooding. Signals out along Van Ness Avenue and Lombard Street in San Francisco. Highway 1 closed from Point Reyes Station to Olema. Lanes closed on westbound Interstate 80 in Richmond and on Interstate 880 northbound near Interstate 238 in San Leandro. Highway 116 closed at Gilchrist Road in Petaluma because of downed power lines."
Looking for up-to-date storm reports? The NWS has created a
map
, and is updating it regularly.
The North Bay is receiving the worst of the storm, and as the
San Jose Mercury News
reported
: "As of 10 am., Santa Rosa has received 4.40 inches of rain and Novato 3.71 inches, downtown San Francisco received 1.24 inches of rain, Oakland .98 inches and San Jose .51 inches."
This man in Heraldsburg kayaked to his local Safeway:
[embed-1]
Flooding in Healdsburg, CA in Sonoma Co. From @_dreambaby #cawx #BayAreaStorm pic.twitter.com/jCrVgAp4d9

— Ian Schwartz (@SchwartzTV) December 11, 2014
And here's another flood image:
@NWSBayArea Heavy flooding in downtown Healdsburg. Here's Vine St and the Safeway shopping center pic.twitter.com/JqM6GyS0Mu

— Kyle Deas (@KyleDeas) December 11, 2014
East-bound ferries leaving Oakland and Alameda were cancelled this morning due to the weather.
Expect an update
at 2 p.m. In San Francisco, a power outage shut down the Montgomery BART Station, and BART officials are telling people the trains aren't stopping at that location. Use Powell or Embarcadero if you're trying to board near downtown.
Montgomery BART/Muni station closed because of power outage. #BayAreaStorm pic.twitter.com/eJSdJj1XBI

— Kurtis Alexander (@kurtisalexander) December 11, 2014
Oakland, San Francisco, and Novato school districts are closed today, and Gateway School in Santa Cruz sent students home early due to two children being injured by a felled tree on its playground. One student received minor injuries, while another was taken to an area hospital for X-rays when his arm was trapped beneath the branch,
said Sherri Helvie
, assistant head of school.
Pacific Gas & Electric is reporting that as many as 170,000 Bay Area residents are without power. See which areas were hit with PG&E's map:
Latest map from @PGE4Me shows thousands of outages across the Bay Area. See more: https://t.co/JsWeZlI57O pic.twitter.com/BNGHSLgk3o

— Mashable News (@MashableNews) December 11, 2014
The National Weather Service is reporting 147-mile-per-hour wind at Mt. Lincoln. Blizzard conditions are expected in areas above 6,000 feet.
And in inconsequential storm news, no one can seem to agree what to call the storm. We've seen #Stormageddon, #HellaStorm, #BayAreaStorm, and #Rainpocalypse on social media.