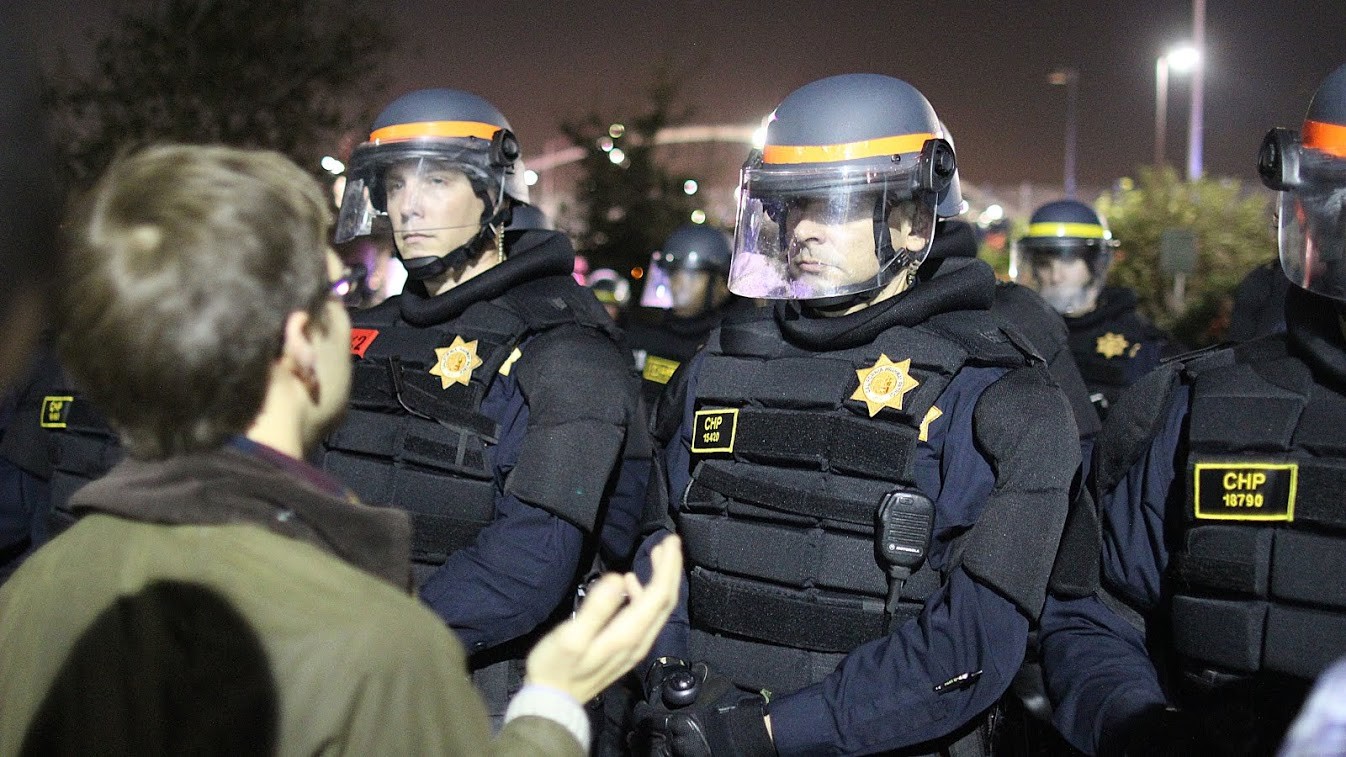 Two weeks of intense protests in the East Bay over the grand jury non-indictments of police-involved deaths of black men in Missouri and New York City have resulted in more than 500 arrests, almost daily freeway occupations, and property destruction in Berkeley, Oakland, Emeryville, and downtown San Francisco. Until last week, however, local law enforcement officers were relatively restrained in their reaction to the demonstrations, including the Oakland Police Department, which has had a long record of violently overreacting to protests.
All that changed on Saturday night when the Berkeley Police Department used teargas and flash-bang grenades, fired less-than-lethal beanbag rounds, and attacked demonstrators on Telegraph and Bancroft avenues with batons. A march earlier that evening down University Avenue left the windows of a Trader Joe's, a Radio Shack, and a Wells Fargo branch in shards. Chaos ensued around University and Acton Street, where officers from Berkeley, Oakland, Hayward, and the Alameda County Sheriff' attempted to surround – also known as a kettle — several hundred people. As demonstrators tore down a fence on Berkeley Way to escape the trap, at least one man was struck with a shotgun-fired less-than-lethal round, breaking his kneecap. The clashes later in the evening on Telegraph Avenue involved three credentialed journalists being attacked by Berkeley Police, and left a cloud of teargas from Bancroft to Dwight Way, impacting residents of and visitors to the area.
[jump]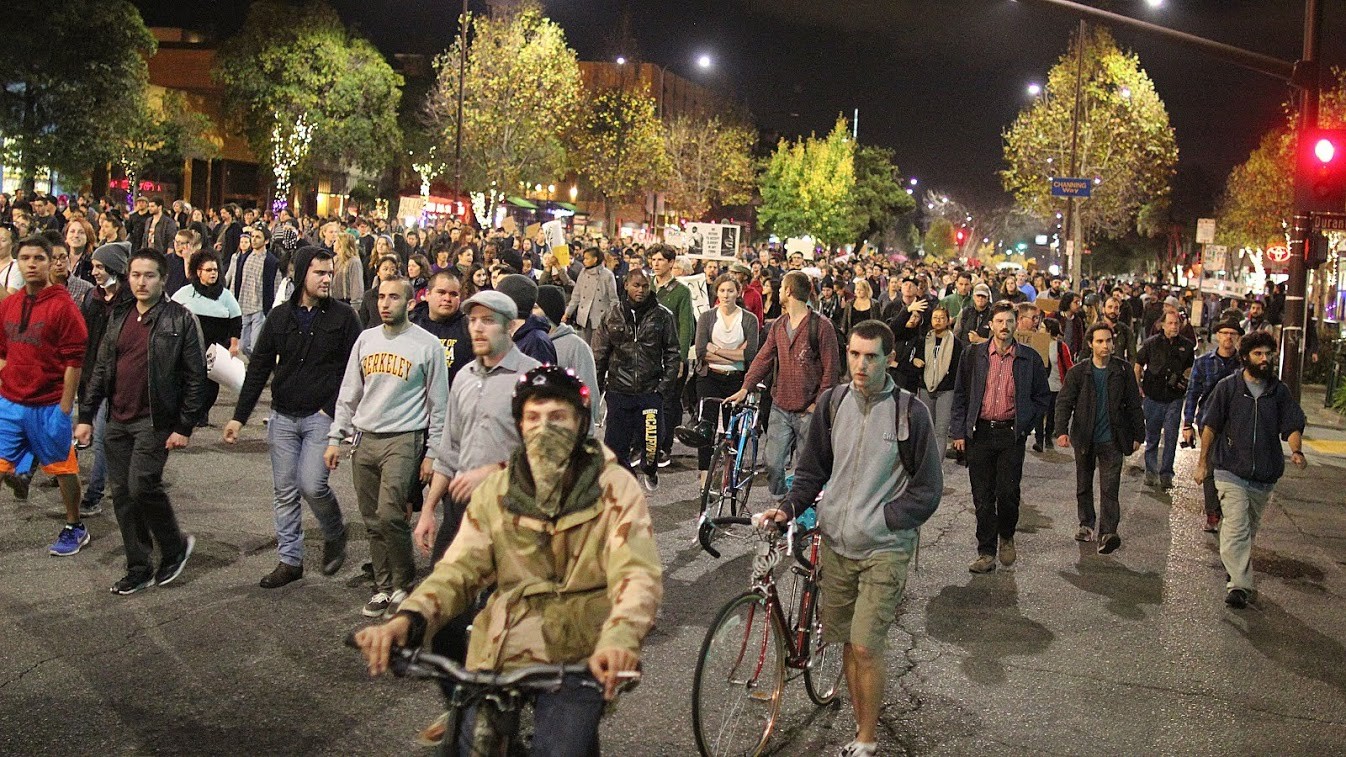 More freeway occupations took place on Sunday and Monday evening, as demonstrators poured onto Highway 24 at the 51st Street offramp on Sunday and Interstate 80 at University Avenue on Monday. At least a dozen businesses were vandalized on Sunday evening in downtown Berkeley. However, a crowd of thousands intent on peacefully demonstrating took to the street on Monday and marched down University Avenue to Berkeley Aquatic Park, where they occupied I-80 for more than two hours, halting traffic in both directions. Police herded demonstrators off the freeway at around the Powell Street exit in Emeryville. Berkeley police officers then kettled the protesters behind a Ross store. Police detained me and five other journalists. Police held us against our will, despite the fact that
Express
editor Robert Gammon repeatedly attempted to free us. Eventually, a member of the Society of Professional Journalists intervened and convinced police to let us go (the CHP later told the
Chronicle
that I had been "behind enemy lines").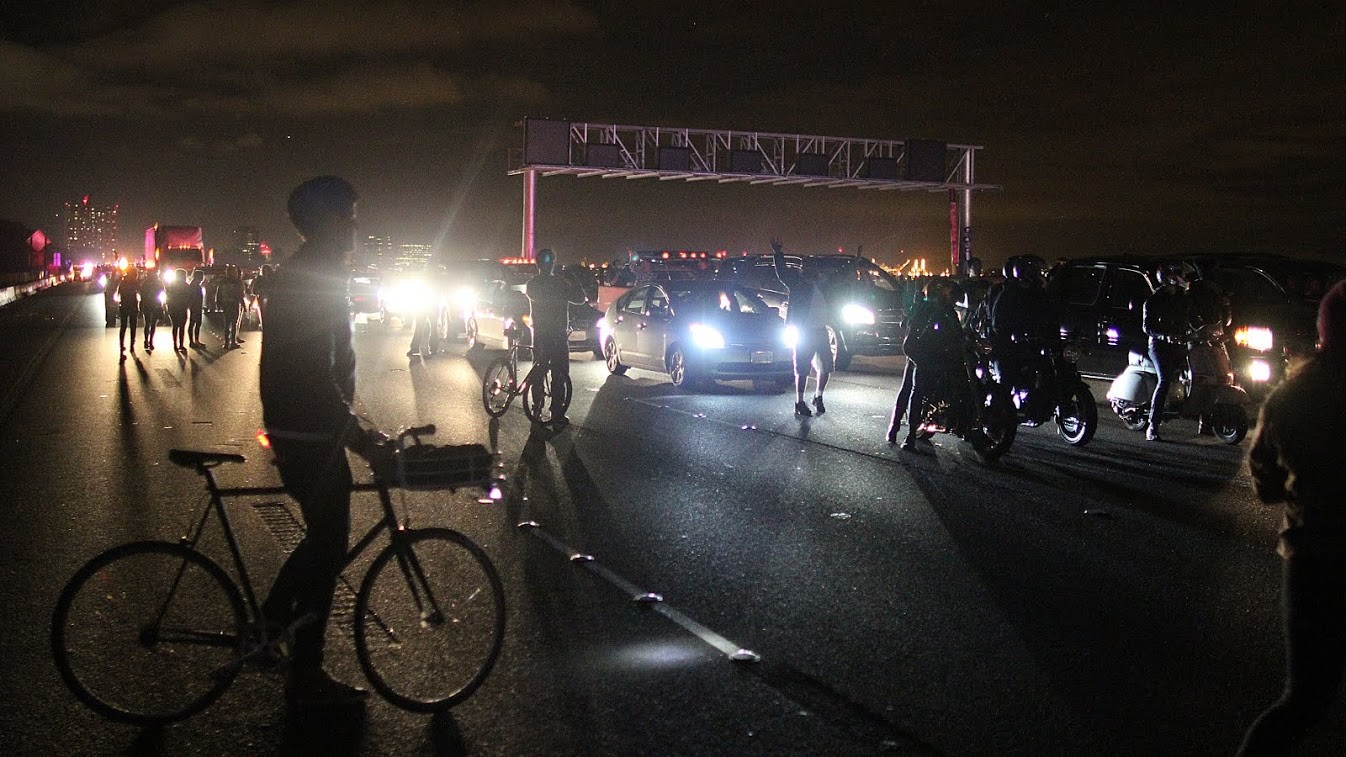 Until to Tuesday night, California Highway Patrol officers had mostly showed restraint in dealing with the freeway occupations. But that all changed that evening when demonstrators scrambled up the 40th street embankment onto Highway 24 near the MacArthur BART station: CHP officers used batons, at least two flashbang grenades, and pepper spray to push protesters off the highway. Police maced one photojournalist and shattered another's camera lens with a baton.
Assistant Chief Ernie Sanchez of the CHP's Golden Gate Division said he had received no reports of his officers ever using pepper spray on that night. "I don't know whether his camera was dropped or blocked," Sanchez said about the photographer whose camera was shattered by CHP officers, despite the
Chronicle
publishing the final still from his camera, of a CHP officer cocking back his baton to swing.
As people retreated onto 40th Street, two CHP officers equipped with shotguns moved to the railing of the freeway overpass. I then witnessed CHP personnel fire at least twelve less-than-lethal rounds into the crowd of hundreds below, striking one person in the head and another in the foot.
Sanchez claimed his officers saw protesters preparing fireworks to throw at CHP officers and observed other demonstrators trying to scramble up the southern embankment back onto the road. "What you saw was demonstrators breaking the law," Sanchez told me, adding that the CHP has received no complaints or calls of people who were injured by the less-than-lethal rounds fired by his officers on Wednesday night.
"It's called less lethal because it's not threatening anyone's life," said Sanchez.
But the CHP's use of force policy directly contradicts Assistant Chief Sanchez's assertions: "Less lethal force does not have a zero probability of producing fatalities or lethal injuries." The CHP's
use of force policy
, unlike other local departments, does not forbid officers from firing less lethal projectiles at the head – precisely the sort of incident that
nearly killed Scott Olsen
during the 2011 Occupy Oakland protests. 
On Wednesday night, two CHP undercover officers drew firearms on demonstrators in downtown Oakland on Harrison Street after protesters identified them as police. One officer tackled a demonstrator to the ground, while his partner
drew a firearm and pointed it at photojournalists and demonstrator
s. Oakland police later said the officers worked for the CHP.