The circus is coming to the Oakland City Council chambers later this month. An ordinance authored by Councilmember Libby Schaaf would strengthen regulations on the treatment of circus animals and the safety of spectators, but some council members want a more stringent ban on the brutal use of bullhooks on elephants. Feld Entertainment, the parent company for Ringling Bros. and Barnum & Bailey Circus, told Schaaf the circus would pull up stakes at Oakland's Oracle Arena if the council bans bullhooks.
[jump]
Councilmember Dan Kalb called the ordinance "overall, modest, but a step in the right direction." However, he strongly indicated a preference for including a ban on bullhooks and other implements used to forcefully control circus animals. The use of bullhooks, baton-like instruments with a small hook and spear affixed to the end, has long been criticized by animal advocacy groups, who say they inflict great pain and fear on the animals.
Councilmember Noel Gallo also vowed support for a prohibition before directly asking Schaaf, "Why not ban the bullhook?" Although Schaaf also said she supports a bullhook ban, she indicated that she did not believe it would garner enough votes on the council. She then revealed that Feld Entertainment had previously threatened to drop Oakland from its touring schedule if the city banned bullhooks. "What Feld said to me is, if we passed [a bullhook ban], Ringling Bros. will not to come to Oakland." She suggested more needs to be done to identify the economic impacts on the city and county-owned Coliseum and jobs the circus creates.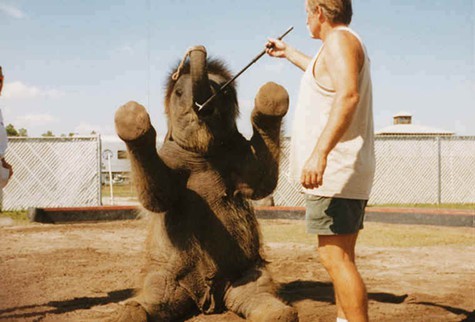 During a November 25 meeting of the Coliseum Joint Powers Authority, a staff member for AEG, which operates O.co Coliseum and Oracle Arena, said Feld Entertainment and its other properties, including Disney on Ice and various supercross and monster truck exhibitions, generate $1 million in revenue for the two facilities each year. Staff added that Feld had also indicated the stronger ordinance would force it to book the circus at San Jose's SAP Center or the Cow Palace in Daly City. At the same meeting, Alameda County Supervisor Nate Miley, also a member of the Coliseum JPA, said, "We don't want to do anything that is detrimental to our bottom line here."
On Tuesday, Councilmember Lynette Gibson McElhaney said there already remains a lack of family-friendly entertainment options for low-income Oakland residents, even with the circus in town. She noted Feld Entertainment often donates free circus tickets to less fortunate groups in the city.
San Jose, Sacramento, and Los Angeles currently have regulations on circus performance similar to Schaaf's proposal. However, last October, the Los Angeles City Council unanimously approved a ban on the bullhook, effective in three years. According to the Los Angeles Times, Feld Entertainment had issued similar threats to move its circus out of Los Angeles County.