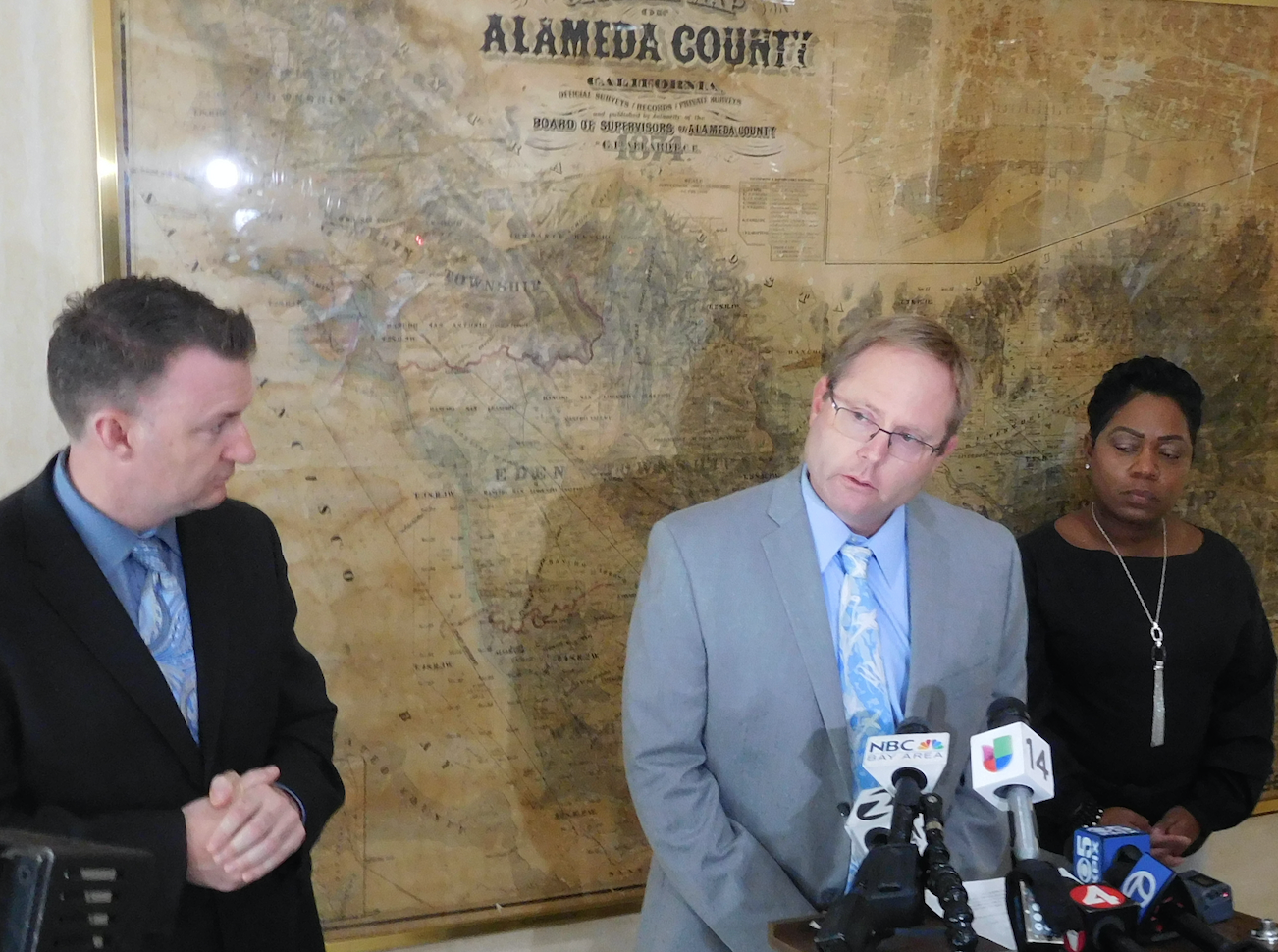 Six women alleged
in a lawsuit filed today in federal court
that they have been mistreated by Alameda County sheriff's guards while held in Santa Rita Jail.
The lawsuit focuses specifically on pregnant women who claim that the conditions inside the jail have caused miscarriages and that sheriff's employees have urged them to have abortions.
The sheriff's department pushed back immediately today against the allegations by holding a press conference. Sheriff's office officials said the lawsuit is filled with "false claims" and assert that they provide adequate medical services and clean conditions for female prisoners.
"We we don't believe they're true," said Sheriff's spokesperson Sgt. Ray Kelly about the lawsuit's allegations.
Denise Rohrbacher, an inmate at Santa Rita Jail who is one of the lawsuit's plaintiffs,
alleged in a declaration
that another pregnant woman was placed in her housing unit. The woman complained of not feeling well and was transported by jail staff to an isolation cell alone. "While in the isolation cell, this woman began to scream, and yell," claimed Rohrbacher, who added this went on for hours while jail staff did nothing to intervene or check on the prisoner. "Finally, we could hear the crying of a baby. Apparently, this woman had given birth, alone," claimed Rohrbacher.
"That incident actually did happen," said Sgt. Kelly at today's press conference about the child birth in an administrative segregation cell. Kelly said the woman had been treated earlier for pain, but that she was misdiagnosed with Braxton-Hicks contractions, which occur early in a pregnancy, not prior to birth.
Another pregnant prisoner, Dominique Jackson,
attested
that although she is pregnant with twins, she does not receive adequate nutritional food. As a result, she fears she will have a miscarriage, and she alleged the nurse practitioner in the jail who she identified as "Lucy" is not a specialist in obstetrics and doesn't hear her concerns.
And another prisoner,
Chirstina Zepeda, said
she was cuffed with her hands behind her back by Alameda County sheriff's deputies when she was arrested and transported to the jail. The ride was bumpy, and later she complained of pain. But she claims that jail staffers didn't adequately respond to her complaints. They provided her with gatorade in the jail's clinic, but she said guards repeatedly pressured her to have an abortion.
"I feel that the guards were trying to coerce me into getting an abortion or suffer a miscarriage," she attested. She continued to feel pain for several days, and four days after she was arrested she began to bleed and was transported to a hospital where she had a miscarriage.
Through the lawsuit, the women are seeking an injunction to have the jail's medical system improved for pregnant women.
Sheriff's staffers denied that jail guards have pressured women to have abortions, or that the conditions are poor. Tom Madigan, the sheriff's detention and corrections commander, said pregnant women must notify the jail of their pregnancy and that the sheriff's office can't force them to take a pregnancy test. Therefore, some women may be pregnant without guards knowing. But for those who do notify the jail of their pregnancy, they are provided with additional nutrition in meals.
As to many of the lawsuit's specific allegations, Madigan said the sheriff's office hasn't been served , so they can't comment on specifics.
But Sgt. Kelly pushed back against claims that sheriffs staff urged women to have abortions. "They would never engage in that kind of egregious behavior to influence women to terminate a pregnancy."
[pdf-3]