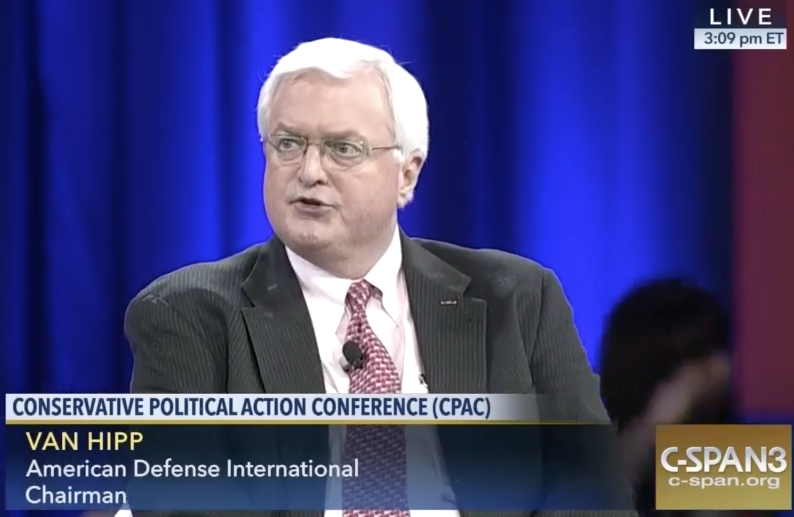 On Tuesday night, Sept. 12, the Peralta Community College District's board of trustees is scheduled to vote on
a one-year, $120,000 contract
with American Defense International, a lobbying firm that
primarily represents weapons manufacturers
 seeking U.S. military contracts and is led by a former Defense Department official who has advocated for harsh immigration policies and a Mexican border wall and is a supporter of President Donald Trump.
The Peralta board's vote on the lobbying contract also is scheduled to occur on the same night as its vote on
a resolution urging the Trump administration to preserve the DACA program
, which offers relief against deportation to certain undocumented immigrants. Many Peralta students are undocumented, and the district
has taken pro-immigration positions
many times in the past.
Some faculty are questioning the proposal to hire American Defense International because of the firm's work with arms makers, and its links to anti-immigration groups.
"I and other faculty are very frustrated that Peralta already gave this company $10,000 prior to board approval in August," said Blake Johnson, a history instructor at Laney College. Johnson said the school previously paid ADI for lobbying services, even though a contract has yet to be approved by the board.
"Now the board is set to give American Defense International another $120,000 under a contract that is poorly defined and not been reviewed by anyone," said Johnson.

American Defense International
is led by Van Hipp, Jr., a former U.S. Department of Defense official from South Carolina who has been active in Republican Party politics since the 1980s. He most recently contributed $2,700 to Donald Trump's presidential campaign and has supported conservative politicians like Newt Gingrich while promoting right-wing causes. According to the
Washington Post
,
Trump briefly considered Hipp as a possible choice for secretary of the Army.
In 2011 and 2012, Hipp led the anti-immigration group
Americans for Securing the Border
, which pressured Republican Party presidential candidates to sign a pledge to build a "secure double fence across the entire US-Mexican border to be completed prior to the end 2013." Hipp's lobbying firm
has been paid by military contractors interested in selling border surveillance technologies
to the federal government
to push their agenda
in the Defense Department and on Capitol Hill.
According to federal records, ADI was paid $2.4 million last year to lobby federal officials by companies like
General Atomics
, which manufactures ammunition and drones for the military, and TCOM, which provides surveillance blimps to the Department of Homeland Security along the U.S.-Mexico border.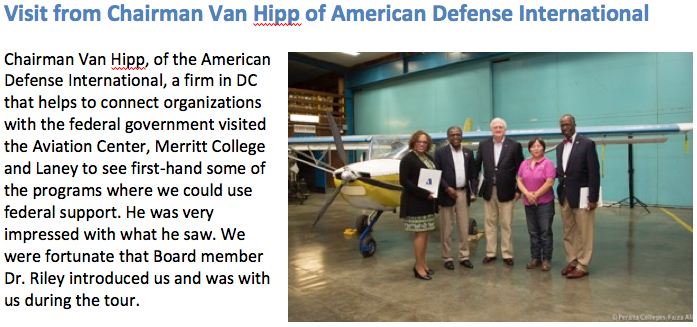 In addition to his role in the Republican Party and as a lobbyist for weapons manufacturers, Hipp sits on the board of the
American Conservative Union,
which organizes the yearly Conservative Political Action Conference, one of the agenda-setting events for the right-wing of the GOP.
According to
a brief description of the proposed contract
on the Peralta district's website, ADI would provide lobbying and consulting services in order to help the community college system access federal funding to support programs in aviation remodeling, veterans training, first responder training, cyber security, advanced manufacturing, American sign language, and a multimedia program.
It's unclear if the lobbying contract was put up for competitive bids by the school district. Peralta representatives didn't immediately respond to a request for more information about the proposed contract with ADI.
However, according to a July newsletter written by Peralta Chancellor Jowel Laguerre, American Defense International's Hipp visited Merritt College's aviation center earlier this year "to see first-hand some of the programs" where the community college system could use more federal support.
In the same newsletter, Laguerre wrote that Peralta Trustee William Riley was was the person who introduced Hipp to him and other school officials. "We were fortunate that Board member Dr. Riley introduced us and was with us during the tour," wrote Laguerre.
Reached by phone today, Riley declined to answer any questions about the proposed lobbying contract with ADI, or explain how he knows Hipp. He referred questions to Peralta's Chancellor.
Update: Peralta District officials say the proposed contract has been tabled and won't be voted on at tonight's meeting.