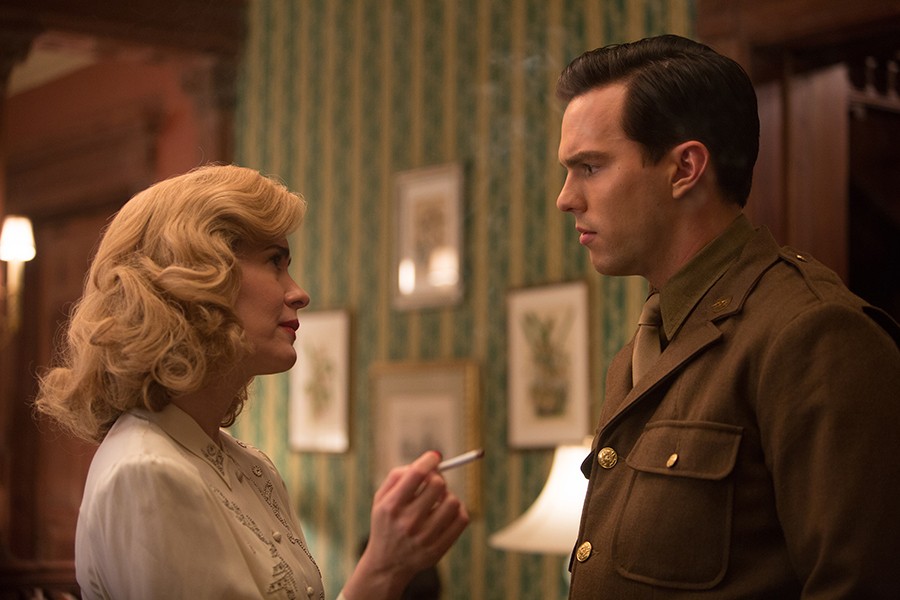 Maybe J.D. Salinger was right when he locked himself away from the world and refused to publish any writing for the last 45 years of his life. He certainly had his reasons. The new narrative biopic Rebel in the Rye attempts to explain the elusive author's rationale for his withdrawal from public life, but of course Salinger's self-banishment only makes sense in relation to his enduring masterpiece, Catcher in the Rye.
There is only the germ of Salinger's mythopoeic character Holden Caulfield in the movie, the irritation that produces that dearly beloved pearl, the quintessence of the coming-of-age story. The trouble with the film — essentially the trouble with writers Danny Strong and Kenneth Slawenski's recounting of Salinger's life — is that compared to Catcher just about every other piece of writing falls at least a little short, even the story behind the novel.
In the role of the young "Jerry" Salinger, X-Men veteran Nicholas Hoult gets to practice his subdued literary persona as the emotionally prickly son of a "meat and cheese" businessman — trying to play the upper-crust Manhattan mating and career games, and all the while dealing with neophyte awkwardness as well as writer's block. Salinger's faithful mentor is Columbia professor Whit Burnett (Kevin Spacey), and the aspiring author dates Oona O'Neill (the future Mrs. Charlie Chaplin, played by Zoey Deutch) before bringing home a war bride (Anna Bullard). No one understands him but the prof. Publishers don't get Catcher's style at first, and after its runaway success fan boys and rich admirers alike annoy the hell out of him. Cue lonely introspection as the author lights one match after another in a dark room, followed by solitary boozing and eventually the intervention of a swami (Bernard White). Salinger derives absolutely no satisfaction from being the darling of the cultural establishment.
This standard procedural life story is not exactly the most easily adaptable to film. Descriptions of a writer's seclusion, meditation, and rejection of public life might form a suitable basis for a biographical study in print, but they're slow death to the rhythms of moviemaking. Salinger's life just couldn't, shouldn't be this airless and suffocating. A brilliant writer's biopic requires a brilliant screen treatment, but Rebel in the Rye does not deliver.

Rebel in the Rye
Directed by Danny Strong. With Nicolas Hoult and Kevin Spacey. Opens Friday.