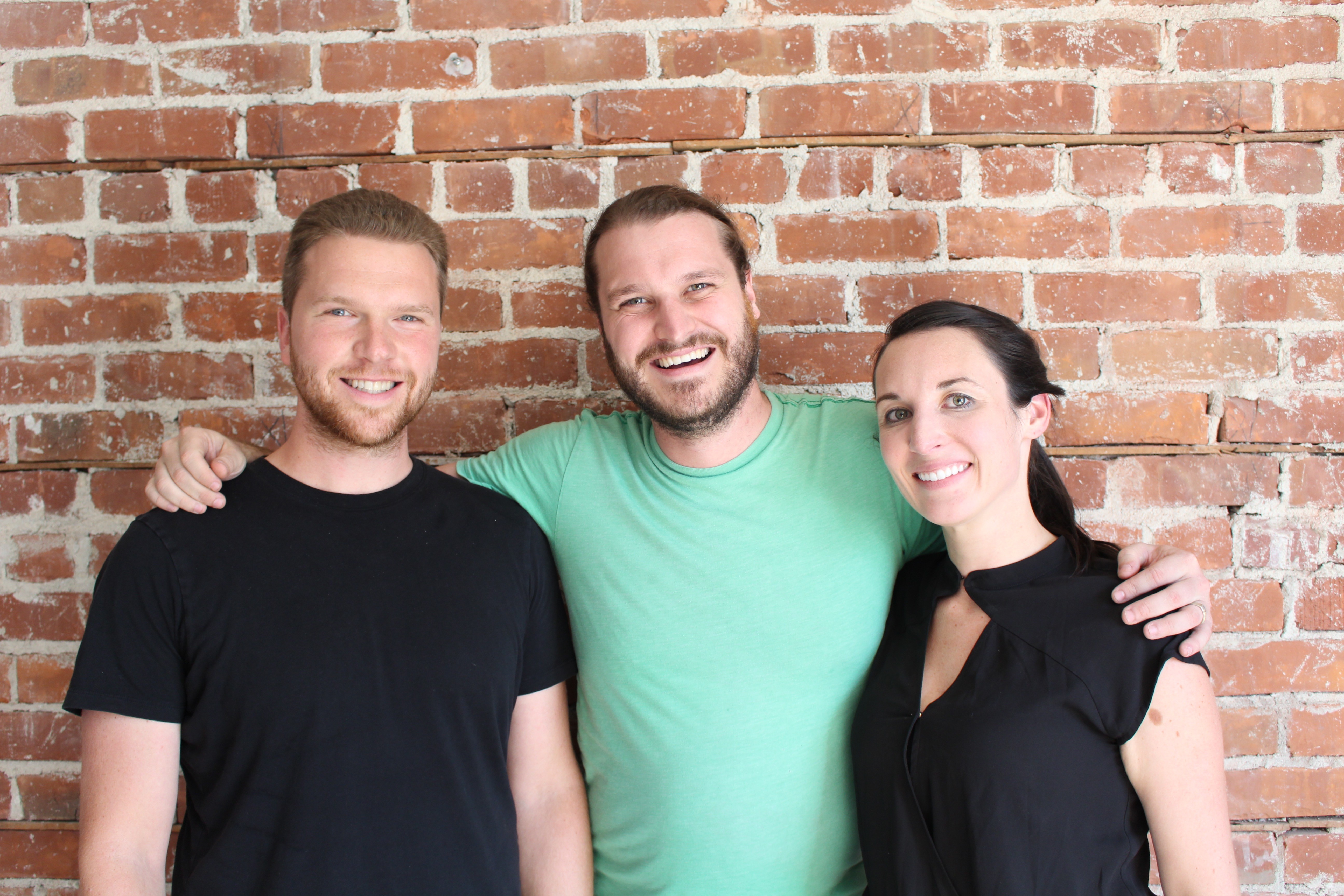 Ryan Frank and Max Silverstein met in brewing school eight years ago. Max was married to his college sweetheart Margie Silverstein. And Frank would soon hit it off with an old acquaintance from college, Caitlin O'Connor, on a beer-related trip to the Czech Republic.
The two couples stayed in touch over the years, eventually settling in the Bay Area. Many homebrews later, they decided to go into the beer business together.
They're the four owners of Original Pattern Brewing Company (292 4th St., Oakland), which is scheduled to open by the end of this year in the Jack London neighborhood. The brewery is still in the build-out phase, but the 5,500-square-foot building already shows tons of character. The exposed brick walls crawl up to a ceiling so tall you can barely see it — or maybe that's just because it's covered in skylights.
The plan is to have an open floor plan, where the bar sits in between the seating areas and the tanks, so "you're gonna feel like you're in the brewery," Frank said.
Frank is the head brewer, and he's got some serious credentials: five years at 21st Amendment Brewery, closing out his tenure as director of brewery operations. He was a major part of 21st Amendment's move to San Leandro, which means he's already known what to expect with Original Pattern in the early construction stages. But the jobs are very different. He described his work at 21st Amendment as akin to "manufacturing," whereas he'll get to brew the stuff of his dreams at the new brewery.
Indeed, the Original Pattern crew plans to offer a wide variety of styles — both traditional and experimental — though the initial focus will be on Belgian and farmhouse ales. Expect to see sours and barrel-aged beers as well as renditions of old European brews, such as an English ale, Helles lager, or Kölsch. There will be six to 10 beers on tap at a time — an effort to ensure optimal freshness and always have something new to try. Beers will also be served in the appropriate glassware. The owners recently held a taste test with dozens of different glasses to find the right combinations.
Frank also envisions rolling out some fun concepts, such as an international lager series showcasing styles from various countries but with non-traditional additions — for example, a Japanese lager infused with cherry blossoms.
Frank, Max, and O'Connor each emphasized how they want to expose longtime beer drinkers to new styles just as much as a non-beer drinker. They feel passionately that there is at least one beer out there for everyone.
That means educational components — and the appropriate glassware for each beer — as well as a cozier atmosphere, despite the large, industrial venue. They're working with a designer on custom furnishings, including a large communal table and booths upholstered with leather. As Max quipped: "No hard metal chairs."
Max and Margie live in Palo Alto, where they still hold down their day jobs. But Frank and O'Connor reside in Oakland, and they're excited to serve their city.
"We want to make this a community spot," O'Connor said. "A place where people feel really comfortable."