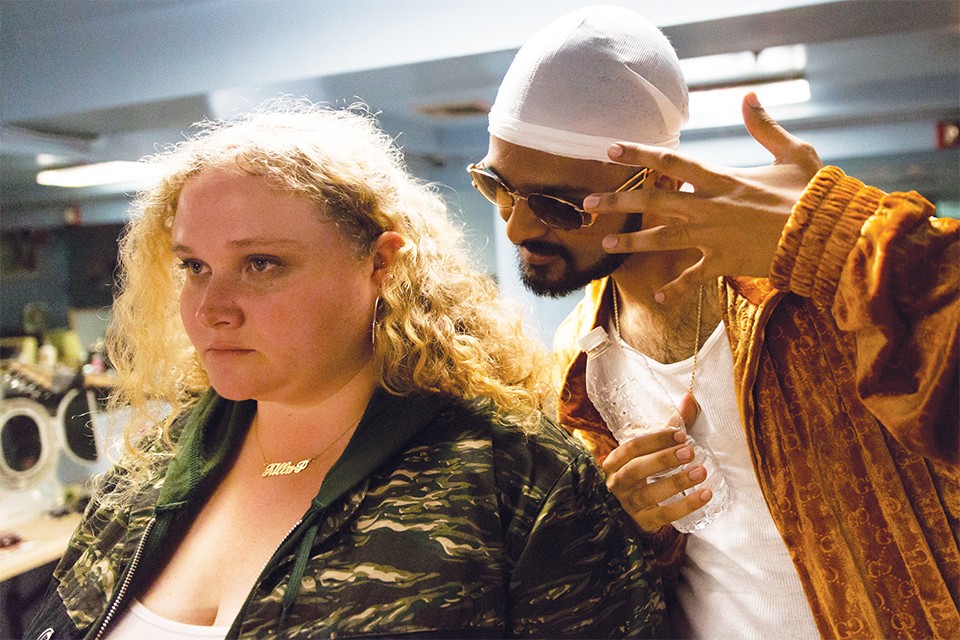 New Jersey has a hard time getting any respect on the big screen. In countless movies — everything from Blues in the Night and Broadway Danny Rose to Welcome to the Dollhouse, The Wrestler, American Hustle, and Paterson — the Garden State is depicted as the province of crushed beer cans and discarded dreams, the empire of losers, Bridge-and-Tunnel Land, and the butt of countless jokes by countless New Yorkers, some of whom might actually be Jersey escapees themselves.
Patricia Dombrowski, the lead character of Geremy Jasper's Patti Cake$, certainly fits the mold. Inside the home she shares with her alcoholic, former glam-rock chanteuse mother (Bridget Everett) on the shabby side of Bayonne, the overweight, hyper-motivated Patti (Danielle Macdonald) fantasizes about turning her talent for rhymes into a major hip-hop act, despite the scorn of the neighborhood corner boys who persist in calling her "Dumbo." Patti's bartending and waitressing jobs do nothing for her self-esteem, particularly her visit — is it real or imaginary? — to the home of her idol, a dismissive hip-hop star (stage actor Sahr Ngaujah) who treats her like dirt.
The only allies she can scrounge up are an Indian immigrant pharmacist named Jheri (Siddharth Dhananjay), a reclusive intellectual Black rapper who lives in a shack and calls himself Basterd (Mamoudou Athie), and her own wheelchair-bound Nana, played by a barely recognizable Cathy Moriarty, Robert De Niro's love interest from Raging Bull. Patti Cake$, aka Killa P, appears destined for obscurity. But wait — there's the big Rookie Monster rap-off competition coming up in Newark. Maybe they'll win and catapult themselves to wealth and fame. Or else, lose and go back to a life of dirty fingers and rusty cars.
Let's be frank. Patti Cake$ is a pile of hackneyed situations from an ancient formula, with comically overdrawn performances. Yet we can't resist cheering for her. Writer-director Jasper definitely believes in Patti, and in his own New Jersey experience. A graduate of both the Screenwriters and the Directors Lab at Sundance, Jasper had the bright idea to recruit Macdonald, an unconventionally unglamorous Australian character actress (The East), for his ode to the underdogs. Macdonald, who does her own rapping (to Jasper's compositions), wins us over with sheer lung power and cheers us up. We needed that.